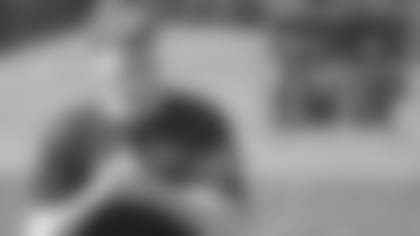 Coaches are supposed to have mileage and stories to go with the numerous schools and teams listed on their résumés. But playing professional football and basketball in two European countries? That's unique to 49ers defensive quality control coach Peter Hansen, who has the kind of experiences seldom seen from NFL coaches.** Click here to watch Hansen's interview.
WHAT GOES into a quality control position in the NFL is purely attention to detail. Thankfully for 49ers defensive quality control coach Peter Hansen, growing up as the son of a football coach has afforded him several opportunities on how to assist the coaches around him. In his current role, Hansen is responsible for breaking down film, drawing up defensive plays in Vic Fangio's playbook and then assisting the defensive coordinator in the same fashion he did at Stanford the previous two seasons.
"I like to tell people, it's the same job – new building," says Hansen, a Palo Alto native and a former two-sport athlete for the University of Arizona. Though the 49ers coaches have a wide array of experiences under their belts, Hansen is one of the staff's most diversified coaches. Stops in France and Denmark to play professional football and basketball respectively, give him that distinction. Such instances give Hansen perspective on effective communication skills and what it takes for teams to be successful. It also allowed him to develop passions away from the game.
AS THE son of Palo Alto High School's longtime football coach, Hansen was raised on the game, even attending games as a 1-year-old. And once Earl Hansen allowed his son to play the game as an eighth-grader, it quickly became a passion. In addition to watching his father's games, Peter regularly attended Stanford as well as 49ers games. All that exposure, combined with Hansen's lengthy frame enabled him to pursue a playing career too.
The self-described, "lightly recruited" quarterback found an opportunity at Arizona, thanks to famed college coordinator Homer Smith, who called Hansen weekly about walking on to the Wildcat program. He was grateful for Smith's attention. "I didn't want to go to a small school," recalls Hansen. "I wanted to see the bright lights and everything like that."
The lights merely flickered for Hansen early on. He struggled to find playing time, but eventually earned an opportunity through special teams. At 6-foot-8 with a 39.5-inch vertical leap, Hansen offered his services as a field goal block specialist. "I thought I could use my height and jump a little bit," says Hansen, who switched to tight end after his redshirt freshman year. The selfless act would pay huge dividends. Hansen would go on to block a combined seven field goals and extra point attempts for the Wildcats. For his efforts, Hansen was named second-team all-conference as a special teams performer in 2000.
But Hansen wasn't done helping Arizona's athletic department. When the basketball team was short on bodies, Hansen's services were needed. He played two seasons on the Wildcats basketball team, mainly as a backup who helped the team in practice. Though he was outmatched by Arizona's future NBA talent, Hansen wasn't done playing the game.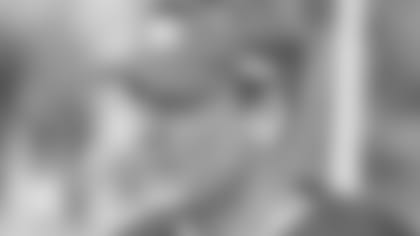 OF ALL places to start a post-college career, Hansen ended up in Cannes, France as a professional football player for the Cannes Iron Mask. Thanks to one of his father's connections, Hansen was able to work in a player-coach role. The opportunity became a viable option because of Hansen's post-collegiate activities. Before moving overseas, Hansen enjoyed coaching a Bay Area All-Star team with his dad. And when a coaching associate of his father offered him a position in France, Hansen jumped at it. "That's when I really started to get excited about coaching," he recalls.
Cannes was a unique experience to say the least. Instead of practicing rigorously, Hansen realized his local teammates weren't into spending time on the practice fields. However, Hansen learned to get the most from his teammates and found the experience to be quite rewarding. It carried over to his next stop as a professional basketball player in Copenhagen, Denmark. Before making the change, Hansen returned from France thinking it would be a one-time European visit. However, once he learned of opportunities to play basketball in Denmark, Hansen was up for another challenge. Basketball in Denmark was not easy, but through his experiences, Hansen would also begin to develop a passion for food and travel. "I tried to pick up what I could," Hansen recalls. "I felt like I could order food, but that was the extent of it."
THE WILLINGNESSto try new things has always benefitted Hansen. Whether it was trying out for the Pop Warner team in middle school, converting from quarterback to tight end, auditioning to be a field goal block specialist at Arizona or trying his hand in European pro leagues, Hansen was always willing to attempt something new. He had the strong desire to find a way to be near the field or court. And after having such worldly experiences at a young age, Hansen wanted to share the same enthusiasm with the kids at his former high school.
In 2004, he joined Palo Alto's coaching staff to work with tight ends and defensive ends. Hansen spent four years coaching locally, serving as the defensive coordinator for two seasons as well. Hansen picked up tremendous experience which enabled him to catch on with another childhood favorite.
"Joining the Stanford staff was very similar to joining the 49ers staff," explains Hansen, "It was the local team who I grew up going to games." After a one-year stint as a strength and conditioning intern for the Cardinal in 2008, Hansen worked the following two seasons as a defensive assistant. In 2010, Hansen aided current 49ers defensive coordinator Vic Fangio in a number of areas.
"He was a guy who I really wanted to bring over here," says Fangio. "I was kind of insistent upon Jim [Harbaugh] doing that. We brought him over and he's done a great job since we've been here." Fangio says Hansen has a great future in coaching. The familiarity from Stanford has enabled the two to further grow the bond they built. Hansen enjoys the working relationship. "I like to tell people, whatever he wants, I try to find a way to get it done," says Hansen. "Breaking down film is one thing. Putting his drawings into the computer for the playbook, helping out where I can with scouting reports. Basically, anything that I can get done for him, I try to do."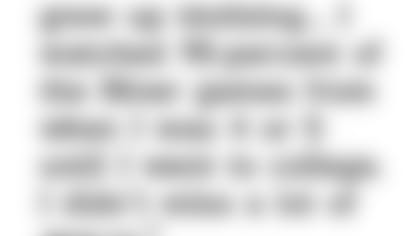 IN A **nutshell, Hansen refers to his role as "same job, new building." But in reality, Hansen's role has grown now that he'll be working with coaches and athletes in the NFL. His knowledge of the game has grown a lot too. When discussing the team's current defense in meetings, Fangio and Hansen like to show Stanford's film to demonstrate what calls may look like. But just when Hansen feels like he knows the topic at hand, the experienced room of defensive coaches prove their vast knowledge. "The guys will talk about things they've seen in the past – and I just like to sit back and listen to all the experience in the room," says Hansen. "I learn a lot and I'm having a good time. We laugh and learn a lot at the same time."
Conversely, Hansen likes to offer his expertise when needed. His years around the game might be less than his peers, but Hansen has the hometown knowledge at his disposal. The traveled coach, who appreciates fine cuisine, knows the area better than most on the staff. "Every now and then they'll talk about different places they've gone to eat and I'll say, 'Have you tried this place yet?'"
When Hansen's not helping Fangio and the 49ers defensive staff, he's always looking to acquire more knowledge. Whether it's on the game or in his personal interests, Hansen is eager to learn. That's why he's picked up a liking toward food shows on TV. "I like to mess around with the barbecue and everything like that," says Hansen, who unsurprisingly has a passion for travel as well. "If we get any type of time off, I like to travel and see new places. Travel is a big thing with me."
Hansen will have plenty of cities to visit once the regular season arrives, but for now, the local coach enjoys his work surroundings. "I start walking through the hallways here, seeing pictures of all the teams I grew up idolizing… I watched 95-percent of the Niner games from when I was 4 or 5 until I went to college. I didn't miss a lot of games. Seeing all the pictures around is just unbelievable."