The week has flown by for 49ers Andy Lee and Patrick Willis here in Hawaii, but the rookie linebacker checked in with an update for our fans in this Friday Pro Bowl Postcard.
Oh my gosh, this has been a crazy, crazy week. We're out here sweating, hurting ourselves...no, I'm just joking. It's been a wonderful experience, a great time out here. I wish we could practice and be out in this type of weather more often. It's been great.
I'm one of only three rookies out here and so they are definitely getting on me somewhat. When I first got here, I was sitting at the table down by the pool and I had already spoken with Lofa Tatupu and then I saw Ray Lewis come in and he was all, 'Hey, what's up?' He didn't say too much, but then the next thing I know I was looking around and I saw Lofa point towards me and I just knew that I was going to have to start taking care of tabs. I took care of all their tabs that evening so I'm sure they're bound to get me again before the week is out.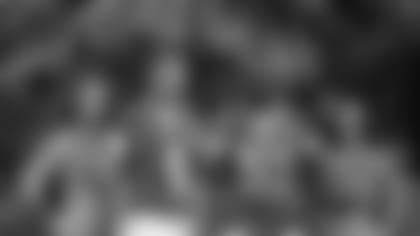 I went fishing the other day, but I didn't catch anything. We were out there for two hours on this boat, and I only caught one fish, come on! I like to go somewhere where I can catch fish. My dad and I are supposed to go back out, but if all I catch is one fish, I'm never going to go deep sea fishing ever again.
Other than that, everything has been wonderful. Hawaii is beautiful, and it's so much different from where I grew up in Tennessee with the beaches and water and everything. I grew up dreaming about being in the National Football League, but I can't say I dreamed about all the stuff that came along with it. I thought about just playing the game of football. But out here, whether you go shark fishing, deep sea fishing, just laying on the beach or meeting celebrities, it's a whole new world.
My mom is real into seeing movie stars and stuff and so she was able to get a picture with Jessica Simpson. My mom told me she's really beautiful, but I said she's taken. That's Tony Romo's woman.
We took our team photo first thing Friday morning. A bunch of us were out late at Warren Moon's party so I know I was sure tired. They shot the team photo pretty quickly and that's something I'll have my mom and dad store for me back in Tennessee and pull out one day to remind myself of this amazing week.
I've said it before but red is my color and so when I saw the AFC guys come out in the red uniforms I was a little upset. I mean, I'm happy to be out here, blue or red uniform, but I'd sure like to have been in that red. It just looks so much better.
The 49ers team photo of me and Andy – that took a while longer. They gave me a hard time about my gloves and the way I had the straps loose and they also made me lace up and tie my shoes. Man, I was like snap the picture because I don't think anyone cares if my gloves looked pretty or not, but anyhow.
It's been great to have Andy out here and to have another guy from my team. He definitely deserves to be out here and I'm glad to see him. Manny Lawson also came out here with me, and I'm very glad he decided to come along with me and hopefully next year, we'll both be playing in this game together. I know he'd love to be participating in this game this year, and I know it's something that we'll both strive for next year.
It's crazy how things change. One moment you are just a kid in college and now you are out here with the best guys in the NFL. It's been a blessing and really something special for me to take in. Being here definitely makes you want to come back every year and I know that's something that will continue to motivate me in the future because this is really incredible. Every day I think it can't get any better, and it does. It's almost time to play the game so I'm looking forward to that. It's been a great week.