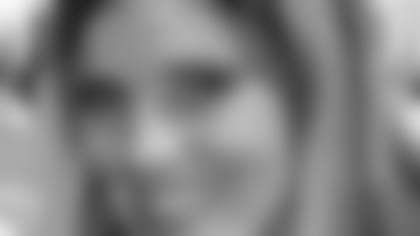 Over on our social networking site, 49ersfaithful.net, we have a few official team bloggers including two of our players in Manny Lawson and Marcus Hudson. All this week, 49ers.com writer Chrissy Mauck will also blog from the Pro Bowl.**
There is talk about moving the Pro Bowl after next year. In fact Commissioner Roger Goodell discussed that very issue during practice on Wednesday with the possibility of rotating it between cities in the future. But for now, it's here in Oahu, Hawaii and I couldn't think of a more fitting culture for this all-star game. After a long, arduous season (some longer than others), the Pro Bowl seems to be all about taking it easy, which is the Hawaiian way.
When the AFC team practiced first on Monday morning and went slightly over an hour, Norv Turner got blasted! Several players on the AFC went to LaDainian Tomlinson who poolside broke the news to Norv that guys were unhappy. I happened to be sitting with Norv at that point and he just said, "I didn't mean to go that long!" He also promised to cut them shorter the remainder of the week, which might have had something to do with the threats that he'd find himself tossed in the pool.
Poolside is the popular place to be in Hawaii. The first day Vikings defensive linemen Kevin and Pat Williams led a very playful card game while Ray Lewis stayed on his feet making the rounds, along with longtime fullback Lorenzo Neal.
That first evening I grabbed a late dinner with one of the players my dad used to coach in San Diego and several of the New England offensive linemen. It's always enjoyable to eavesdrop as guys from other teams get together and share experiences and this group, led by Matt Light, had a very lively debate about the future of the CBA and the retirement fund for former players that Mike Ditka is heading up.
I have had two Jessica Simpson sightings so far this week, so contrary to reports a few weeks ago, she and Tony Romo are still going strong. It's entertaining because I don't care how huge these athletes are in their own right, they all seem to want to see and meet her.
I've been to all of the practices so far, and about to head out for today's. I've been collecting interviews with several players and coaches about our guys and it's been awesome. Julian Peterson had extremely great things to say about his former teammate in Andy Lee, as well as many flattering comments about our young Patrick Willis. I also got a quick interview with Ray Lewis who said he's taking Willis under his wing and things he has the potential to be one of the greatest athletes in the NFL. We'll have those later on TV49!
I also tagged along with Andy Lee and his wife Rachel for a visit to Fort Schofield to pay tribute to our military over here in Hawaii. Most of the guys we met have done at least one tour in Afghanistan or Iraq and so Andy and Roy Williams, Kris Dielman and Rob Bironas got to experience slightly what those guys go through by participating in their simulation training. One of their training tools includes live video from situations that commonly occur in Iraq and how they have to make the split second decision whether or not someone is a threat or an innocent civilian and either fire or not. It was heavy stuff and I think it gave the NFL players an even greater appreciation.
By the way, Roy Williams apparently is from San Francisco and was as down to earth as they come and very proud of his roots!
It was fun to listen to Andy and Kris Dielman talk on the way over there because they both are enjoying their first Pro Bowl and were discussing how overwhelming it was to be here with so many talented players.
The NFL held its welcome party on Wednesday night – a luau out on the beach with a hula performance and fireworks to boot. Patrick told me and his dad Chris after practice that it was for married, engaged, old people or people with kids and that he was going to decline attending. He wasn't too far off the mark, but it was fun and great to take in the Hawaiian culture. Manny Lawson enjoyed himself and I think he was one step away from trying to get on stage and show his hula skills. I grabbed some photos of Manny and rookie tackle Joe Thomas with one of the performers, so that will be in the photo gallery. I also saw our Gold Rush Pro Bowl cheerleader Kristen and snapped a quick photo of her and one of her friends.
We all met up back at the pool afterwards where Patrick was with some of the folks from Under Armour. He had spent the day deep sea fishing and was a little aggravated that he caught only one fish, some type of tuna he said.
Friday they are having the Pro Football Hall of Fame conference out here so I hope to catch up with Fred Dean!