The 49ers road game in Miami started and ended with linebacker Joey Porter making waves.
`
Porter opted to get up close and personal with tight end Vernon Davis during his way out to the Dolphins side of the field for pregame warm-ups. Both teams quickly jumped in to make sure that the situation didn't extend beyond verbal sparring.
"Vernon did wonderful. We're out there trying to warm up and Porter is on our side trying to start something up," said quarterback Shaun Hill. "What do you do if you are Vernon in that situation? I mean, you are really getting disrespected at the time, and I thought Vernon handled that well. He stood his ground, but didn't do anything to get a penalty, or hurt the team."
Tackle Barry Sims, who took over for an injured Adam Snyder in the first quarter, wasn't as fortunate as Porter got the best of him on the most critical play of the game. In need of a touchdown, Hill and company were looking at a 4th and 10 at the Dolphins 21-yardline when Porter beat Sims one-on-one and dropped Hill for a sack.
"You have got to get in there and try and not miss a beat from the starting groove. That's what I tried to do, and give it all I had," said Sims. "Joey Porter is a real good player. He got a good jump off the ball, and I was a little behind the count because of the crowd noise. I wish I could have that one back. He just got my edge and I wasn't able to recover. I hate to end a game like that, because it leaves a bad taste in your mouth all week long."
The sack was the fifth of the game on Hill, and the most damaging as it allowed Miami to lock up the 14-9 victory, which snapped the 49ers two-game win streak.
"It was frustrating because I thought I should have been in on it," said Davis of the Porter sack. "My thing is you have to keep me on him. Don't take me out, keep me on him. He did a good job. It's frustrating because we should have won the game."
The 49ers tightened up their defense in the second half, managing to keep Miami scoreless in the final two quarters with the 49ers 29-yardline marking the Dolphins deepest penetration. The 49ers escaped an 8-point margin on the late fourth quarter drive after linebacker Manny Lawson stuffed Ronnie Brown for a two-yard loss on a 3rd and 4 play to make it a long field goal try for Dan Carpenter. His kick hit the crossbar for a miss.
"We definitely came out and played a lot better in the second half," said cornerback Walt Harris. "But it goes to show you in these types of close games, any one play can be the difference-maker for us. We kind of gave up two plays early in the game that cost us."
Boy did they ever. Statistically, the 49ers dominated the Dolphins defensively, holding Ronnie Brown and Ricky Williams to 98 rushing yards combined, and allowing quarterback Chad Pennington to throw for only 156 yards.
But those two big plays that Harris referenced, involved throws to Miami tight ends for a pair of touchdown passes for Pennington, who finished with a 124 QB Rating.
"It was frustrating, for us to give up the touchdowns we gave up," said linebacker Joe Staley. "They didn't earn any touchdowns today. We just messed up in our coverage a couple of times and they capitalized on it. That's what good teams do. That's what is frustrating for us. We go out there and played great defense and the second half we shut them out. We should have done it the first half."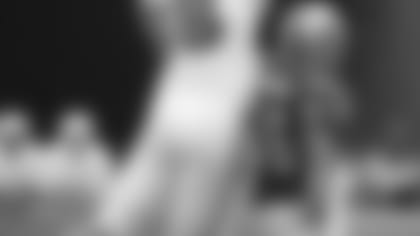 Pennington gunned the first of his two touchdowns to tight end David Martin, who hauled in the pass over the head of safety Mark Roman, and then outran Michael Lewis to the end zone for a 61-yard score. All three plays of the 73-yard opening drive were pass plays to Miami tight ends.
"We could certainly make the tackle," said head coach Mike Singletary. "It's unfortunate that we didn't do that, but Roman got turned around the ball and lost the ball in the air. He's a big guy, and at the very least we could've made the tackle."
The 49ers offense immediately answered with a 10-play, 60-yard drive capped by Joe Nedney's 38-yard field goal to trim the Dolphins lead to 7-3.
But Miami won the field position battle as the offense ended up with an average first half drive start of the 13-yardline in comparison to a 40-yard start for the Dolphins.
"We couldn't get a drive going. We couldn't change field position, we had the wind at our back," said Hill. "If you aren't going to score, you at least want to make them go the long field.
Offensively, we weren't able to do that. We put our defense in a bind there a couple of times."
One of those binds occurred in the second quarter when a 27-yard punt return by Davone Bess set the Miami offense up at the 49ers 34-yardline. Four plays later, Pennington had his team in the end zone again with a 19-yard strike to tight end Joey Haynos, who made his first ever career reception.
"Everybody was set to a particular coverage, and what happened is, you have one group calling one defense, and another group calling something else," said Singletary. "Trying to get everyone on the same page – it was just miscommunication. That happens, but it was at the worst moment to happen."
Late in the first half, the 49ers offense got something going and marched down to the Dolphins 28-yardline, well within field goal territory. But the offense proceeded to lose ground by committing an illegal formation penalty and then surrendering a sack, and were forced to instead punt.
Back to back long drives of 16 and 13 plays twice set the 49ers up inside the 20 in the second half, and at least netted a pair of Nedney field goals, but the inability to get in the end zone came back to bite them in the low scoring game.
"We didn't execute well enough in the red zone and obviously any time you are kicking field goals, and not scoring touchdowns, that really hinders you," said Hill, who completed 30 of 46 passes for 233 yards. "It was the same type of thing that happened to us in the Dallas game. Sitting around kicking field goals instead of scoring touchdowns, and it is going to be tough to win."
That proved to be the case as the 49ers outdid the Dolphins in terms of net yards with 318 in comparison to 248, and also controlled the clock more than 16 minutes longer than Miami. But bottom line, the Dolphins managed what the 49ers couldn't, and that was scoring touchdowns.
"It came down to the final drive and we needed a touchdown and I was really confident we were going to get it," said tackle Joe Staley. "It was really disappointing because I feel it was a game we gave them. We definitely outplayed them and it's unfortunate that we didn't get the win. I feel like we played our butts off, but that's the way the game goes sometimes. It's about winning and we didn't get the win."
Game Notes: There was not a single turnover on either side of the ball in the game. RB DeShaun Foster started the game for an injured Frank Gore and finished with 76 yards on 18 carries for a 4.2 yard average. He also had five catches for 25 yards.