 Former 49ers linebacker and KNBR analysis and color commentator Gary Plummer is back again this year with his Points of the Game, a weekly online column that previews the upcoming opponent. Check out some of his views on Sunday's road game against New Orleans.**
When the 49ers travel to New Orleans to play this Sunday, it's really important for the defense to limit the production of Drew Brees and the Saints offense. It's going to be a tough challenge, because Brees is accurate. He's got great patience, a strong arm, great command of the offense and he can scramble. Brees is a more experienced version of J.T. O'Sullivan. He's not the biggest guy in the world, his release may not be quite as quick, but his arm might be a little bit stronger. You look at the big plays that the Saints have this year, and they are very similar to the 49ers. This guy is going to get the ball where it needs to go.
I can't wait to see what 49ers defensive coordinator Greg Manusky dials up this week against Brees and the Saints. It's interesting because that all depends on how the game goes. We've seen almost a shift in philosophy with the defense in these first three games. That bend-but-don't-break and not putting your guys into too many one-on-one situations without a safety over the top has changed into situations where there's a lot more zone coverages.
Especially last week, the Lions didn't have enough fire power to match up with the 49ers offense and I think that allowed the 49ers defense to be more aggressive. In the previous Mike Nolan seasons, it's been the case where he couldn't allow the opponent to score more than 17 points or the team doesn't stand a chance. With the offense putting up points this year, it's been more of an attacking style of defense.
However, the one thing we've seen from Brees is that when defenses go after him, he shreds them. But then last week against Denver, the Broncos sat back in coverage and he shredded them. I think your best option is to constantly switch things up. Run some blitzes, then play coverage, then run some overload rushes with dropping out defensive linemen, or rush/zone coverages. And then sometimes just play straight-up zone. But, if you sit in one thing for too long, Brees is too smart and he will pick you apart.
With Marques Colton out of action, they will look for the other receivers on the depth chart to step up. One of those guys is David Patten, who is an accomplished receiver. He became a starter with the injury to Colston, and he's no slouch. He's played in the NFL for 11 years. He's got great speed and he runs precise routes. He's definitely the go-to guy when it comes to the receivers. Patten has a hamstring injury he's trying to fight through this week, but the Saints also have Robert Meachem and Devery Henderson, two guys who have great speed. They'll send those guys deep frequently.
Besides not having Colston, it definitely hurts the Saints not having Jeremy Shockey because there are areas that he takes advantage of with that deep speed down the field and stretching the zone.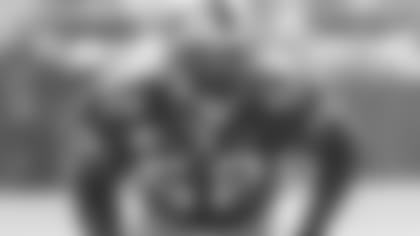 The 49ers will also have to focus on stopping the leading receiver in the NFL in Reggie Bush. The Saints are going to get him the ball every way they can. You're not going to see him running the ball between the tackles, unless it's on a draw. Most of his stuff will be tosses to the outside or reverses. They line him up out of the backfield, motion him in, toss him the ball, reverse him the ball, speed screens, you name it. He has had fantastic screens in the last two meetings against the 49ers. He's very productive in that area. I'm personally looking forward to the matchup of Bush against arguably one of the fastest linebackers in the NFL in Joe Staley. That's going to be fun.
In addition to Bush, the Saints backfield still has Deuce McAllister, who ended up blowing out his knee in the fourth game last year and he's still not 100 percent. That was the contrast last year and the year before that the Saints capitalized on - having thunder and lightning in the backfield. Now, they just have the lightning in Bush, and it's not as effective when you don't have the thunder. They've really struggled in short-yardage situations and goal line. Bush isn't a big back, and that's not his strength, running up inside. Since they've struggled with it for three consecutive weeks, they're going to spend an inordinate amount of time working on their short yardage and goal line package this week. Instead of trying to pound the ball up in there, you might see the Saints just try to spread the 49ers out. Maybe even go with an empty backfield.
I believe, right now, the 49ers offense has so much confidence in Mike Martz having the answers and J.T. O'Sullivan executing, this game is not going to be as intimidating as it would normally be. You can't emphasize that enough. It's so huge, the belief these players have in Martz right now. Yeah, bad things are going to happen in a game. Those guys on the other side of the ball, they're getting paid too. But Martz is going to figure it out quicker than most offensive coaches, and he's going to make adjustments and find answers.
One matchup in particular I'll be watching is the 49ers interior linemen against Saints rookie Sedrick Ellis. Tony Wragge is going to have his hands full. That's a matchup that the 49ers have to win. The Saints traded up with the Patriots in order to pick Ellis because they knew what they were going to have in him. He's probably their best run defender along with Kendrick Clancy at the nose tackle position. They got Clancy last year from Arizona and that really helped them because they had trouble stopping the run the year before. They also have speed rushers on the other side in Charles Grant and Will Smith. Speed rushers are great, but they don't produce as much if the pocket isn't being collapsed inside. Clancy is more of a run-stopper. Ellis can be both a run-stopper and a pass rusher. Wragge is going to need some help over there, either from center Eric Heitmann, a back chipping on him, or sliding the protection to help.
The Saints best linebacker right now, Jonathan Vilma, struggled last year in the 3-4 with the New York Jets. He struggled mightily in the 3-4, now he's back to the 4-3 and he had 16 tackles last week. These are not big, physical linebackers. These are linebackers that are going to try and out-quick you.
I would think Martz will be attacking the Saints with a lot of combination routes. He's always going to be sending somebody deep, but with that, you have to have something short as an outlet for J.T. O'Sullivan, which he's been good at. Last week, Arnaz Battle's short crossing routes were those outlets. They've got a rookie starting at one cornerback position. If you can't take advantage of that with a veteran like Isaac Bruce then, you have got to check your game plan.
The Saints have struggled stopping the run this year, probably due to the injury to Scott Fujita, who is their best run-stopping linebacker. This is a team that is going to try to get up the field, and so you can run trap plays against them. You can run zone cut-back plays and try to take advantage of the guys trying to jump up the field. Then, in the passing game, if you can handle that four-man rush, which is not easy, now you can take advantage of the defense if they start to blitz because I don't think their man-to-man coverage skills are good enough to match up with Bruce, Battle, Vernon Davis and Gore.
The Saints have cornerback Mike McKenzie and he's more of a physical player. Randall Gay, their other corner, was hurt a little bit last week, and he's their free agent acquisition from New England. McKenzie, much like Tarell Brown of the 49ers, came back in his first opportunity for playing time this season and both of them got picks. He's a playmaker and he's a gambler. He's a guy that you may want to use double moves on.
With Martz, he gives defensive coordinators nightmares. This is a week that the Saints defensive coordinator won't get much sleep because the 49ers offense has shown some versatility this season. The Saints have to expect the unexpected against this offensive unit, and when you can get a defense distracted with all the motions and shifts and change in personnel groups, they start to play a little bit tentative.
This is an exciting game for both sides of the ball this week, and I'm interested to see how the 49ers perform against this old NFC West rival.