Former 49ers linebacker and KNBR analysis and color commentator Gary Plummer is back again this year with his Points of the Game, a weekly online column that previews the upcoming opponent. Check out some of his views on Sunday's home game against Detroit.
Jim Colleto, the offensive line coach under Mike Martz is now the offensive coordinator for Detroit.
The biggest change up front is that Detroit has adjusted their run-blocking scheme to a zone-blocking scheme, and that takes a while to develop. Not only that, but they're trying to work in their No. 1 pick at offensive tackle in Godser Cherilus. It's an offensive line that gave up a lot of sacks last year. Some people said it was because of Mike Martz's system. Well, I guess you're going to find out if it was really Mike Martz's system because he threw the ball so much, or if they were just weak up front.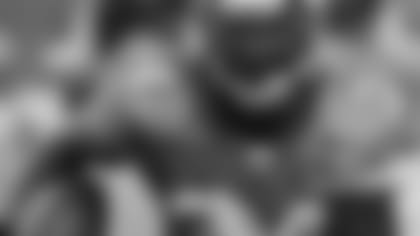 Detroit hasn't gotten the run game going yet, but I think it helps them a little bit having recently added Rudi Johnson, an established guy back there. Johnson is coming off a hamstring and is rusty because he didn't play in training camp, and I would imagine that his conditioning has been affected. Once he gets back in top form, he should help out their running efforts.
Kevin Smith, a third-round pick has been starting, but like most rookies, it's a tough jump coming into the NFL. He hasn't really been able to get into a rhythm running the ball because Detroit has fallen behind quickly in both games. They've been forced to throw the football.
They were dominated early by Atlanta, and had the ball ran down their throat. They also got down to Green Bay, so in order to try and catch up, you have to throw the football.
Detroit has put together a very successful passing attack with veteran quarterback Jon Kitna running the show. Kitna has some talented receivers in Calvin Johnson, Roy Williams, Mike Furrey and Shaun McDonald. The top two guys in Johnson and Williams are similar to the kind of tandem the 49ers defense faced in week one with Anquan Boldin and Larry Fitzgerald.
You saw a couple of different approaches in that game, and one is to get up in their face and jam them. The other is to play off in coverage. Whatever the game plan is, I think the defense has to be ready to make adjustments if it's not working.
If they decide to lock-up Nate Clements man-to-man on ohnson because he's a giant man at 6-foot-7, now you have a very physical route-runner in Williams, who's also very big. So, it'll be interesting. Since Johnson has been the go-to guy, I would think the 49ers would like to lock him up with the best corner money can buy in Clements. Then, they may also run a bunch of different level coverages on Johnson, such as using a linebacker to play inside and underneath with a corner over the top. Or, use a corner underneath with a safety over the top. There are a myriad of ways that you can try to handle guys like that. It will be interesting to see what the 49ers elect to go with.
Kitna was sacked quite a bit last year, and has been taken down eight times in the last two weeks.
Unfortunately, the 49ers pressures have mostly come with having to blitz. The four-man pressures haven't gotten there, at least last week. This offensive line is not very good in my opinion, and so I could see the 49ers having more success with guys winning those one on one battles.
The 49ers were limited in their options last week because they played 'Big Nickel.' I think if they go back to their base 3-4/4-3, they'll also be able to get more pressure on the quarterback. One of the benefits of being a hybrid 3-4, 4-3 defense is you're moving players around, and you're giving teams more things to think about in terms of, 'Who's going to be lining up across from me?' It's not just about what player they'll see either. On one down a guard might be uncovered and the next play he's covered up. That can cause some confusion for the opposing offensive line.
Last week, Seattle's tight end John Carlson had six catches. He was a rookie who has had very little playing time, so obviously, that's something the 49ers defense needs to work on this week. Most of the routes that were being run by that tight end were down-the-field-and-out routes, and he was able to use his size. Matt Hasselbeck was able to put the ball high and outside, which was only catchable by him. So, it's just something that 49ers linebackers and safeties are going to have to be better at. You would expect a guy to maybe catch a couple of balls a game, but, to have that much success as a rookie, that's unacceptable.  Especially knowing going into the game that they didn't have anybody else.
This week, the 49ers aren't going to game plan on one of these tight ends and double team him because then you'd be leaving single coverage on somebody much more dangerous in  Johnson or Williams outside. So, whoever is on the tight end is going to have to get the job done on his own.
The Lions were gouged by the run in week one and exploited through the air in week two. That goes right back to being fluid as a coordinator in the NFL. You can go into a game with a game plan, but it's always about adjusting. Obviously, whatever the Detroit Lions saw on tape in the preseason on Atlanta, they weren't real worried about the run. So they probably played a lot of coverages and ended up getting gashed by a very good runner. So, once that happens, they understand that people are going to try and exploit that the next week. So, defensively, they say to themselves, 'OK, we got gashed for almost 300 yards rushing last week. We have got to play eight men in the box.'
Once a team goes to eight men in the box, it opens up single coverage on the outside. If you have single coverage on the outside and you have a good quarterback, you're going to win. That's where you saw J.T. O'Sullivan have success because that's the defensive game plan Seattle went with. Seattle was trying to say, 'You're not going to beat us with Frank Gore. You're going to have to beat us through the air.' So, now what does Detroit do? They look at O'Sullivan's best day as a quarterback with more than 300 yards passing, and they have to defend against that. So they say, 'We're going to play coverage.' What ends up happening is that it turns into a guessing game, and the winner comes down to which group of players execute better.
Everyone is still waiting for a big day for the 49ers tight end Vernon Davis. Well, Davis had a big day for the 49ers in the passing game, just not as a receiver. It looked like early on that the 49ers were going to try to get the ball toDavis. They went downfield early to him, but with O'Sullivan taking more hits than a piñata back there, Martz adjusted things. The adjustment for some people, offensively, is, 'OK, we're going to throw more quick routes.' Martz doesn't like to do that because it shortens up the zone. It closes the windows in the zone. His philosophy is, if you keep sending people downfield, it's going to loosen up the zones. But, if you're going to keep sending people deep down the field, you're going to have to get better protection. How do you get better protection for seven step drops? You keep a back in to block or a tight end or both. What Davis ended up being was a glorified tackle for a big part of the Seattle game. Other weeks, I'm sure there will be a different adjustment. You're not going to make the same adjustments each week, so expect Davis to be involved in game plans going forward. He had a productive day but he had a productive day blocking. Well, people say, 'Wait a minute, you're paying a high-profile guy all that money just to block.' I like to challenge anyone who says that and say, 'How much money do offensive tackles make?' That's one of the highest-paid positions in the NFL now. So, it obviously worked.
I didn't think any quarterback could survive getting sacked eight times in the NFL, but O'Sullivan did, and he had a big day in spite of them. There will be game plans that dictate that the 49ers are going to run the football and O'Sullivan could end up throwing the football only 18 times, as Frank Gore instead ends up having a big game. One of the best quotes I read was how excited  Gore was, even though statistically he didn't have very good day. He didn't care. He just saw how explosive that offense was, and understood that the 49ers won the football game. You don't see that around the NFL now-a-days as much as you should. People are more concerned with their statistics. You didn't hear Davis complaining about statistics either. Both of those guys sacrificed themselves so the 49ers could get the ball downfield, and it worked.
They'll still get their big days too, and who knows? It could be this Sunday.