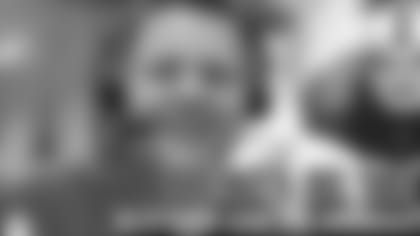 Former 49ers linebacker, and KNBR color commentator Gary Plummer previews the 49ers opponents every week of the 2009 season on 49ers.com. For his first installment of his "Points of the Game" column, Plummer breaks down the 49ers first preseason opponent – the Denver Broncos. **
It's exciting to start a new season and it's really going to be fun because I have a new broadcasting partner in Ted Robinson.
In my career, I've played with a lot of great players, and probably the two that people ask me about all the time are Junior Seau and Ken Norton Jr. I look at broadcasting the same way.
Both of those guys were perennial All-Pros. It's the same thing when people ask me about my former partner Joe Starkey.
And now, I get the opportunity to work with another All-Pro in Ted Robinson. I'm just very fortunate in my career to have had great teammates, and that's the way I look at this transition with Ted.
Now, on to the football game that will take place this Friday night at Candlestick Park.
The matchup against the Denver Broncos is quite intriguing on a number of fronts. One of the major storylines is the return of former head coach Mike Nolan to the Bay Area.
But all over the league, coaches return to cities where they've worked previously. It happens very frequently. This is a recycled league. Coaches don't retire they just get a new job in a new city. It has happened I would venture to say easily 25 times in my career.
Either way, if you had a great relationship with that coach or an acrimonious relationship with that coach, there's a little bit of an incentive for you as a player to make him eat his words. Those game tapes are going to be scrutinized by that former coach of yours so there's some extra incentive.
There are so many things that go into this first game. Number one, the fact that you're playing against somebody new is the best part. They represent a fresh body to hit. All offseason you go against your own players and you've been going for a few weeks. It's just nice to hit somebody in a different uniform. It gives you an opportunity again to get fired up for a different reason. This is obviously not a Super Bowl. It's not even a regular season game. But you still have that drive that makes you want to perform at your peak level.
When I look at the Denver Broncos, first and foremost, you have to wonder what kind of coach Josh McDaniels will turn out to be. McDaniels is coming from an awful good program in the New England Patriots. You can rest assured that he has been in the ear of his former head coach Bill Belichick and there is correlation between success in preseason and success in regular season. If Josh McDaniels feels like he has a Tom Brady then he's going to throw the heck out of the ball. If he doesn't feel like he has that then he's going to pound the football because that's the easiest thing to do.
As far as Nolan's defense, I would have to say that nobody is going to know it better than Mike Singletary. I mean how many years did he work under Nolan? The difference is at this stage of the season, you're not scheming to attack certain things. First of all, this is the installation period, still. Most of how it goes now is in the offseason you get the entire playbook in but you don't really get to work on all of it. You start all over once training camp starts like the offseason never happened. You just go through that at a more rapid pace.
So the entire installment of the offense and the defense, on both sides of the ball, both sides of the field, is not going to be in at this point. You're going to see a lot of simple things. You're not going to see a lot of complex blitzes from Nolan. You're not going to see a lot of complex things going on offensively from 49ers offensive coordinator Jimmy Raye.
What these coaches want to see at this point is who can play football. And the best way to see that is to play smash-mouth football. It's not going to be three yards and a cloud of dust, but I can guarantee that there's going to be intensity and the intensity's going to come from the fact that this is going to be a very physical football game.
But let's be honest for one second, fans, coaches and even broadcasters want to see the quarterback competition play out.
I think for the first time in Alex Smith's career there isn't any pressure on him. Whether it's self imposed pressure or its pressure from the fans or coaches and teammates, there's no pressure on Alex Smith this year. Some guys need that. The question is let's say Alex Smith becomes the man because there is no pressure on him. How's he going to handle the pressure of a game? Success breeds success. If he becomes the starter and he battles through the competition, I think that he can say to himself, "Truly, I've been to the bottom of the barrel. I went from the Penthouse to the outhouse; it doesn't get any worse than that."
He is in a no lose situation. If he doesn't win the starting job, nobody expected him to win it anyway. If he does win it, now people are saying, okay maybe he was worth that pick. It's going to take, if he comes out and fires 300-yard games the first three games of the season and then maybe a little bit of pressure will start. I think Alex is in a perfect position again because he has no pressure.
Conversely, Shaun Hill comes into camp saying that this is my job to lose. He is a guy who was obviously a backup for a long time. Lately, he's gotten an opportunity to play. And now he's in a unique position to be able to take advantage of these opportunities. Sometimes, guys are saying, "Hey, I never got an opportunity. That's all I wanted was an opportunity." Well, he got it. He's got the opportunity. I think that Shaun is a very mature guy. He understands that this is his best chance. This is his best opportunity.
It's not like if this doesn't work out for him that he'll move on down the road, sign with somebody else in two years and get this opportunity again. This is pretty much his last chance as a starter. Now you have a guy with a ton of pressure if you look from it the outside in. But I'll bet you if you talk to Shaun, he doesn't look at it as pressure at all. He looks at it as an opportunity – the opportunity that he's waited for his entire career.
Another aspect of this game that intrigues me is the matchup of 49ers rookie running back Glen Coffee and Denver's rookie Knowshon Moreno. Those two guys played in the same conference in college and have competed against each other for years. These guys are going to want to prove that they belong in their first game. This will be an opportunity for the 49ers fans to see what the team got in the draft with Coffee and the other draft picks.
Besides the rookies, I'm excited to see how the offensive line performs. The emphasis for the 49ers this offseason has been on playing physical. Almost to a man, they've bulked up. I'm really interested to see if that translates in to a physical, dominant front line on the field. I'm very interested in seeing what our right tackle looks like. Currently, Adam Snyder has been lining up with the first-team offense. But, there's a big free agent acquisition in Marvel Smith, who wants that spot too. It will be interesting to see which one of those two has a better performance on Friday.
On the other side of the ball, it's been a while since the 49ers have had a great pass rush. That has translated into the poor records over recent years.
If you don't have an excellent pass rush, it doesn't matter who you have in the secondary. There was a step up last year I think, because of Justin Smith. I also think the other guy fans should be excited for is Parys Haralson. There is another year of maturity for him. Getting Manny Lawson back out there assists the pass rush too.
I'm also interested in checking out Dre' Bly's first game with the 49ers. Bly was a heck of a player at one time. Is he on the rise? If he is, that could ironically benefit the 49ers having that injury to Walt Harris. That is another interesting aspect of the game to pay attention to.
I am also very excited about the inside linebackers. Joe Staley had another fantastic year. His statistics weren't nearly as good but that's because the guy playing next to him is the best guy he's played alongside. I think that the leadership that the 49ers got out of Takeo Spikes was probably something that was unexpected. I'm really happy to see that the 49ers were able to resign him. Those two are about as solid as they get.
With all the storylines set to play out this Friday night, this preseason opener is one of the most anticipated preseason games in a long time. Like everyone else, I'm excited to see how it all plays out.