Playoffs are out of the picture for the 2009 San Francisco 49ers. And now that a couple of days have passed since the 49ers were eliminated from postseason play, the coaches and players have come to grips that their season will only be 16 weeks.
But they've also vowed to finish it the way they started – with two dominant performances.
Doing that would give the 49ers their first .500 record or better since 2002. That accomplishment can be had with a home win over the Detroit Lions (2-12) followed by a road victory over the St. Louis Rams (1-13).
"It's very important," head coach Mike Singletary said. "We always have to set goals. Week-in-week out, it's always important to have some direction in terms of where you're trying to go and what you're trying to achieve. For our team, to finish 8-8 would be good for us. It's something to build on and go from there. It is important, very important."
In order to finish the season on a positive note, the 49ers offense will look to put together a complete performance against the Lions this Sunday at Candlestick Park. Converting first downs, maintaining possession and reaching a couple of personal milestones are all keys for the offensive side of the ball this Sunday.
One of those milestones could be set by running back Frank Gore, who needs only 59 yards to reach the 1,000-yard mark for the fourth consecutive season, something no other 49ers running back has achieved.
"That would be great knowing that every back in this league's goal is to get over 1,000," Gore said. "This week I have a chance to get it and I'm going to try my best to get it."
The statistic is even more important to the 49ers offensive linemen, who look at the number as a measure of success for their year's worth of work.
"It's important to us, because it lets us know we're doing our job up front in the ground game," right guard Chilo Rachal said. "Statistics don't lie and for him to have 1,000 yards this season would be outstanding."
The line received a boost last week when left tackle Joe Staley returned to the starting lineup against the Philadelphia Eagles.
"I thought he played well," quarterback Alex Smith said. "I'm far more self-critical when I watch the film, so I'm not really evaluating the other guys. But, I thought that he did well. I thought he didn't miss a beat."
With Staley in the fold for the next two games, the 49ers offensive line will look to build continuity heading into the offseason. The right side of the line however, has already improved its chemistry in recent weeks.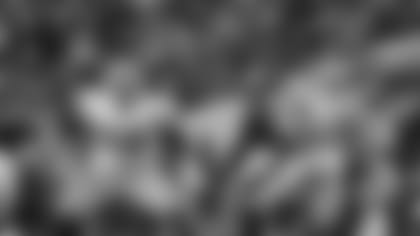 "It's been really good," Rachal said of his on-field relationship with right tackle Adam Snyder. "The chemistry is there. There's certain things he knows that I'm going to do without me having to tell him. We're just trying to have a dominant game, trying to build off our last game and try to get better."
In the 49ers last two games, Gore has rushed for 167 and 107 yards respectively, totaling 6.7 yards per carry in each contest. Needless to say, having Gore continue that trend down the stretch is something the 49ers would love to see as they strive for an 8-8 record.
Gore battled through an ankle injury which caused him to miss most of three games. But despite all the hardships he experienced this season, the downhill, one-cut runner said he's still pleased with what he did on the field this year, averaging 5.3 yards per carry. Gore has already surpassed his career-high with 10 combined touchdowns this season (previous best, nine in '06) and he's caught a career-high three touchdown passes.
"It's been a tough year. But I kept fighting with my teammates and I think if I finish these two games strong, [when] I look back at my season, I think I can be happy with it," he said. "The main thing is to finish strong."
Likewise, tight end Vernon Davis would like to end his season by continuing to have unprecedented success on the field.
Davis has broken single-season franchise records by a tight end with 858 receiving yards and 11 touchdown catches. Coming into the season, Davis had no aspirations for breaking team records.
"My goal was just to have a great year, just ball and do everything I'm capable of doing," the fourth-year pro revealed. "That was pretty much all I was trying to do. I took advantage of my opportunities and did what I had to do."
Davis remains a strong candidate to play in his first Pro Bowl game, and would be honored to be named as a participant. He leads all NFC tight ends in receiving yards and leads the NFL in touchdown receptions.
"I feel like I deserve to be there based on my performance. I'd be upset if I didn't make it, but I would use it as more motivation for next year."
Without the same fanfare, Smith himself tied a personal best, throwing his 16th touchdown pass of the season against the Eagles. But heading into Sunday's matchup with Detroit, Smith knows he'll have to improve upon his three-interception performance for people to take notice of his development.
For Smith, it all comes down to "playing good football."
"I think that's it. Play winning football. Nothing crazy, just go out there and do my job," the signal caller said of what he needs to do this Sunday. "[As an] offense go out and do our job as a unit and put us in a situation to win the game."
The way Smith's head coach sees it, the most important thing that the 49ers can do is "finish." That's with Smith included.
"With everything that we have, finish," Singletary said in explaining his message to his players for Sunday's game. "That's the most important thing, and not so much the two weeks, but this week.
"I think here, for us, once again, it really isn't about Detroit, it's about us. It's our last home game. We want to make a good showing. So, we're going to go out and we're going to finish the football season at home."
In every game of his two-year NFL career, center Cody Wallace has been on an the 49ers inactive list. Wallace's name won't appear with the rest of Sunday's inactives this week; he'll be dressed for the first time.
"He really knows what he's doing. He knows the system," Singletary said of his backup lineman. "It's just a matter of having the opportunity. I want to get a chance to see if – really, hopefully the game dictates that where we can get him in there and get a chance to see it."
Wallace will dress on Sunday and will likely see action on special teams before any offensive line duty. Singletary said he would try to work Wallace in for a series or two at center if possible.
"It's real exciting," Wallace said in front of a hoard of media. "It's a fun thing coming up this week. I feel pretty good about it. I've been watching Eric [Heitmann] and trying to learn as much as I can."
Schmitt's Back to Kick It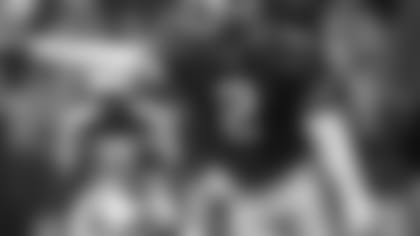 With Joe Nedney nursing a strained hamstring, the 49ers signed free agent Ricky Schmitt to a one-year contract on Wednesday. Schmitt spent the 2008 preseason with the 49ers and converted three-of-four field goal attempts.
"I was back home training staying in shape and I've had about 15 workouts with other teams this year throughout the season. I've just been back home staying busy, waiting for a call," Schmitt said of how he heard of his hire.
Prior to coming out West, Schmitt was back home in Virginia Beach, Virginia, practicing at local Salem High School with his fiancée Jennifer as his holder.
"I was praying and I'm glad this came true. I'm glad to be back here in San Francisco with a great team," he said. "This is the best Christmas gift ever!"
Sunday will be Schmitt's first regular season NFL game.
"I can't wait, I'm excited. I can't thank God enough for this opportunity. I'm going to do my best to help the team."