At almost every level of his football career, 49ers outside linebacker Jay Moore has been able to overcome adversity.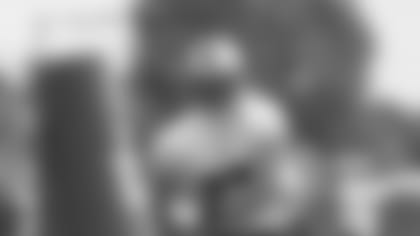 Whether it was suffering a torn ACL during his senior year of high school, being overshadowed by St. Louis Rams defensive tackle Adam Carriker during his career at the University of Nebraska or having to be placed on injured reserve for his rookie season in the National Football League – Moore has no quit in him.
Moore's rookie season unfortunately ended before it ever started when he and teammate Parys Haralson collided in the final preseason game.
"We were playing San Diego and I was the defensive end on the right side," said Moore of the play that cost him his rookie season. "I was rushing the passer and I thought I was about to come clean, get a sack and maybe get a hit on the quarterback."
But right before he could grasp the opposing quarterback, Moore was inadvertently clipped by Haralson.
"He got tied up and fell down. It wasn't like his arm fell on me; his whole body fell on me and it bent my ankle the wrong way into the ground," explained Moore.
After an MRI revealed an upper ankle sprain, a decision was made to put Moore on injured reserve.
"It was tough, but I've been in that same situation before. My senior year in high school I tore my ACL in the middle of football season and I had already accepted a scholarship to play football at Nebraska. I've been through it," said Moore. "You're kind of in the dumps for a day or two, but you try and do your best to forget about it."
Moore said he spent his down time reading books, playing golf and rigorously rehabbing the injury. While on IR, Moore became increasingly aware of the extreme attention to detail required to succeed in the NFL.
"I learned that there's so much more to the game, than just what you have to do [in your assignment] – there is understanding what everybody else has to do on the defense," said Moore.
The injury is fortunately now in the past and did not prevent the second-year player from participating in the 49ers off-season program.
"My ankle is fine, it's not even an issue," he said. "I feel really good physically."
With the ankle healed, Moore shifted his focus from rehab to losing a good amount of weight to help him in his, "hybrid" role with the defense. As of the second week of OTA's Moore has been lining up at outside linebacker and has also been in a four-point stance as a defensive end in the 49ers 4-3 alignment. His combination of size and speed has also been utilized on the punt team.
And if Moore can replicate the NFL careers of other defensive linemen who attended the University of Nebraska, the 49ers will have found a steal in the fourth round.
"I was a big Nebraska fan, I idolized the program," said the Omaha native. "Just playing and be a part of that tradition I think was the greatest thing."
Moore grew up following the NFL careers of other Nebraska greats and envisioned himself following in their footsteps.
"I think the standard was set a while ago watching guys like Grant Wistrom, Kyle Vanden Bosch, Jared Tomich, Mike Rucker, and Chris Kelsay," said Moore. "When I was there, I think Adam Carriker and myself did a good job."
In 37 career games, Moore registered 103 tackles, 12 sacks, four forced fumbles and had one interception at the defensive end position, while playing next to Carriker.
His play and production were good enough to warrant his selection by the 49ers in the fourth-round of the 2007 draft. Now that he is been away from the cornfields of Nebraska for the last year and in the (computer) chip fields of Silicon Valley, Moore has almost completely adjusted to life on the West Coast.
Well, except for one minor problem.
"The traffic out here is berserk - I try not be anywhere around nine o'clock [in the morning]," joked Moore.
However, there is one place you won't see Moore avoid anytime soon and that is the golf course.
"I'm a golfer. When I'm done for the day I watch the Golf Channel," said Moore. "I enjoy the game because it's just you out there. You can never be that good, and you can always get better."
Moore has even been trying to convert teammates into taking up the game.
Last week, he took teammate and fellow linebacker Patrick Willis on a shopping trip for his first set of golf clubs and the two went to a driving range.
Willis might not be much of a golfer but the Pro Bowler made the kind of progress on the football field that Moore would like to see for himself.
"I'm doing my best to be a good player and make my mark," said Moore.
And with his continuing hard work and dedication, Moore's opportunity to shine will certainly come soon.