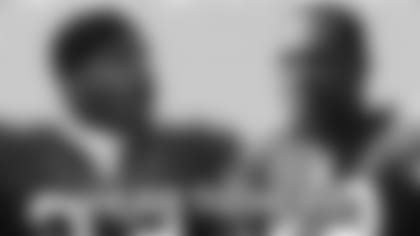 Wide receiver Darrell Jackson hit on three out of four games last week, while cornerback Nate Clements got only two picks correct. See what they think below when it comes to this weekend's two championship games.
San Diego Chargers at New England Patriots – Sunday January 20th 12:00PM PST on CBS
I am going to have to say New England. I think with the injuries San Diego has with the quarterback and the running back, I just think they can't afford for anybody to be hurt or banged up right now. I think they need to be 100 per cent especially going against a team as loaded as New England.
Everyone talks about Randy Moss, but the Patriots have shown if you take away one weapon, they are going to use another to pick up the slack and hurt you. So their receiving corps all across the board – Wes Welker, Donte' Stallworth, Randy Moss, Jabar Gaffney, and the tight end Benjamin Watson – they can all make plays. I have to give those guys the slight edge over the San Diego backfield because there are just so many different guys to focus on, and Tom Brady does an excellent job finding them.
I don't buy that a California team can't handle the cold weather, so I really don't think that's going to be an issue. There is a lot riding on this game and the Chargers aren't going to allow weather to sway them.
I have to go with New England. I think if San Diego was at full strength this game would be much closer, but I just think with LT banged up and Phillip Rivers with that MCL sprain, you just don't know how those guys will hold up. I don't think the odds are looking good for them with those two key injuries.
I like San Diego, and yes I do expect them to pull off the biggest upset of the year! I like San Diego's defense against the New England offense. I think they've got great cornerbacks in Antonio Cromartie, Quentin Jammer, and Drayton Florence and I think they'll hold down Wes Welker, Randy Moss and Donte' Stallworth. They've got an excellent linebackers corpse and I really expect that group to get after Tom Brady and get some pressure on him. The Chargers definitely need to stop the run game and really be able to dictate, versus playing a guessing game.
San Diego has a relatively young offense starting even at quarterback and they are going against a veteran defensive team with a bunch of guys who have been in the big games, but they do have one of the best players in the league in LaDainian Tomlinson. I think if they can get him going, he can make it happen and pressure that defense. I know he's a hurt, but I think he's a gamer and he won't be kept out.
If Phillip Rivers can't play, I'm counting on Billy Volek. I think if he's in there, you'll see more checks down to LT and I just think with LT getting his touches, he's going to help eat up that clock and keep New England's offense off the field. Volek, and even Rivers, just can't afford any big mistakes. 
New York Giants at Green Bay – Sunday January 20th 3:30 PM PST on FOX 
NATE CLEMENTSThat is going to be a tough one, a very tough game. You know I think I'm going to have to go with the Giants. San Diego has been one of the hot teams during the playoffs, and so have the Giants.  They've played really good football since the end of the season and that has certainly carried on into the playoffs. They just seem to me like a team that is hard to beat and I think they can handle the Packers.
I think the key match ups in this game is going to be Charles Woodson and Al Harris against Amani Toomer and Plaxico Burgess. I think that'll be a real interesting matchup between those guys and fun to watch.
Brett Favre is one of the best and he's really going to need his offensive line to have one of their best games this week. We all know that the Giants have one of the best defensive lines in the NFL, leading the league in sacks. They are very good at what they do.
Lambeau Field is a tough place to play, but I think New York can handle it. I think it's going to be a very good game and I think this one will come down to field position and who can win that battle. When the weather is not up to par, be it rain or snow, you have to win the field position battle. I just think the Giants will pull it out.
I think this is going to be a pretty big game and I don't think the weather will be an issue because both teams play in the cold and in the North.
I do like the experience of the Giants defense and I just think they are playing very good football right now, but they are banged up in the secondary and they will have a hard time covering the four wide receiver set that Green Bay likes to play with. Brett Favre has been playing well and he'll take it to that Giants secondary.
Green Bay also has excellent corners in Al Harris and Charles Woodson and should be able to match up man to man on Plaxico Burgess and Amani Toomer and make it a hard day on Eli Manning. I think they'll send a lot of pressure, and get after him. The Giants will help themselves with their run game because Brandon Jacobs is a load. He's 240 pounds or something like that, but I think Nick Barnett and AJ Hawk should be up for the challenge.
I think this is a pretty evenly matched game and will be a great one. It's a Super Bowl game in itself, but I give the nod to Green Bay!