When graduates of Fresh Lifelines for Youth (FLY), an organization devoted to helping disadvantaged teenagers, visited the 49ers at training camp to share some of their stories and experiences, Shawntae Spencer was truly touched.
So much so, the 49ers cornerback made sure he visited more students currently involved with FLY's program at New Valley High School in Santa Clara during a 49ers Community Tuesday event this week.  
"Our mission is to prevent juvenile crime and incarceration through legal education classes, mentoring and leadership training," said Aila Malik, FLY's Associate Director.
FLY offers classes in a 12-week program for probation youth either after school or in conjunction with continuation schools, with New Valley being one of the schools that FLY has had a relationship with for almost a decade. In addition, the 49ers Foundation has donated upwards of 25,000 dollars to FLY in each of the past three years to show support of their organization.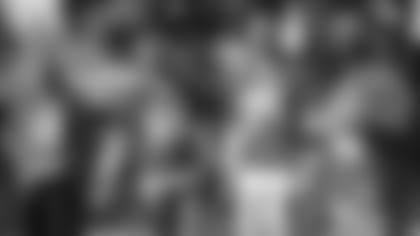 Joined by wide receivers Josh Morgan and Micheal Spurlock as well as defensive tackle Kentwan Balmer, Spencer and his teammates shared with the students how to deal with stressful triggers. The visit to the school was in conjunction with the NFL's Play 60 Program that promotes youths engaging in physical activities for 60 minutes a day.
"It was exciting to be out here today with these kids," said Spencer, one of the team's Play 60 player spokesmen. "The FLY graduates visited us in training camp, they told us their story and really it was inspirational. I wanted to meet more of the kids, hear their stories and share mine as well."
Spencer was able to share his experiences when the players broke off into groups with a handful of students each. From there, the groups discussed stress triggers and how to deal with situations that come up in their everyday lives. After making lists of stressers and discussing their experiences with stressful situations, the groups went to various football stations to practice relieving some of that built up tension.
"One of the big areas we focus on is triggers," Malik said. "We talk about what is it that makes us mad? And how is it that we typically react? Then we work on trying to find alternative ways to react.
"These guys had a lesson about anger management triggers about two weeks ago and this was a perfect way to follow up that discussion and talk more about what their stressers are and actually do something physical out of the classroom to show them some outlets to deal with stress."
The kids caught passes, ran through different football drills and even tackled a football dummy to let out stress.
"We were teaching them different ways to deal with stress in their life and how to take their aggression out," Morgan said of the purpose for visiting with the New Valley students. "I told them that I dealt with my stressers by playing football, basketball, working out and doing things like that. We're just letting them know they don't always have to react to stressful situations. We're showing them you can have fun and take your mind of the stress."
Morgan even had fun coaching up the students on proper tackling fundamentals. And who better to teach them than Morgan, a self-described, "Athlete… not just a wide receiver."
"I think if it wasn't for Pat [Willis], I think I'd be our leading tackler if I was on defense," Morgan said with a huge smile.
After the physical activities, the entire group reconvened to discuss what everyone had learned from the day. But it wasn't just the students who took something from the day, the players too, left with a positive experience. The players were so moved, Spurlock announced that he would pay for all the students to attend an upcoming game. Upon hearing his declaration, the rest of Spurlock's teammates wanted to chip-in as well.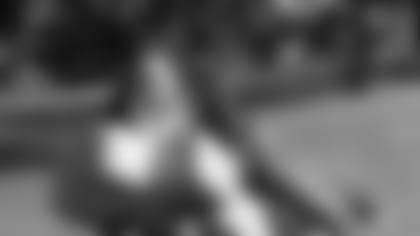 "This is such a great opportunity for our kids," said Betty Carmody, vice principal of New Valley High. "So many of them haven't experienced this kind of event or have been to a football game. Having one of the players say that tickets will be waiting for them to a game is just an outstanding opportunity for them.
"To be able to have these football players here as role models for them, to tell them how they can relieve stress – it's an outstanding thing for the kids to hear."
Because, as Spencer described, there's really no difference between the stresses that a student and a football player go through.
"The things that they're going through in their life are things we went through as teenagers and adolescents. We're not dissimilar at all," Spencer said of his message to the kids. "The same issues that they go through, we go through now, regardless of what we do for a living. We still have those same stressers that you force you to do something that you really don't want to do, a bad decision. We want to share with them that no matter what you do in your life those same things are going to be there and you have to find a way to deal with them in a positive way."
And while Spencer was able to have an impact on the students, one of them had a positive effect on him as well.
"I actually found a new way to backpedal that I might try out on Sunday, but don't quote me on that!" Spencer said with a chuckle.