With the 49ers bye week coming on Halloween weekend, the players will be doing a variety of different activities during their time off, ranging from trick-or-treating with the kids, to weekend getaways, to visits with family members across the country.
But for 49ers offensive lineman Adam Snyder, the bye week could not have come at a better time. The reason being, Snyder's first child, Kael was born earlier this week.
With a three-day weekend, Snyder and his wife Erika, will have some quality time together with their son, which couldn't have come at a better time.
"I'm still feeling the high [of the moment]," Snyder said. "The first couple of days, it was a great experience and everything went well. So, I'm happy to be spending time with my newborn and taking care of my wife."
Snyder said teammate and close friend, Joe Staley would likely be over at the Snyder house to play with Kael.
""I think some friends might come over, I'm going to try and get "Uncle" Joe Staley over to hang out," said Snyder.
While Snyder enjoys his first quality moments with his child, 49ers return specialist Allen Rossum will be enjoying his first opportunity to take his kids to school.
"I'm really looking forward to it," said Rossum. "That's like the best part of my day in the offseason, when I take my kids to school and pick them up."
For Rossum, travelling cross-country to Atlanta, even for just a weekend, is well worth it, because of the special time he'll spend with his kids.
"We'll probably see Madagascar 2 or whatever Disney movie that is out," he explained. "That's what we do. We hang out at the mall, walk around with the kids and then take them back to the house, where we have a playground in the backyard."
Rossum said he's looking forward to watching his alma mater's (Notre Dame) football game with his two-year old daughter.
"I don't how much of the Notre Dame game I'll be able to see, because when I'm at home watching games, nobody wants to watch except for my two-year old. My other kids are all about Hannah Montana and those shows."
Like Snyder and Rossum, other players on the 49ers will be enjoying their extra time with their kids, especially on Halloween.
Linebacker Takeo Spikes plans on taking his six-year old daughter Jakai out trick-or-treating, who will be dressed as Wonder Woman.
"She gets a kick out of it and I get a kick out of it too, to be honest with you," Spikes said.
Wide receiver Jason Hill is also looking forward to spending his first Halloween with his sixth-month old son, Jason, who will be dressed as a pumpkin.
"We'll be at the front door, handing out some candy – that's the plan," Hill said.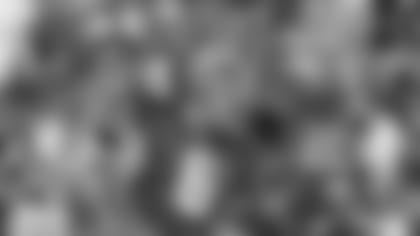 The sons and daughters of the 49ers players are their fathers' biggest fans, but this weekend, some of those fathers will be returning the favor.
Kicker Joe Nedney plans to take in his daughter's soccer game.
"We'll probably tailgate a little before the game, cook some sausages or something like that," he joked. "Really, I just like to sit back and watch my daughter play soccer."
Nedney won't be the only 49ers player doing some tailgating this weekend.
Center Eric Heitmann will spend part of his bye weekend, visiting his alma mater and experiencing a tailgate party with his former Stanford teammates this Saturday when the Cardinals host Washington State.
"Most of my former teammates, who have stayed in the area, have a local tailgate before every Stanford game. Every week they ask me if I'm going to be able to make it, but I'm either traveling or staying at our team hotel by Candlestick. So, it'll be great to finally get to catch up with them. "
As Heitmann visits with his college family, many of the 49ers players will be visiting their actual families, like quarterback Shaun Hill, who is anxiously anticipating his fishing trip.
"I'm going back home to Missouri to go fishing and I have some family coming in. We're going to fish for a couple of days and see family and friends," Hill proclaimed.
Even though he'll be on vacation, he'll still be keeping his competitive edge.
"I'll enjoy the scenery, but it's more fun to catch some fish and even more fun to catch more than my dad," Hill said. "More fish and bigger fish, I should say."
Hill admits that his father is a skilled fisherman as well, and that he's trying to replicate the kind of exotic catches that his father made two years before.
"We went fishing two years ago right after I got my fishing boat, and my dad caught a bass, a crappie, and then he caught a duck flying by. This is a true story."
Hill elaborated on the bizarre, but true moment on his fishing boat.
"He was casting his line and a duck was flying by and he hooked it," Hill said. "The duck fell just like it does on Duckhunt. It didn't make the whistling sound, but it was quite a day. I've never caught a duck, but my father has. He's got me there."
Cornerback Walt Harris will also be spending quality time with his parents this weekend, as he will be back where he feels most relaxed: his mother's sofa in Atlanta.
"Anytime I'm at home at my mom's house, when I get on that sofa, that's the best place to be, right in front of the television and you can just relax," Harris said. "You don't have any worries or anything."
While the players opt for different ways to spend their weekend off, when Monday rolls around, they will be ready to get back to work and prepare for the following Monday night showdown with the Arizona Cardinals on November 10.