With beautiful weather and 10,000 Faithful fans gathered to hear him speak, 49ers head coach Mike Singletary was in his comfort zone last Saturday afternoon.
In the midst of the 2010 49ers Family Day event presented by the San Francisco Chronicle and SFGate.com, Singletary very much enjoyed his opportunity to address the fans, but more importantly, thank them for their support and inform them on the latest happenings with the club.
He even fielded questions from younger fans, which ranged from "What is your favorite food?" to "Did you play any other sports in college?"
Notoriously noted as a family man, who has instituted a family-like culture within his own team, Singletary was more than pleased to address the Faithful fans of all ages and answer every last one of their questions.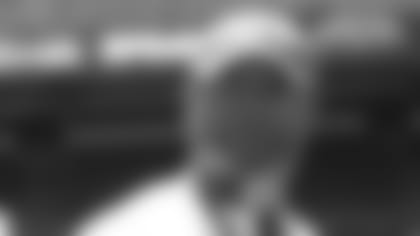 "When people come out and support us and let us know that they care about our team, that's always a great feeling," Singletary said in an interview with TV49.
In addition to the Q&A session with the head coach, Candlestick Park was transformed into the perfect playground for a 49ers fan. With the entire playing field littered with various activities, fans lined up for autograph sessions with alumni, current players and cheerleaders, toured the locker room, and participated in multiple interactive games for fans of all ages.
And just like their head coach, several of the newest 49ers were enamored with their interactions with the 49ers Faithful.
Running back Anthony Dixon and his fellow rookie teammates signed autographs and also led instructional drills on the same field where they'll experience their first NFL season.
Appropriately stationed at the running back drills, Dixon helped teach the kids how to correctly hold the football, the same way offensive coordinator Jimmy Raye has taught him this offseason.
"I'm just helping them work on their feet, so they can hit the hole hard," Dixon said with a smile. "They put the best guy possible for the job. I'm having fun with it."
As a lifelong 49ers fan, Dixon was just like many of the fans in attendance, in awe of his surroundings.
"When I was walking in I was just amazed, I had to stop for a minute. I just had to think about all the great stuff that went on in this building. I just want to be a part of it."
Fellow rookie, wide receiver Kyle Williams helped out by teaching kids about playing his position and relayed some of the same messages shared to him by the 49ers coaching staff.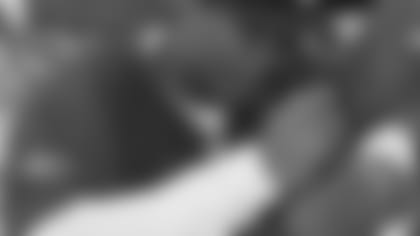 "With whatever they do, we're telling them to compete," Williams said.
For longtime season-ticket holder Leona Sunseri, the opportunity to interact with the players while walking on the hallowed grounds of Candlestick Park was too good of an opportunity to pass up.
"I've been a 49ers fan all my life and my parents have had their season tickets since they moved from Kezar (Stadium), but I was always somewhere else for Family Day. I said, 'I've got to go this year!' and I made it, I'm so glad! The weather's perfect and it's good to be on the ground, where your players play all the time," Sunseri said with a smile.
As much as the players enjoyed their first experiences on the field and with their fans, the experience will suit them well as they prepare for their first NFL season.
"They need to know what they're getting themselves into. They need to know that people really care about the history, tradition and everything else," Singletary said. "They need to know these people are counting on them to play well and do a good job."
With the support of the fans firmly implanted in his mind, Singletary said he's looking forward to the 2010 season and expects it to be a "great football year."
"I'm very excited about this team, this coaching staff and what ownership has been able to do," he added. "I'm just excited to be a part of it. I can't wait to get going."