If one were to put an ear to the ground around the offices of coaches around the NFL, they would possibly hear the sounds of fear and confusion.
"How do we stop him?" one coach may ask. "I have no idea," might be a common answer. After 49ers linebacker Patrick Willis' sophomore season in the National Football League, many eyes are still zeroing in on the former AP Defensive Rookie of the Year.
But arguably not as much as he is zeroing in on the game himself.
"I love the game of football," Willis said. "Each day I wake up I want to play football. Although I know you can't play the game forever, I want to play it right now while I can, while I'm able to and while the good Lord is blessing me without injury and giving me the enthusiasm to play the game."
Despite setting an unofficial NFL record his rookie season with 226 tackles and adding Pro Bowl and All-Pro honors to his Defensive Rookie of the Year selection, Willis was far from satisfied.
Proof of his desire to better himself came this past season when Willis was named to his second consecutive Pro Bowl recording 185 tackles, 11 passes defensed and an 86-yard interception return for a touchdown in Week 2, the longest in franchise history by a linebacker.
"My goal someday is for both critics and kids at home to say, 'Patrick Willis is one the best defensive players to ever play the game,'" Willis said. "You can't be satisfied with what you did yesterday. Each day I know that in order for me to reach that goal, I have to come to work and get better."
His teammates and coaches agree that with his desire and abilities that he has the potential to be one of the greatest linebackers in NFL history.
"When he came in that first week (of his rookie mini camp), I saw how detailed and conscientious he was about what he was doing," assistant head coach Mike Singletary recalled.
"From the get go, you could tell he had some pretty amazing talent, and it was just a matter of feeding him the idea that he could be great," said fellow linebacker Jeff Ulbrich. "He's so humble at times that he doesn't realize what he's capable of."
There Will Always Be Doubters, Always Be Critics
While he may be humble and courteous, Willis is certainly confident in his abilities. He needed to believe in himself growing up in Tennessee because some thought Willis would not amount to much either on or off the field. He said he remembered people around him always questioning his ability. They would doubt that he could get the grades to graduate from high school; they would question his talent on the field.
Willis quieted the naysayers who claimed he couldn't get the grades or didn't have the ability to make it on the field when he was accepted into the University of Mississippi, where he became one of the most feared linebackers in the Southeastern Conference.
"I thought to myself, 'If they can do university, then I can do university,'" Willis said. "There were people doubting me and crawling up saying, 'He can't really do this, or he's not supposed to.'"
Willis grouped all the negative criticism and tucked it away, held on to it, and used it to improve, both as a person and a player.
But it was through childhood, adolescence and into college that Willis began to realize the power of belief in himself and utilize his passion for the game.
"You have got to work for what you have in order to get what you want," emphasized Willis.
An autobiography of Chicago Bears running back Walter Payton helped Willis form his approach. His life would never be the same after watching it.
From that moment, Willis became enamored with one of the greatest running backs of all time. He fell in love not with Payton's greatness on the field at first, but with his story.
"All he talked about is how he liked to work and the work ethic he put in," Willis said. "The biggest thing that stuck in my mind was his work ethic. I was like, 'Wow, I want to have a work ethic just like him.' So it stuck with me."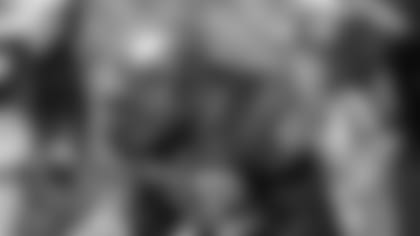 Love For The Game, Love For The Team**
As Willis was busy amassing 355 tackles at the University of Mississippi, he still used Payton as a role model.
"When I got older, having that mind frame and going through the things that I went through, I knew the only way to get where I wanted to be someday is to work for it," Willis said.
With his insatiable desire and relentless work ethic, his teammates and coaches believe he can achieve his goal of greatness.
According to Singletary, a Hall of Famer and one of the best linebackers in the history of the NFL. "The sky is the limit for him."
As high as the ceiling is personally for Willis, his primary goal is to win games.
"At Ole Miss, I wanted to do all that I could to win," Willis said. "I love to play, but when I don't win, I can't enjoy it 100 percent."
Having only won four games in his senior year of college and 12 in his first two NFL seasons with the 49ers, Willis' main goal is more victories as evidenced by the way he downplays his two Pro Bowl nominations.
"I don't really think about that as much as I think about just doing what I need to do to help this team win," Willis said. "All I want to do is get back to the old glory days around here. I want this team to get that feeling back when you can walk around town and have that feeling that we're good again like they once had."
Passion Through Pain
Willis recorded 20 or more tackles in three games during his rookie season in San Francisco and at least 10 in all but one. He did so while playing a significant portion of the season with his hand in a cast.
Playing hurt was no problem. He said he knew there was something wrong with his hand, but he couldn't let his teammates down, and he had not reached his brink yet.
"The thing that all great players have in common is this incredible desire to play at their absolute best," former 49ers radio play-by-play broadcaster Joe Starkey said. "They're competitive and they're driven. That stands out above all else."
And Starkey can say a thing or two about great linebackers.
"I grew up in Chicago watching (Dick) Butkus and Singletary," Starkey said. "In fact, when I talked to Mike (Singletary) about Willis, he said that he had the potential to be in that category of greatness."
That Willis loves to play the game at such a high level and pays it such respect is what Starkey believes draws the fans in. From watching the best and how much they love the game, he sees the same in Willis.
"I think that Patrick has the most amazing combination of speed, instincts, power, and agility that I've seen in a linebacker outside of the ones that are already in the Hall of Fame," Starkey said.
Reaching For Greatness
During his sophomore campaign with the 49ers, Willis expanded his game to take on the role of leader of a stout defense that progressed throughout the season.
"(His rookie season) he was hesitant to take that leadership role," Ulbrich said. "Not because he's not capable of doing that, but because he just didn't want to step on anybody's toes. He didn't think he deserved the right."
But after all the accolades he achieved his first two seasons, Willis is embracing the magnitude of what his team is asking of him.
"I'd rather be known as a guy who pushed his limits and couldn't make it any more instead of a guy who couldn't push it," he said. "I have guys around me who are going to push it, so I'm going to push it for them."
49ers Faithful
Willis doesn't quit on his legions of fans either. He will do whatever he can to give back to the game and the people that have given so much to him. When it comes to fans looking for autographs, Willis respects the status he has not just as an NFL player, but as someone who fans have taken the time to get to know and love.
"(The fans) don't just want my autograph because I'm an NFL player, but because of who I am and the organization I represent," he said. "I'm grateful and thankful that the good Lord has blessed me to be in the position that I am in. So each time a fan comes up and says, 'I hope I didn't cause any commotion or get people riled up,' I say, 'Nah man. You're cool.' I think we have great fans, and I love them to death."
Patrick Willis Puts His Game Face On
Patrick Willis likes to wake up early on game day, and before he does anything else, he gets the blood flowing a little with some push-ups and sit-ups. Next, he hits the shower, periodically switching the water from hot to cold. Then, he gets dressed and heads down for some food. If it's an early game, its just a piece of chicken and some broccoli.
"I don't want my stomach to be heavy," Willis said.
The Stadium
Willis likes to get to the stadium early so he doesn't feel rushed. Once he arrives, he chills to a little music and then jumps into the hot tub to get his body warm before taking another hot and cold shower. When he gets out, he heads to the trainer to get taped up and then moves on to his locker for the pads and uniform. Before he gets ready to hit the field, he greases up his arms a bit to make them "shine" and then says a very special prayer regarding his brother, Detris, who tragically drowned in July of 2006.
"I say, 'Lord, today I pray, is it alright if I have my brother to be my guardian angel today? Can I just be selfish for a couple of hours and have him watch over me? I'd really appreciate if you let that happen today."
As he makes his final preparations for a game Patrick is not typically very loud in the locker room, but when he finally does start to get pumped up just before he hits the field he acknowledges the crowd's role in that process.
"We can hear them when we walk out from the locker room and when they start calling your name and going crazy you go 'oh, man, it's game time, it's time to play some football,'" he said. "They get me excited; they get me going. There's nothing better than having your name called out and then having the fans go crazy."
And that's how Patrick Willis Puts His Game Face On.