It doesn't matter where they come from. But when the 49ers sack opposing quarterbacks a minimum of three times, it often translates to victories.
For only the second time under head coach Mike Singletary, the 49ers tallied three sacks against an opponent and took a loss last week in Atlanta. Singletary's 49ers teams have won on nine other occasions in which they've sacked quarterbacks at least three times.
Past outcomes aside, the 49ers pass rush figures to play an even more integral role this Sunday when they host the Kevin Kolb-led Philadelphia Eagles. The 49ers do have a plan in place in case starter Michael Vick is able to play through a rib cartilage injury, but they expect Kolb to get the call.
Rattling the Eagles third-year signal caller might be the biggest defensive key. He's completed 27-of-45 passes for 225 yards this season and has thrown one touchdown and one interception.
"Kolb is a good young quarterback," said 49ers outside linebacker Parys Haralson, who tallied 2.0 sacks last week in Atlanta. "He stands in (the pocket) and throws the ball."
But the 49ers aren't looking at Kolb as solely a pocket-passer. He's shown mobility, not like Vick, but enough to give the 49ers something to think about.
"It's always hard to cover (Vick) because he can scramble and get out and make a no play into a 50-yard play and this kid does the same thing," defensive coordinator Greg Manusky noted. "He's got some ability to scramble and he feels inside how he can get out, and he's done that in the past. So we have got to protect that as well."
Putting the importance of a successful pass rush into greater perspective, the 49ers failed to generate much pressure in two blowout road losses to Seattle and Kansas City. The unit only totaled 1.0 sack by linebacker Travis LaBoy against the Seahawks.
In their two heartbreaking defeats, the 49ers generated 2.0 sacks against the New Orleans Saints and the 3.0 sacks last week against the Falcons at the Georgia Dome. Needless to say, success in the pass rush department looms large in how the defense plays overall.
"Anytime you get pressure on the quarterback it disrupts their whole offense and that's basically the plan going into each and every game," Haralson explained. "We're trying to get to the quarterback, early and often."
LaBoy and Haralson lead the team with 2.0 sacks a piece, and both say they've benefitted by the 49ers pass-rush by committee which features the rotation of Haralson and Manny Lawson as the starters, with LaBoy and Ahmad Brooks spelling them off the bench.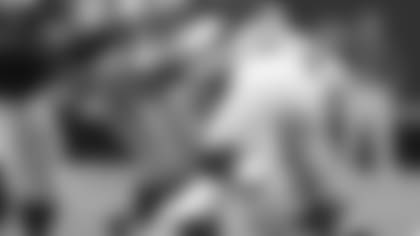 "It helps us stay fresh," LaBoy said. "I know our outside linebackers are asked to play a lot of special teams. For Manny and Parys, I think it's good for them. It helps to get a breather before they come back in."
Haralson said all the defenders envision big sack numbers for themselves, but are happy to share the wealth just as long as the quarterback goes down.
"Everyone wants to get to the quarterback, but we rush as a group," he added. "We rush as a defense and it works out for us."
Fortunately for the 49ers, Philadelphia has allowed 15 sacks, tied for second-most in the NFL. Eleven of those sacks were on Vick, who replaced Kolb after he sustained a Week 1 concussion while being sacked by Green Bay linebacker Clay Matthews.
Vick took over quarterbacking duties even after Kolb was ruled healthy, but no matter who is under center for Philadelphia, a successful pass rush will be key in slowing down the big-play capabilities of the Eagles offense.
Kolb has yet to complete a pass for longer than an 18-yard gain to fullback Owen Schmitt, but that's not to say he can't uncork a deep ball to wideouts DeSean Jackson (16 catches, 337 yards, two touchdowns and 21.1 yards per catch) or Jeremy Maclin (12 catches, 162 yards and four touchdown catches).
The 49ers surrendered a six-catch, 140-yard, one-touchdown performance to Jackson in a 27-13 road loss last season. They're not focused on the past however. All that matters is what takes place at Candlestick Park on Sunday night.
"It's a different time and a different game," Haralson said. "You look at film and see what you can pick up, knowing that you've played them before. You still have to win your battles."
It all starts up front. If the 49ers win those battles, it should loom large in them picking up their first win of 2010, in addition to snapping a four-game losing streak to the Eagles.
Notes and Quotes
Even with Philadelphia running back LeSean McCoy banged up with a broken rib, the 49ers haven't lost sight of the Eagles running attack. The unit held Michael Turner to an average of 3.1 yards per carry (16 carries, 50 yards), one week after giving up 97 and 95 yards to Kansas City's running backs Jamaal Charles and Thomas Jones respectively.
Although the Falcons did not test the perimeter of the 49ers defense like the Chiefs did, Manusky was pleased with the performance of his front seven. "For the most part, the boys up front did a pretty well at setting the edge, Parys played real well. Manny and Ahmad you know, had their moments and did pretty well."
Likewise, Manusky was content with the first start made by rookie safety Taylor Mays. "Overall, I was proud and pleased with his performance on Sunday. He did very well."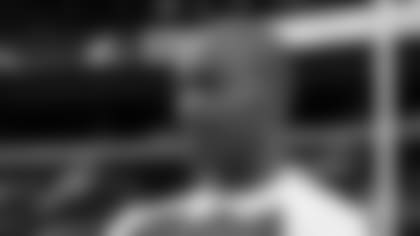 Offensive coordinator Mike Johnson said the backup running back Brian Westbrook would have a larger role with the offense with tight end Delanie Walker ruled out with an ankle sprain. "We're going to use other groupings, other people. We're going to try to get Brian (Westbrook) in a little bit more. Try to use another one of our wide receivers in certain packages that we would go with Delanie. We're going to try to use multiple personnel groups each and every week regardless of who we have to use."
Johnson said utilizing Westbrook has been difficult with Frank Gore being such a versatile player. But he noted that the coaches would find other ways to take the load off of Gore.
Using both running backs at the same time isn't as simple as most envisioned when the 49ers signed Westbrook midway through training camp. Johnson said protection issues figure into the decision making too.  "You don't want to flip those two halfbacks in the game and then all of the sudden, every time you're in the game, one's protecting and one's releasing. You have to be able to mix that up and be more versatile when it comes to that."
Having said that, Johnson said the coaches would try to get Westbrook "involved in some way here pretty soon."
In addition to Westbrook filling in for Walker as one of the team's versatile chess pieces, Johnson credited rookie tight end Nate Byham as being another multi-talented player in the 49ers offense, not just a run-blocker. "He's a big body and he's also very smart. He's able to handle a lot of things being a young player and that's rare. He can do some things for us from a fullback standpoint."
With Ted Ginn Jr. returning from a knee injury, don't assume he'll solely line up as the team's third wideout. Johnson said Dominique Zeigler would play some as the third receiver as well.