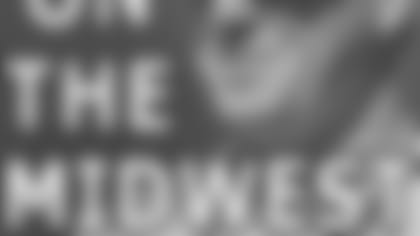 Player Personnel Assistant Ethan Waugh is in his fourth season with the 49ers and has become a jack of all trades for VP of Player Personnel Scot McCloughan with duties that cover both the pro and college side of scouting. In this latest column, Waugh updates our fans on his recent college visits and a few other time consuming details of his job.** 
It is hard to believe, but while the NFL season is just reaching its mid-point, the college season is winding down. As teams are preparing for rivalry games, conference championship runs and, in just a few weeks, bowl games - college scouts are putting the finishing touches on their evaluations of the senior prospects.
Personally, I have just about finished making my second trip through all of my schools. Evaluating each player in person and on tape at different points in the season allows me to get a more complete picture of his talents. I have seen the good and the bad and can write a comprehensive summary of his strengths and weaknesses. Right now, I feel that I have a good handle on all of the players in my area, but I will keep watching additional games so that no surprises pop up.
Last weekend offered Bay area football fans a great opportunity, Stanford played Washington in the afternoon, and Cal matched up against Washington State later that night. Even though the two schools are quite a distance apart, it was possible to see both games, provided you could find a place to park in Berkeley.
The visiting teams in both cases were led by a number of talented seniors. Washington running back Louis Rankin torched the Cardinals with 36 carries for 255 rushing yards and a touchdown. That performance put him on track for 1000 yards for the season – if he achieves that mark, he will be the first 1000 yard rusher at the school since 1997. The win over Stanford also ended a six game losing streak for the Huskies.
In Berkeley, Washington State quarterback Alex Brink paced the Cougars with over 300 yards passing, but came up short as Cal ended its three game losing skid. Brink may not receive the same amount of attention as his Pac-10 counterparts like Dennis Dixon and John David Booty, but Brink has thrown for over 10,000 yards and over 70 touchdowns in his career. Those numbers will match up with just about anyone in the country. Add in the fact that he has great football intelligence and is a diligent student of the game, and you can see why many scouts have made the trek to Pullman, Washington.
On Sunday, I watched our game against the Falcons and then spent the rest of the afternoon typing reports. It was tough to watch the team lose, but it also helped me to recharge and refocus my energy on my college duties. Later that evening, I went to the airport to pick up my family. They were returning from a visit to my wife's family in South Carolina. It was great to see them, even if it was for just a few hours before my son had to go to bed. Being on the road more this year is a great opportunity, but it also means less time for my family so I try to make the most of my time with them.
The rest of the week I spent in the office working on a variety of projects. First and foremost was getting caught up on my college reports, but I also worked on some planning for the upcoming college all-star games and the Indianapolis Combine. Although the Senior Bowl and Combine are still months away, I want to get all of the details taken care of so the staff can be totally devoted to evaluating players. Additionally, I worked on a few pro projects, including updating our free agent board. Our pro scouts have not only been producing advance scouting reports for the coaching staff, but they also have been evaluating each player in the league who will be free agents following this season. In much the same way that we produce magnetic and electronic boards for the college draft, we construct restricted and unrestricted free agent boards as well. This helps us to gauge the depth of available players at each position, and also what the market for those players could be. Hopefully, among the hundreds of names on the board, we can find a few players that fit the mold of those that we signed last year (Nate Clements, Michael Lewis, etc…) hard working, competitive, and committed to playing a winning brand of football.
On Friday night I flew to Portland, Oregon in order to see a pair of football games. I started Saturday at the Portland State/Montana State game at PGE Park. The home of the Vikings doubles as a minor league baseball stadium, and is one of the more unique venues in the West. Fans sit along the first and third base lines and over the outfield wall, you are presented with a great view of downtown Portland. The neighborhood around the stadium is populated with a number of interesting bars and restaurants, but food wasn't on my agenda because I had to jump in the car and head south to Corvallis for the Oregon State/Washington game.
This was my first opportunity to see a game at Oregon State, and I was certainly impressed. The Beavers had their largest crowd in history, and the game went right down to the wire. It took a fourth down stop with under two minutes remaining for the Beavers to finally put away the Huskies. The game was marred by a couple of skirmishes that resulted in the ejection of four players, but both coaches did an excellent job of regaining control of their teams before things could get out of hand. I also witnessed one of the scariest moments I have ever seen on the football field. Washington's star quarterback, Jake Locker, was tackled hard near the sideline and remained motionless on the field for what seemed to be an eternity. He eventually was transported via ambulance to a local hospital. An uneasy feeling settled over the entire stadium until Jake returned to the sidelines in a neck brace in the fourth quarter. Upon his return, the entire stadium gave him a standing ovation – a true display of class by the Beaver fans.
After making the short drive to Eugene after the game, I spent Sunday watching the Oregon Ducks. The Ducks had an extra bounce in their step, and it is easy to see why. After Ohio State was upset by Illinois, Oregon moved up a spot in the BCS rankings, and one step closer to a berth in the national championship game. After practice, I jumped in the car and drove north to Seattle, stopping only for a quick bite to eat and to spend a few minutes watching the Colts and the Chargers.
On Monday morning I slogged through a cold rain to the University of Washington to finish watching tape on the Huskies. I finished early in the afternoon, and then bolted across town to Qwest Field for our game against the Seahawks. It was a tremendous atmosphere, and the 12th man certainly lived up to its name. Even in the press box, the crowd noise was incredible. Hopefully we can generate the same enthusiasm this weekend in Monster Park and help get back on the winning track.