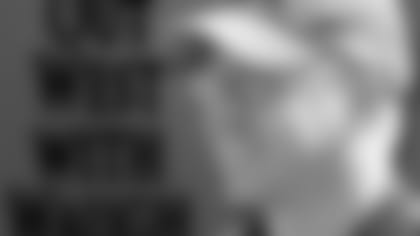 Player Personnel Assistant Ethan Waugh is in his fourth season with the 49ers and has become a jack of all trades for General Manager Scot McCloughan with duties that cover both the pro and college side of scouting. In this latest blog, Waugh updates our fans on the last few days at the Senior Bowl in Mobile, Alabama.**
I haven't blogged in a while because obviously things slowed down somewhat once the college season ended, but now I'm down at the Senior Bowl and there's plenty going on. It's only Tuesday, yet it's already seemed like an extremely long and hectic week.
The majority of the 49ers contingent flew down to Mobile on Saturday morning with a stop over in Dallas. We got in late Saturday night and immediately began the interview process with some of the players.
On Sunday afternoon, coaches and scouts met and went over each of the players on the South roster. We reviewed their strengths and weaknesses and discussed what position we thought they'd be best suited to play here, where we thought they might fit in our scheme, and then we also set a preliminary depth chart.
It's basically two deep across, but the goal is for everyone to get equal reps. During practice if there are 12 plays of team, each guy gets six plays. In the game, the way Coach Nolan sees it is either one quarter or 12 plays, whichever comes first. The only difficult part is getting each of the three quarterbacks equal reps over the four quarters, as well as the receivers. Because of the multiple wide receiver sets, sometimes it's hard to keep track of who is going in and out. The position coach will track those reps, so obviously during the game somebody could get short changed, but the plan anyway is to everyone equal exposure.
Also in that Sunday meeting, each scout was assigned a position group to cover this week, on top of the guys from your area.
Mobile isn't on the big league circuit, but I happen to think it's a GREAT city, and I personally love it down here. I am partial to the South. The locals are thrilled to have NFL players and employees in town for a week and they go out of their way to show us great hospitality. The restaurants are wonderful, the food is great, and the hotels are nice. Everything is first class and only in Mobile, Alabama could you get thousands of people to come out and watch a football practice in the middle of the day.
This year also is one of the very rare times that the Senior Bowl and Mardi Gras overlap. There will be 50,000 people out on the main street on Thursday for one of the huge parades, which will make it very difficult for anyone to get back from practice that day without a police escort, but we'll get it done. I think one of the locals I met was telling me that the next time this two events would overlap would be another 50 years.
Coach Nolan held a team meeting on Sunday night but the first all out gathering was on Monday morning at weigh in, which was orchestrated by NFS Scout Gary Smith of the New York Jets. He kept the program moving quickly, admonishing anybody's whose cell phone happened to ring, and there were quite a few.
The height and weight measurement gives all the scouts a great chance to see the players' bodies up close without pads. You can see actually how thick they are, how much time they have spent in the weight room and how much room they have to develop still. A couple of the guys who really looked the part were Peyton Hillis HB/FB from Arkansas and tight end Kellen Davis from Michigan State. Players ranged from Oregon State's kicker who is barely 5'6 to offensive lineman as tall as 6'8 and 330 pounds. All in all it was a great looking group on both sides.
After the weigh in and a quick lunch, the teams split up for separate practices at two locations simultaneously. The South team headed to Fair Hope High School, which is across the Bay, and gives the people on that side of the water an opportunity to see the players up close. They love to see the Auburn and Alabama players who they have followed for years.
The North went to the Ladd-Peebles Stadium for practice, which is where I went because most of the players from out west (the area that I cover) are on that squad. Some of the guys from out west really shined - Keith Rivers, Sedrick Ellis, Thomas Decoud, and also Justin Forsett, who really showed good quickness bursting through the whole.
Following that practice we came back to the hotel for dinner and the start of another night of interviews. Each scout is responsible for interviewing all of the guys from his area and getting to know more details about the players and checking up on any background issues. We try to get more of a feel for if he has the right character and the right approach to the game that we are looking for at the 49ers.
Tuesday started off with the North practice in the morning, and the first full padded practice of the week. There were a lot of great collisions between Rivers and Owen Schmitt, the bruising fullback from West Virginia. All three quarterbacks from the North also had a great day. I thought that Chad Henne, John David Booty and Joe Flacco all showed strong arms and impressive athleticism.
I grabbed a quick lunch and then raced back to the stadium for the second practice where the 49ers scouts are able to get closer to the action since our coaches are running the South practices. Instead of sitting up in the stands, we have field access and we got an up close view of how the players adapted to the new techniques taught by our staff.
It was a tough day for the South, a couple of players got nicked up in the session which left us a little bit short handed but we still wrapped up practice with a spirited team session. Andre Woodson from Kentucky, and really all of our quarterbacks, did a great job taking control of the huddle and showed good command presence.
It's great to see the kids so open and eager to learn and they really try so hard to do everything right, right away. You can tell they very much want to succeed and they want to make a good impression, which makes for an easy practice.
The highlight of the day was a pick by a small school player, Dominique Rodgers-Cromartie of Tennessee State, who made a leaping interception.
Another highlight at practice for the fans was a visit by Alabama head coach Nick Saban. The crowd got a real kick out of him being there because he's really viewed as a celebrity down here, and people were dying to shake his hand.
I had the opportunity to discuss my west coast prospects today on TV49, not 49ers TV as I tried to call it. It was a brief exposure to the daily life of a player or coach who constantly has a camera shoved in their face, and while I would prefer to shun all interviews, I felt obligated to comply with the request of Chrissy Mauck. Hopefully I did okay.
After practice, we rushed back for a quick dinner of fried catfish and began the interview process all over again. We are basically going to talk with all 100 players who are here, something we plan to wrap up by Wednesday night.
All of the players have an interesting take on the interview process and I think many of them get tired of them since many of the questions are the same from team to team. We at least try to start with things that are different and a little off the wall in order to get them to open up a little bit and not be so rehearsed. I think they find that refreshing.
It's awesome because the kids are really bright, and although the stereotype of athletes is sometimes that they aren't smart, every kid I talked to tonight had a variety of interests, and were very well read and intelligent. For most of these kids, if they weren't to play another down of football, they would still be successful in life.
We finished our last interview on Tuesday at 10:30 in the evening and led to the first chance I had to do this blog. Now I'm going to head back to my room to organize my notes on players, map out tomorrow's interviews and also start preparing for next week's all-star game (which I'll talk more about next week).