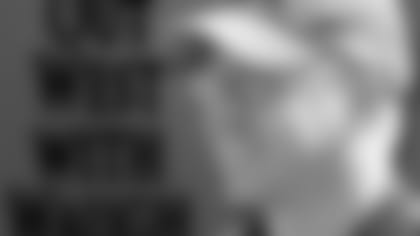 Player Personnel Assistant Ethan Waugh is in his fourth season with the 49ers and has become a jack of all trades for VP of Player Personnel Scot McCloughan with duties that cover both the pro and college side of scouting. In 2007, Waugh will be out on the road more frequently scouting schools in the Western region and will trade off with area scout Todd Brunner in sharing some of their scouting experiences in this online column, Out West With Waugh.**
Much has changed "Out West" since the last time I checked in. The 49ers have finalized the roster and emerged victorious in their first two games, including the first appearance on Monday Night Football since I have worked here. You can always tell when we are playing in a nationally televised game by the number of media and production people buzzing around the facility prior to the game. The broadcasters come in to watch practice, view tape, and talk with players and coaches. The new Monday Night crew of "Mike and Mike" had certainly done their homework and knew our team as well as anyone.
Prior to the game, delay warnings were issued on 101 North because of the perfect storm of 49ers traffic, Giants traffic and standard rush hour traffic. To beat the rush, I left the office early and arrived at Monster Park about 4 hours before kickoff. Once in the stadium, I watched the first portion of the early MNF game in the press box before getting ready for our own game. The electricity in the stadium was palpable throughout the game – I hope we can continue to build on that environment and make Monster Park the hardest place to play in the league.
After our victory over Arizona, I made it home about 1am and went straight to bed. I had to be in the office early the next day to grade the tape and prepare for our weekly workout of free agent players. Each week we try to bring in a group of players at one position and, if any of our players were injured, potential replacement players at that spot. We take each player's height and weight, arm and hand length, and then time them in the same tests you see performed at the Combine in Indianapolis – 40 yard dash, short shuttle, and three cone drills. After the testing, we put the players through a football specific workout which can get extensive depending upon the urgency of need at the position. Upon completion, the personnel staff and coaches meet to determine the best candidate(s) of the group. Anyone who we would be interested in adding to the roster then goes for a physical to ensure that he is completely healthy. At that point, they can actually sign a contract and join our roster or practice squad.
So that's the pro side of my job, and now on to the college portion.
My latest college scouting road trip took me north and east to the University of Nevada and Cal-Davis. I left late on Tuesday afternoon following the workouts, and quickly I realized my mistake – less than five miles from 49ers headquarters I was engulfed in gridlock. After a few hours of Bay area commuter frustration, the traffic eased and I crossed the mountains into the "Biggest Little City in the World."
Ordinarily, I try to stay in the hotel nearest to the college, and in Reno, that means staying in a casino. Many people enjoy the action of a casino, but I am not one of them. I do not gamble and try to avoid cigarette smoke so I checked in, retreated to my room, and prepared my questions for the next day.
Nevada is one of the more interesting programs in the West for a number of reasons – foremost is the head coach, Chris Ault. He has served as Nevada's head coach on three different occasions, with great success during each of his tenures. Additionally, he is one of the few active coaches in the College Football Hall of Fame. Also, in the past few years, Nevada has caught their opponents off-guard with the innovative Pistol offense that has led them to back-to-back bowl game appearances. Nevada has a number of interesting prospects this season, including Ezra Butler, an outside linebacker with pass rush ability and tight end Adam Bishop. Having been born in South Africa and living in England as a youth, Butler will have one of the more interesting backgrounds of any prospect in this year's draft. Bishop has developed one of the most important skills an NFL hopeful can have – long snapping ability. Any player that can long snap, even at a back-up level, greatly increases his value.
My return trip took me to Cal-Davis, which was my first visit to that campus. They have built a very impressive new football stadium and team building. The coaches at Cal-Davis were extremely accommodating, even letting me watch film in their office while they made recruiting calls and prepared their players for Saturday's game against Eastern Washington. While Cal-Davis is probably best known for their offensive prowess and number of record setting quarterbacks they have produced, arguably their top prospect this year is James Amos, a defensive end. James has a chance to be a three-time all-conference performer, and is highly regarded by everyone in the program.
A quickly paced practice ended the day, and I returned to Santa Clara to prepare information for the road trip to St. Louis. Each time we leave the office we need to have electronic and paper copies of all of our information, including our emergency boards, depth charts, and agent contacts and scouting reports. This allows us to be prepared for any personnel situation that may arise while on the road.
We obviously got the win in St. Louis and for the second week in a row came out of the game without any major injuries. Of course, we still brought guys in yesterday as part of our plan but we didn't need to sign anyone or make any roster moves for this week's game against the Steelers.
I'll check in again in a couple of weeks and share some more updates on both the college and pro side of things.