Coach Nolan has arranged for some motivational speakers to talk to us through camp. First up was Coach Singletary, then Ronnie Lott and then this General. They all had crossover messages about having character, setting goals and doing what it takes to reach those goals. They talked about having the pride to go out and do it, having the discipline to go out and do it, and knowing your personnel.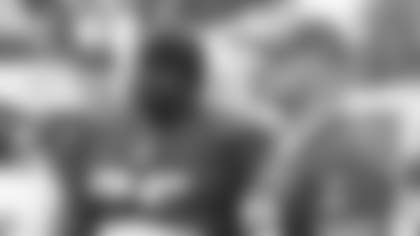 From all three of those, it was about caring about your guys and the more you know about them, how it brings along trust and accountability. That was the common variable of all the speakers, taking care of your guys.
I heard that we've got a new Commissioner now but that's more on the owners' side. I try to keep up more with the NFLPA. I don't know much about him. I'm pretty sure if the owners feel he's a good fit then he's definitely a man of character with a great resume to take over.
On Saturday we had a team scrimmage. I had some pain in my ankle afterwards when I woke up that next morning. Sunday was our off day but with the ankle I was in the training room very early so I didn't get a day off. It's gone now and I'm looking forward to the next day off – this coming Saturday.
On Monday I got dressed to go to practice, did the warm up, stretched and then they pulled me over to the side and told me I couldn't go. I was ready to go. I mean, I wouldn't have gotten fully dressed if I knew they weren't going to let me practice. I was taped and everything. But I got back out there that afternoon and I'm okay now.
When the older guys try to fight thru injuries and get back out there, that shows the younger guys a positive message because in this league you have to fight thru certain things.
Everybody is looking pretty good out there I think. As a whole I just think all units are performing. The oline is gelling well and if we gel then the running backs and quarterback have no choice but to look good. The dline does a good job and the DBs are covering and it's a team game. One goes with the other. You see team effort and group effort and that conglomerates to what the team can do as a whole.
We've had a little singing from the rookies. Vernon Davis and Parys Haralson sang. They did their school songs which nobody cared to hear but it's just about the humiliation to get up there with the hands across the chest singing. I didn't sing as a rookie. I was a starter and Big Reuben Brown wouldn't let anyone haze me, so "What Up" to my guy Big Reub. When I came in the league, hazing was big, it wasn't just singing. It was white socks, go to the store, same outfit every day, all kinds of stuff.
I guess most of us wear the same clothes every day though. It's camp. This is definitely not time for a fashion statement. You won't see many guys well groomed out here. Camp is a struggle. People think we just show up on Sunday and I wish they knew the half. It's work and in my sixth season, I mean I missed games last year but I haven't ever missed a camp. Camps are definitely rough. You don't want to go through a whole training camp and not get to play a season. That was one of the roughest parts for me last year. The games are supposed to be fun. This is the hard part man. Sixth camp, I'm getting through it.
We haven't done much off the field except rest. Camp is camp, I don't care where you are at. They could give us the option to go to Great America for a day for free and maybe two guys would show up. We're here not to get through camp, but to perform in camp.
Norv Turner does a great job of putting high expectations on us and Nolan and Davis and Singletary are the same way on the defensive side of things. We've got two head coaches on our team and several guys who have coordinator experience so they've set the standards up high this year. So, everyone rests up off the field so they can perform on the field every day.
I'm looking forward to the game against Chicago. You have the same steps, the same plays and it's what your team does, not who you are playing but the important thing to see is whether you can you handle the outside, the noise, being in front of the fans, the ref, the clock? Those are the things you have to tie in with what we do every day, but you can't really bang any harder. Football is football. Everybody can play, and everybody is going to be tough physically. This is about going out and showing mental strength.