As the preseason comes to a close Friday night against the San Diego Chargers, starting left tackle Jonas Jennings checks in with the fans in his latest Online with Jennings column.
I haven't checked in a while, but not much really has gone on since the last time I did. I've just been practicing and preparing for the season.
It felt good out there against the Cowboys. We had some run plays where Larry Allen and I double teamed and we really put it on some guys. You could tell L.A. was a little fired up and was kind of like bring that over here again. It was fun to see that. He's always crushing people, that's LA but I'd say he had a little extra fire going against his old team.
I'm not too sure how much we'll play as starters against San Diego. I just come ready to play and do what they tell me.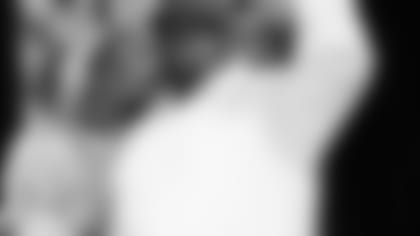 Everything looks good I think from the o-line standpoint. We've done our job up front. We've been averaging a nice yard per carry on the run. There's been some positives for us and we've definitely been able to rush the ball when we wanted to and that's a good sign.
We had the kickoff luncheon today. It was cool. We got to meet different people and hear some ideas about the new stadium and learn about some of the things the foundation is doing in the community. It was cool.
Coach is giving out some prize money for the best dressed players at the luncheon so that guys would really jazz it up. I felt like being comfortable myself so I didn't go all out on it. We had a nice ride up there so I went for comfort. But the contest brought some fun to the team and we all got a kick out of it seeing what some of the guys arrived in. Some guys went all out.
I really don't do much to be honest. I rarely leave the house, but at the end of camp we went out and had some barbeque and discussed how much we loved camp. We had fun with that.
This last game is really a chance for the guys who haven't gotten a good luck to get out there and play for a while and show what they can do.
Personally, I sort of wish this game would disappear actually because I'm ready to get to the first game. You just want to go into the season fully charged with all of your troops. Any time you play the game, there's a chance of something crazy happening with injuries so we want to get out there against San Diego, get a good look at the guys we'll face later in the season, and then really get out and be in full swing for Arizona.
It's about that time to head to the hotel. I'm going to get something to eat quick on the way and then get back off my feet and get ready for San Diego.