Left tackle Jonas Jennings checks in on the first day of mini camp to share with you his impressions of the 49ers draft and his new teammates.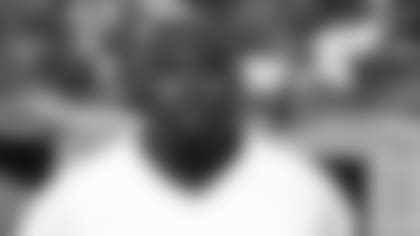 I thought that Scot McCloughan and the crew actually did a very good job in the draft. They brought in guys where we had needs, but they took the best players. Vernon Davis can definitely help us in the offense. He can definitely help Alex Smith by being another big target along with another healthy target in Eric Johnson which just makes us that much better. Then you have to consider a healthy me coming back and then also bringing in Larry Allen and Antonio Bryant. There are a lot of things that makes that draft class look even better.
We lost a couple of linebackers but you get Derek Smith and Brandon Moore back and you go out and draft Manny Lawson who has range. He's kind of a tweener, he can rush from a three-point and I'm pretty sure they'll stand him up in the defense we run too. They got a lot of depth for us and that creates competition which makes us all better.
It's like a dream come true for me to have a guy like Larry Allen coming in. In Buffalo I was next to a perennial Pro Bowler in Reuben Brown. I think I was spoiled a little bit and playing with a guy like that, you have to step your game up. I've always been trying to get better and having an injury sets you back but getting those key additions around you, it just makes you work that much harder to get back so you can line up next to a guy like Allen.
And now you've got two nasty guys next to each other and that's pretty cool. You don't have to cover it up. I like to play nasty. Even though my position calls for a lot of finesse, when I get a chance to be nasty, I'll definitely be nasty and bringing Larry in only magnifies that. People know. We are scouted around the league and I'm pretty sure they know that with Larry and myself on that side, we've got an abundance of nastiness over there. At the same time, you've got to stay within the realms of the offense and you can't let nastiness take away from that, but when you get a chance to be nasty, we'll be nasty.
They aren't letting me do anything this weekend. It wasn't my call, but that's what the coaches and the doctors and the trainers thought was best. I'm back bench pressing and working with the guys, but they have a plan and we are going to stick with it and I look forward to being back for the OTAs.
When you've missed that much football, it's hard. You want to be out there. It's hard enough when they tell me I can't do certain lifts much less that I can't practice. You know what you can do and you want to go out and show everyone else what you can do.
I think it'll be good for the quarterback room to get a guy like Trent Dilfer in who has been to the Pro Bowl and won a Super Bowl. He's got some real experience and he's played with a lot of different personnel and in several different offensive systems. We've got an experienced guy in Norv Turner who is teaching us his offensive system and now we've got a guy like Trent who probably has already seen a lot of it after playing in so many offenses and he can help those young guys pick up on it that much faster. Plus, we watch tape on the blitz pick up as an offensive group and he can sure help run that session with all of his experience.
This organization is definitely on the move. We've got a foundation. We've got a line right now with most guys locked in for the next few years. We've got a quarterback and wide receivers who are locked in. You've got a veteran running back in Kevan Barlow and then we've got a young guy in Gore who ended up being our leading rusher. We drafted a guy who will contribute in there also with Michael Robinson. Mo Hicks has always done a good job every time he comes in and then you've got Terry Jackson. I can keep going on and on, but now you have a foundation and not a lot of what ifs.
Along with that, we've got guys on defense now too. You look at Walt Harris and Tony Parrish and that's close to twenty years of experience in the secondary along with all of those young guys who stepped in and played last year. Then you've got added depth there too from the draft in the secondary with the two safeties we took.
Coach Nolan and Scot are taking the best approach possible. They are doing all the right things, even like putting in the new practice field. They make it comfortable for us and we love to come to work because it's fun for us.
One of the rookies stood up and introduced himself this morning and told us to call him D-Love. Everyone lost it, so be on the lookout for D-Love. I was crying. I couldn't even tell you his real name. We are installing today so it'll be more of a meet and greet after work but as of right now, I don't know who a lot of these cats are. I'll get to know them soon because chemistry is important to what we've got going on here. My house is an open house because I'm not married, I'm always hanging out, and the guys know they are welcome to come hang out at anytime.