Starting left tackle Jonas Jennings doesn't shy away from a challenge, and he'll definitely be ready for the one coming up Sunday when the 49ers host the Seahawks. Find out what he had to say about the game in his latest Online with Jennings.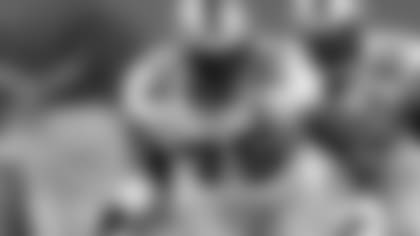 We've got a big game coming ahead, and it is good. It's good to be fighting. Fighting for placement, fighting to have your name in the division, that's a big deal. You are playing the guys who are at the head of the division right now, so they are definitely in the way of where we are trying to go. It's another bump in the road we are trying to get over. We're at home, and we're coming off a two-game winning streak so we'll try to keep that momentum going.
Julian Peterson is coming back, and he is playing good ball. I've talked to him three or four times in the last six or seven days. He's having a good year. He's back to Julian. He's happy and he's out there playing good ball. They are definitely using him to his full capabilities.
I take each week the same and just get ready to go regardless of who is on the other side of the field, but it'll be definitely fun to see him lined up there. I know what he can do, he knows what I can do so we are just going to go out and play ball and at the end, we'll be friends again.
Frank Gore had another great game for us. He listens. He's a good pro. I actually called Frank last Thursday night. I was at home watching film of the Lions playing Atlanta and I told him we were going to gash those guys. He had 140 something yards at half time, that's something to go out and build off in the second half and that was what he was looking forward to. Unfortunately the concussion held him out in that second half, but he's got more games this year.
Apparently Seattle is ranked high in stopping the run but I don't get caught up in number or rankings. We just go out and play football. We don't worry about adapting to them, we try to get them adapting to us.
We definitely take pride in running the ball. That opens up everything else. It makes Alex Smith more comfortable and gives Antonio Bryant those deep balls and we are able to control the game. Anybody who knows anything about football, time of possession definitely plays a key role and running the ball allows you to do so.
Having Vernon back is good. He's actually going to help us run the ball because now you've got to be careful about putting eight guys in the box like the Vikings did because now you've got a TE who can run like a WR who you have to account for. So, he opens up that for us, and that'll be a good thing.