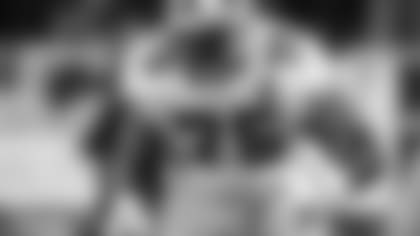 Starting left tackle Jonas Jennings has been absent for several weeks from 49ers.com, but he's back now with this week's Online with Jennings column where he discusses the Seattle victory, injuries to his o-line, the Pro Bowl and this weekend's game against Arizona.**
Our game last week on Thursday night was definitely a lot of fun. Going out there and playing in inclement weather and trying to overcome that at first and then to feed off what our defense was doing and to be able to put something together offensively in the second half was definitely a great victory for us.
The weather finally cleared up during the game and we started to dry out, but we still had to contend with the wind storm that set in afterwards. They weren't sure we'd be able to fly home, and before takeoff the captain got on and really stressed making sure our seat belts were strapped up. I know from my days playing in Buffalo that when the Captain warns you, there's going to be turbulence. It was a shaky takeoff with the wind knocking us around, but it wasn't as bad as I thought it would be.
After a win, the whole spirit of the plane is different. Any time you lose, there's nothing happy about it. But when you win, coming home is great. When you lose, you worry about who else lost and what's going on and what we've got to do, while winning is always a positive. You know you did everything you could.
It was definitely unfortunate and a sad situation when Eric Heitmann broke his leg, and it really hit home to me because I know how it feels to be laying on that turf not being able to move. But we've got guys who practice every day and prepare to go. Tony Wragge stepped in there and did a great job and our offense was able to go out and win the game.
I just think that preparation on the line comes from our o-line coach who has high expectations for all of us. It's the NFL. Guys in our room realize that when it's your turn you've got to go out and work. We've all got a job to do. One thing from last year was that with so many injuries, a lot of our young guys got some great playing experience, so when they get a chance in there, they're ready to go.
Coach Nolan gave us the weekend off and I just tried to take it real easy. I did nothing. I didn't really leave my house, didn't move much. I needed that rest. You play a short week, a Thursday game just four days after you just played a game, and you need those days. It's not like extra days, it's just days you need to recover from the short week and you've got to take advantage of them.
I went to sleep early every night. I didn't even have a chance to watch Saturday night or Monday night football because I was out of it. I'm feeling ready to go now so those days off were much appreciated.
It was expected I felt like for Frank and Larry to make the Pro Bowl. Any time a guy goes out and does some of the things Frank has done this year, it's a wonderful thing and definitely deserving. LA and Pro Bowl go together. I don't think you can have a Pro Bowl without LA. That's how that works.
My guy up in Chicago, Reuben Brown didn't get in. Some reports called that a snub. I think there were a lot of surprises really, but that's every year. You have to just keep trusting in the system because you can't keep worrying about it.
In terms of around the league, Terrell Owens spitting on DeAngelo Hall. Wow. I think that's the most degrading thing you can do to a person and I hope it never happens to me. I can't even talk about what I would do in response since this is a friendly website. I really can't promise I would have kept my cool in that same situation like Hall did. Hopefully, I never have to find out.
We really need to go win this game on Sunday. It's the next game and we need to go out and focus on winning the game, and playing our type of football. In the games we have lost, we usually shoot ourselves in the foot. So, we have to worry less about our opponent and more about us doing the right things. This is a must-win situation.
It's the holidays but I'm just thinking about the game, I'll try to get a massage on Christmas Day if anyone is working. That's about it. I can wait a day if I have to I suppose, but after this game, I'll want a massage. Otherwise, I'll probably just sleep.
Happy Holidays to everyone and all of that good stuff….