Starting left tackle Jonas Jennings checks in to sum up his return to the field during the last three weeks of OTAs, his recent stint as a basketball coach, and his plans for the upcoming weeks before training camp.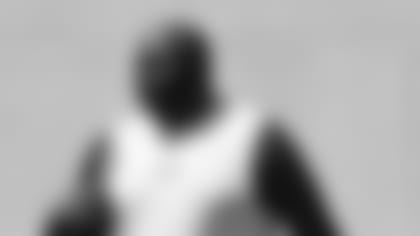 My shoulder held up great during the OTAs. I feel normal and like a player again. It kind of feels like my first year with the organization since I went out so early last year with the injury. It felt great to be able to go out, and I didn't have any problems and was not limited in any way out there. I think I'm ready to go for camp. I'm looking forward to my first live action.
The offensive line has been hanging out quite often this off-season. We had a potluck at Kwame's crib one night. Everybody took a dish, and we hung out and watched the basketball game. My nacho/queso dip that I made was pretty good. The following week we came out to my house. I had Alex Smith and the line all come over. All the QBs were invited but they had other things going on that day except for Alex. We had some burgers and some dogs and chilled out.
To be a winning team, you've got to build chemistry especially with the offensive line and you can see that developing with us here. With having a new system, it was very positive to see everybody working on the line. J Newberry did individual stuff and we feel like we've got a great line with him as the ace in the hole.
The offense is coming along good. It was real cool out there. Coach Turner is throwing a lot of stuff at us and he told us that through what he's seen in his years coaching that he thought we handled it very well. We have talent definitely. You can see that in Antonio Bryant, Bryan Gilmore and with Arnaz Battle back we are very strong at receiver. I've already talked about having Larry Allen here. We look good out there and you definitely wouldn't think in watching us play that we changed our offense this year.
As far as the NBA goes, I think it ended like it should. There were a lot of guys in Miami who deserved a ring. The way Wade played this year, he deserves every accolade he receives.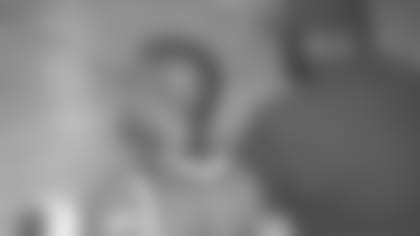 Speaking of basketball, on Saturday night I served as a coach for Mike Rumph's charity basketball game he hosted for his foundation. It was the 49ers versus the Oakland Raiders. He asked me to coach and I told him the only way I'd do it was if it was run the way that I coached. Everybody is competitive and wants to play and they want to go in the game and stay out there, but I had to employ some strategy and rotate guys to keep them fresh. We even had to play overtime which I thought we should just let it stay in a tie since it was for charity and all. That way everyone could feel good but the guys wanted to keep playing. Everybody thought I was crazy because I made a substitution with a minute and a half left but I wanted fresh legs out there. I put Billy Bajema in the game – he's got good fundamentals out there, and he came thru for us right at the buzzard by dropping it in for the win.
Manny Lawson played and his dunks were impressive but if you look at Manny and the athlete that he is, you knew to expect that. He went over this guy on one of his dunks and had a little nastiness to it. That's my motto, and that's our motto for the year. I like that from Manny Fresh. He's pretty good on the field too so to see him carry that over like that on the basketball court, you know he's an athlete. I'm glad to have him on my team.
I did some sideline reporting and interviewed some of the guys from my team and the Raiders. I think Rumph is going to get that up on his website at some point. For the Raiders squad, Ronald Curry played and he played college ball so he may have been their best player. Randy Moss and Joey Porter were also big contributors but we outmatched them.
Onye Ibekwe played for us and he played college basketball so he was solid out there, especially hitting on some key three pointers. It was a pretty even field but I like to think it came down to coaching and strategy. I kept my guys fresh, and everybody gave it their all. In the end it was really for the kids but it was still the Oakland Raiders and we are the San Francisco 49ers so you know nobody wanted to lose. Fortunately, we came out victorious.
I'm wrapping up my last workout today at the facility and heading to see my mama in ATL. I'll keep up my conditioning, do some fishing, and then I've got several events to attend for some of my guys in the NFL who are doing stuff back in their hometowns for charity. Marcus Stroud has an event in Jacksonville this weekend that I'll get over to and then I've got my 2nd annual Jonas Jennings Family & Friends Celebration that I do around the 4th of July. Takeo Spikes and Carlos Evans have a charity weekend in Atlanta coming up which is the same weekend that Randy McMichael has something going on a few hours away from the city. I recruited Randy at Georgia and I refer to him as my little brother so I'll have to find a way to hit both events. So it'll be busy but also relaxing in terms of catching up with my friends and family before the season gets going.