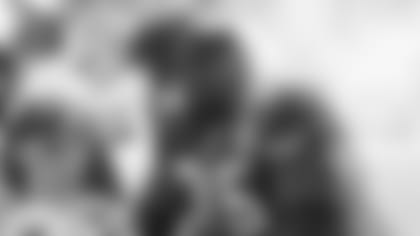 Starting left tackle Jonas Jennings checks in on his day off about the loss to Kansas City, his typical Tuesday and the week ahead.**
It's Tuesday, my day off. I try to take it easy on these days, get myself stretched out and ready to get back to work on Wednesday. I just went and got a real deep tissue massage which hurts quite a bit until it's over with. Everyone might think oh that's nice, but really it's a necessity when your body is your livelihood.
All I can say about Kansas City is that we got our butts kicked. We flat out got beat. We didn't play our best ball and Kansas City played theirs.
When you lose like that, everyone is quiet on the flight home and eager to watch the film and see why we got beat 41-0. Guys were just in their own world.
After watching the film, we need some work. We've got work to do to get to where we are trying to go.
I come in every Tuesday to the facility and get my DVD so I can get an early peek on the Raiders. Sometimes I'll watch film and get some maintenance on my body. Some days I lift, it all depends on how I'm feeling. Today, I'm actually feeling pretty good body wise. I'm sore a little bit but that's expected.
The Raiders are a big and physical team. They like to play physical team. Coach Shell wanted to bring that there. We've got to refocus and get ready to play good football against them. I know in this area everyone is talking about them being winless, but Kansas City hadn't won a game either so it's kind of hard to judge a team based on their record. The way KC played, you definitely wouldn't think they were an 0-2 team. You've got to take it one week at a time and any Sunday could be your Sunday. For us, it's time to regroup, refocus and come back out and play good football.
We were told we would be in pads for two days. Pads just allow everyone to play physical and play at the same game speed and I guess that's what coach is trying to get out of it as we go into this game against the Raiders.
It'll definitely be a plus when we get Big Larry back, and I guess he's going to return to practice starting this week. Adam Snyder has done a great job in there, but it just gives us more depth to get big Larry back out there.
Across the league, Chicago seems to be the team to beat. They finished in the top of defense last year and I'm not surprised at all by how well they are doing. They got better from where they left off last year. I was a little surprised about how bad they beat Seattle, but not as surprised as I was about or loss to the Chiefs to be honest.
I played against Albert Haynesworth in school but I really don't know him. I can't say what I'd do if someone stepped on one of my guards, but that's not something I'd ever expect. That'll probably never happen again after a 5-game suspension. That's not something you look for in the game we play. I don't know what transpired. From watching his apology, he said he didn't know why he did it and seemed very remorseful.
I am going to hit Tower Records today. It's release day, so I go in and see what's happening and freelance. If it looks attractive, I'll buy it.
House comes on tonight. There's a new episode every week now which I'm happy about because that's my show.