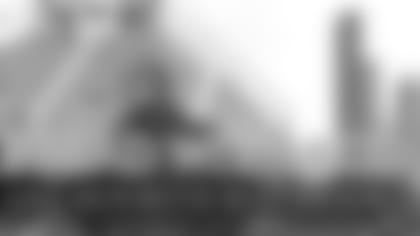 Life on the road in the NFL is certainly an eye-opening experience. Different stadiums, different cities and different weather conditions are just some of the things that make it so hectic. KNBR radio host and 49ers sideline reporter Rod Brooks has been through it all, making him an expert on the subject. After each road game this season, Brooks will fill 49ers fans in on what his life on the road is really like in his "On the Road with Rod," column exclusively on 49ers.com.**
I don't mess around when it comes to cold weather. I have learned through trial and far too much error that it is better to be overdressed than to be underdressed.
For example in Green Bay, I was overdressed. I was wearing my typical cold weather gear and it topped out at 56 degrees. But, I was perfectly fine with being overdressed. In Seattle, I had the right amount of clothes on. My feet got a little cold, but who cares.
It's hard to do my job when it consists of standing, watching, thinking, and talking when you're uncomfortable. So, if I'm always thinking about how cold I am, then I can't concentrate on the main reason I am where I am, which is to watch a football game; observe and report, if you will.
I've got to make sure I have on the winter coat and the gloves. The under gear and the over gear. I still make it a point to huddle near the heaters that are on each side of the bench area. So I along with guys who may not get a lot of playing time, or guys who are wide receivers or returners and don't have a lot of meat on their bones, we're all hovered around those heaters like a bunch of street urchins hanging around a fire in a barrel to stay warm. I spent a lot of time there, which is fine because a lot of action happens in between that area of the field.
Whoever invented those heaters is genius. It was cold. It topped out at 35 degrees and as the day went on the sun made a quick appearance then dropped. Those things were key and whoever invented them should be given some sort of medal or something.
The other things I take advantage of are the heated benches. Obviously I only get to do so at halftime. Nothing feels better than a heated bench on a cold day. At halftime I got to sit there for about ten minutes.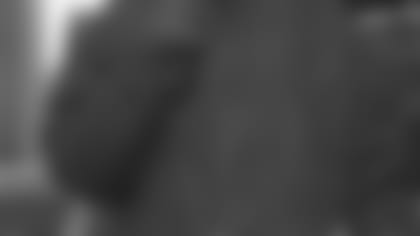 Recently, I've changed microphone covers from orange to grey. I didn't have anything to do with picking the cover for my mic, but I began to get grief for having an orange microphone cover. People would always ask me about it and let me know how goofy it looked. One day I was asked about any equipment issues, and I asked for a new mic cover or screen as we call them in the business. They asked me what color I wanted and I said black. They got me grey, which is a little closer to black.
I never thought about it and I'm the one who is intimate with the mic more so than anyone else. It's amazing that people actually pay attention to those things. I had no idea that the orange cover on that mic was gathering so much attention. So I went ahead and switched it out to my favorite color.
While roaming around Seattle, I never stopped in to a coffee place. I'm a coffee person and I'll drink it, but to me, it's just coffee. It's just bitter tasting, dark colored water. When you dummy it up with enough sugar and milk, it becomes tolerable. I didn't go crazy with the coffee. Not that I couldn't find one. That's to be expected. Seattle's known for three things: music, Microsoft and coffee.
I have been to some very cold games before, but there have only been two that were colder than this past Seattle game.
One of them was Cleveland and the other was Denver. The cold isn't the issue, it's the rain. That's when it stops being football and starts being surviving the elements. So when you're lucky enough to not get any rain or snow you're fine. The key to cold weather is just finding a way to deal with it. Since I'm not running around or anything, I usually wear a lot of heavy clothes that are bulky and restrictive. The players don't have that luxury. However, they do get to run around. When they are out on the field, they don't think about the cold weather, they just focus on the game. Then when they come to the sidelines they get to sit on the wonderful heated benches. They key for me is just layers. Wear as much as possible.
Two years ago I was up in Seattle for the game and it was a monsoon. That was the typical definition of a flash flood. There was a lot of rain in a short amount of time.  The drainage system where you happen to be can't handle the volume of water in that short amount of time. The drainage system at Qwest field couldn't handle the fact that the skies just opened up about 30 minutes before the game started. It had been raining all day long but right before the game started, it really started to pour. The drainage system couldn't handle it so there were rivers of water running down the stairs all going down to the field.
The drainage system on the field overflowed and a ton of water gathered underneath the field turf. They almost cancelled the game because of the playing surface. The game was delayed but eventually the water was drained and the game was able to be played. Regardless, it didn't stop raining the whole game. A reporter asked Alex Smith after the game, "What was the difference between the first and second half?" He responded, "I got a dry uniform." The rain is what bothers the players the most. When they get wet, they start thinking about how wet they are. There's nothing worse than being fully clothed and being wet. You are miserable and you keep thinking about it. It's like when you get caught in the rain and your jeans get wet.
The only thing you want to do is get out of those wet clothes. There's no difference between that and a football players having to deal with wet clothes.  
The next road game is in Philadelphia against the Eagles. There's no doubt that it will be cold. It has the potential to be just as cold as Seattle. I have not unpacked my cold weather gear. I left it in my car so it's ready when we leave for Philadelphia in a couple weeks. We actually might even have a cold weather game against Arizona on Monday night. It's pretty chilly right now in San Francisco. It won't be as cold as Seattle, but there is a chance for rain.
It's Murphy's Law, at some point in time during the season; you're going to get a weather game. It's just going to happen. There are four games left, so there's a 25% that Monday night will be a weather game.