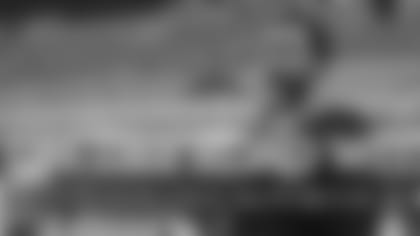 Life on the road in the NFL is certainly an eye-opening experience. Different stadiums, different cities and different weather conditions are just some of the things that make it so hectic. KNBR radio host and 49ers sideline reporter Rod Brooks has been through it all, making him an expert on the subject. After each road game this season, Brooks filled 49ers fans in on what his life on the road was really like in his "On the Road with Rod," column exclusively on 49ers.com. Here's Rod's final column of the season.**
So, I'm back from St. Louis and back to normal now that I'm off medication from surgery. I had to have some bone spurs removed from my shoulder. But, it feels pretty good though. I've got range of motion back and everything. It's almost as good as new.
When you're as tall as I am no plane ride can be comfortable, but, I don't know if having my arm in a sling helped any. It was just cumbersome. You've got your arm jacked out at a 45 degree angle. You can only do things one handed, it's just difficult. But, the flight attendants on our charter are all very nice. I don't know.
Maybe my situation brought out their maternal instinct.
On Saturday, I didn't leave my room. I didn't plan on going anywhere. St. Louis is a nice town, full of nice people. But, there's not a lot to do there. I've seen the Arch about a million times. It didn't get above 25 degrees the entire time we were there. There was no reason for me to go outside. So, I watched a lot of really bad college bowl games and just got ready for the game on Saturday.
I watched the Alamo Bowl. That was the Texas Tech-Michigan State game. The Cotton Bowl, which I also watched, was just awful on a variety of levels in my opinion. What was there like 12 turnovers in that game?
Both of those games confirm my belief that there are way too many college football bowl games.
I was a little surprised when we landed and prepared to unload the airplane on to the tarmac. I didn't expect it to be snowing. As I got to the door, I saw that there was snow on the ground. My immediate thought was, "Don't fall, because you only have one good arm." Secondly, it was, "Thank God St. Louis has a dome."
Bless the fine people of St. Louis, Missouri for building a dome.
You can bundle up for the cold and just deal with it. The weather in Philly wasn't all that bad except for the cretins who decided to throw snowballs. Seattle wasn't that bad. You just deal with the cold.
But St. Louis was a special cold. It was single-digit cold. And, that's different from double-digit cold. It feels different. Trust me on this.
Most people would assume that double-digit cold and single-digit cold is the same kind of cold. It's not. It's way different. You can physically feel the difference. Single-digit cold is angrier. It's grumpy old man cold. It's bitter for no reason. So, I'm thankful for that dome. What is it like the second time in two seasons that we've played there near the end of the season?
I tell you what. Had there not been a dome, there would have been a whole lot less people at the game and it was already friends and family day. That was the quietest football game I have ever been to. Single-digit temperatures for team that's struggling equals a quiet crowd.
Now that I'm finished up with the year and I look back on all of the road trips, my favorite would have to be Indianapolis. I got to go to "The Brickyard," to the Motor Speedway. It was always something I've wanted to do since I was a child. I had also never been to Lucas Oil Stadium. People will see it in the playoffs and when it hosts the Super Bowl in 2012. They'll see how really cool it is. I was able to cross that stadium off my list.
That game was also great because of the way the 49ers played. You could tell from the beginning of that game that Peyton Manning was as confused as he had ever been in his professional career. They had that guy in all sorts of confusion. The only play that the Colts could win on was a play that they had not practiced or run in six or seven years.
It was a loss for the 49ers, but it is one of those games that will always stick in my mind.
Even the Minnesota game, how well the 49ers played, how it ended, and who ended it in Brett Favre, that was a special game.
The Texans game was a game special to me personally because it was the first time I had been back home to Houston. That city lost the Oilers at the end of the 1996 season, which was my last season there, coincidently enough. That was really special to me.
Green Bay was awesome because, A, it's Green Bay, and B, because of the weather we got that day. I don't think we're going to get that lucky again next year when we visit them. I promise you it's going to be the second to the last game of the season. It was special because I haven't been there in 11 years.
Nothing had changed. The people were still nice. The stadium was still the same that it's been for however many years. That was a special day.
The first road trip to start the season in Arizona was one of only two road wins. I can't say that the game was spectacular, but now looking back on it, that was one of two road games won by the 49ers. That kind of registers a bit.
In Philly, the game might not have been all that special, but it was my first blizzard, and wow! I hope we never have to do that again. So I finally understood why they make all of that noise on the news about airports having to be shut down. When three-to-four feet of snow drops in 24 hours, in populated metropolitan areas, it changes the whole dynamics and personality of a densely populated part of the country. I've never understood that before because I've never lived there and never been a part of a blizzard. So, I learned something this year.
But really, I think this whole season; I've learned a lot of things. I've saw many things that I haven't seen before. I've done a lot of things that I've always wanted to do or hadn't done before.
The only thing that could have made it all better was if the 49ers would have gone to the playoffs. But, just for me personally, it was a really, really fun season. Road trip-wise, it was one of the best seasons I've ever had just for the things I got the chance to see and for all of the things that I got to do. It just reinforces how truly lucky I am to be doing all of this.
All of the places that we're going next season, I have been to before: Carolina, Atlanta, Green Bay, Kansas City, and San Diego. San Diego's a quick road trip, so there's nothing wrong with that. I tell you what, to go back to Green Bay next year, you are going to see a lot better performance out the 49ers than this year, or at least compared to the first half anyway. I'm looking forward to that trip just because I think it's going to be a heck of a football game. The other cities are nice cities, nothing spectacular, but what I've found is that you can always find something to do in a city. You can always go and explore and come out of that road trip with a little culture.
To be able to relate all of these experiences, all while having new experiences, has been an absolute joy. People have been nice in the feedback. All of these things I would normally say to myself or just ramble to complete strangers, but they, for whatever reason, listen to what I have to say.
It's been fun and I look forward to doing it again for everyone next year.