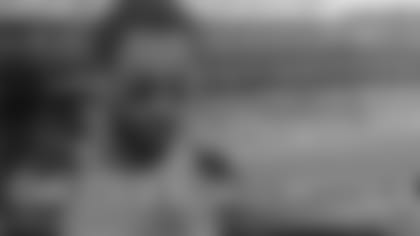 Life on the road in the NFL is certainly an eye-opening experience. Different stadiums, different cities and different weather are just some of the things that make road life in the NFL so hectic. KNBR radio host and 49ers sideline reporter Rod Brooks has been through it all, making him an expert in life on the road. After each road game this season, Brooks will fill 49ers fans in on what his life on the road is really like in his ?On the Road with Rod,? column exclusively on 49ers.com. **The fourth preseason game, I said on our broadcast, it has a last day of school feeling.
I know that?s weird because in essence school is about to start. But it has the vibe of players thinking about no longer having to sit in meetings. No longer do you have to sit and learn all of that stuff. That, plus the players had a little pep in their step because they knew that the worst part of the season, training camp, is about to be over.
And it?s tough when you are leaving at 9:00 a.m. and getting into a new city on the day of the game. The last time any of those players have done that, most of the players were in high school. Back then, you meet at the gym, you put on the uniform and everybody gets on the bus. It was really just a weird feeling to fly down to San Diego the day of the game.
By leaving so early, you get to the hotel at 11:00 a.m. and if you want, you can take a nap. We had a lot of time just waiting for the game to start. For most guys, you aren?t going to make the team based off of that game or not. Some guys did, some guys didn?t.
I think what contributed to the overall malaise was that it was a ridiculously hot day in San Diego. It was one of the hotter days you will come across in that town and on top of that it was humid. ?Let?s get this thing over with,? was the prevailing wisdom there. I just got a sense that was not the vibe that Coach Singletary wanted his players to have at all. I didn?t hear what was said to the team after the game, but I?m just guessing that is what was said. It?s just a reasonably well educated guess on my part.
As much as I didn?t get too much excitement out of traveling to San Diego, I enjoy our annual trip to the desert to play the Arizona Cardinals.
Going out to play the Cardinals, one thing that the players know is that they can compete with Arizona. They knew that last year. And they know this year they can compete against a team that went to the Super Bowl.
All due respect to Arizona, I think there is not that much of a difference between the two teams. Arizona has some fantastic players, but the 49ers have some pretty good players in their own right too.
With the Cardinals, their best players happen to be their skill position players, the two wide receivers, Larry Fitzgerald and Anquan Boldin and the quarterback Kurt Warner. With the 49ers, the best players are in different places. For the 49ers it starts with running back Frank Gore and Pro Bowl linebacker Joe Staley.
But I think it?s good for the 49ers to go up against Arizona. If you?re going to get to where Arizona was last year, you are going to have to beat them. You might as well go on the road and beat them at their own place. You might as well see what you are made of right off the bat. It would be nice to go against an easier opponent, but there is nothing that Coach Singletary enjoys more than getting this thing started his first season as a coach, like going up against your direct competition on the road.
You are going to have to beat them at some point. You might as well do it now.
You might as well see what you?re made of. I think coming out of that game, win or lose, this team is going to learn a lot about itself. If it can go in last year and compete with Arizona, if it wasn?t for some flat out incompetence in the way that the game was finished, the 49ers win that game. I?m not saying it is going to be easy because of what happened last year. I?m not saying that Arizona will not put up a fight. It is going to be a very charged atmosphere. But, that shouldn?t scare this team. And if it does, you shouldn?t be playing.
If the players don?t relish this situation, going into somebody else?s barn against the defending division and conference champs, to see what you are made of after knocking against your same heads in preseason and training camp, then you?re in the wrong business. If you don?t like this challenge then you?ve got issues.
As far as being on the road for the third week in a row, players, as long as you tell them where to be, they don?t really care. When you?re on the road, you know when to wake up. You know when to eat and where to go to eat. They tell you where the bus is. The bus takes you to the stadium and you show up and you play.
It would be different if it was all in the regular season, but I don?t think that it matters to players.
For me if anyone cares, I find it weird that I never unpack my suitcase. I just leave the stuff in there. I take it out and do the smell test before throwing everything back in for the next week.
Three weeks in a row, it?s not that big of a deal. With the Dallas trip being a little bit over 24 hours and the San Diego trip being a little bit over 12 hours, going on the road against Arizona, it?s not that big of a deal.
As much as traveling can be a pain, at least you?re not a baseball team, a basketball team, or a hockey team where it?s nomadic and you just roam the country. In football it?s a little more of a quick in and a quick out. With training camp being over and this being the first game of the season, if these guys had to go to the moon to play, they would.
Me on the other hand, that?s a long trip, I?m going to need a little extra room on the plane and extra clothes for my suitcase.