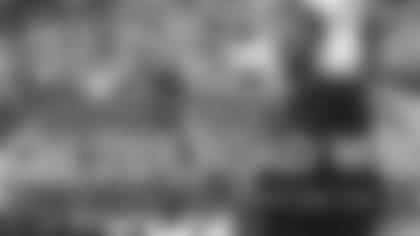 Life on the road in the NFL is certainly an eye-opening experience. Different stadiums, different cities and different weather are just some of the things that make it so hectic. KNBR radio host and 49ers sideline reporter Rod Brooks has been through it all, making him an expert. After each road game this season, Brooks will fill 49ers fans in on what his life on the road is really like in his "On the Road with Rod," column exclusively on 49ers.com.**The trip to Minnesota was great until about 3:30 central time on Sunday. It certainly made the long flight home, a bit longer.
It was my first time in Minnesota. It's a beautiful city and has really nice people. I thought the whole vibe was interesting. Everybody who was outside all weekend long was very happy. I think a lot of that had to do with the fact that old man winter is on the way. It seemed like everybody in Minneapolis was trying to enjoy themselves before they had to put on the winter pelt and deal with the harsh reality of living there six months out of the year. I thought it was a great city, filled with fantastic people.
On Saturday, I took a nice walk. I saw the new baseball stadium that was built for the Minnesota Twins. I also went by the Mississippi river that runs through the city. It really was a lot of fun and there are not too many places in the country that I haven't been to. It was a great trip and it was a great football game, until about 15 seconds remained in the fourth quarter.
For the touchdown pass at the end of the game, I was standing on the 49ers sideline, at the goal line of the end zone where the pass was caught.
I didn't even see Brett Favre throw the ball because I was watching the play in the end zone. There was a lot made of Favre's throw. I think it was a great throw, especially considering the pressure the 49ers were able to put on Favre as he let the ball go. But, that catch was something else.
I was amazed that Greg Lewis caught it, and stupefied that he was able to get both feet in bounds. I'm sure if you ask Mark Roman, he will say that he could have done a better job defending the pass. But, I don't know how his coverage could have been better. To see Lewis snatch the ball out of the air – and the ball was thrown on a rope – to see him go up and grab the thing out of the air and come down with both feet in, I think that the catch was better than the throw, and it was a great throw.
I'll be the first to admit that I didn't' think the 49ers were going to lose that game and certainly didn't think they would lose it that way. But now that it's happened and the shock has worn off, I'm not surprised. I was there the day Brett Favre walked on water; the day after his dad died. I saw him throw those four touchdowns and saw him do things where he was the only guy on the planet could do. He was dropping passes over Oakland Raiders defenders in places where only Green Bay Packers could catch. He was the only guy on the planet able to do those things that night and the only guy on the planet who could have made that play this past Sunday.
As difficult as it is for the 49ers and fans to deal with, I feel a bit privileged, because I got the chance to see one of the all-time greats do what he does. I know the 49ers players have a hard time looking at it from that perspective, but I promise you as time wears off, they'll look back and realize that's just what Brett Favre does.
The 49ers went in to that game and did what they were supposed to do and did it better than anybody thought they could. It's just a teachable moment and a learning experience. I hope that everybody who wears a helmet or helps devise a game plan will learn from that experience and make sure it doesn't happen again.
On the plane ride home there was a lot of shock. Nobody could believe that it happened. As I said though, once players were finally able to process it, it made sense. We gave one of the most dangerous players in NFL history the opportunity to do what he does best. That's why Minnesota went after him and they are paying him the money that they pay him. But in the locker room after the game there was nothing but shock.
I feel very privileged to be behind the scenes and given the chance to see how Mike Singletary handles things. He told his players that he didn't want anyone one walking around, staring at the ground, feeling like losers. He told them that he wanted them to have their head up and their shoulders back and be ready to do this thing all over again on Sunday against St. Louis. That might be the obvious thing that the coach has to say. But, it did more than that because it was what the players needed to hear. They needed to know that Mike Singletary wasn't disappointed in them or angry with them. They got beat, but they didn't lose.
Sometimes you eat the bear, sometimes the bear eats you.
Could things have been done differently? Sure. Could things have been done better? Absolutely. The players needed to hear that they have nothing to be ashamed of. Singletary delivered that message very loud and forceful. After he said that it was very silent and carried into much of the flight home.
It was part of the way through the flight home, after players had processed the message, when things started to look brighter.
And I don't know who picks what is played on these flights but I think the movie on the flight home helped change the morale as well.
They played the movie, The Five Heartbeats. It's a movie about the creation and success of an R&B group. It's a great movie and I'm sure that many of the players have it in their movie collection. It lifted their spirits a bit and created an opportunity for more bonding time among the teammates as many of them were talking again towards the end of the flight.
There are a lot of opportunities for the team to bond and build together. It's moments like a plane or bus ride. It's in the weight room after practice. It's moments like those that I have the privilege to watch the team grow.
That's how I get to see how the sausage is made.
Or in other words, that's how I get to see how everything comes together to form the final product. You win as a team and you lose as a team. And providing the chance for the players to sit down together and talk about the game with each other is therapeutic. I hope it doesn't sound like I'm overdoing it but, it is a part of the process.
I think that the long flight home gave the players the opportunity to take what Singletary said and taste it, chew on it, digest it, and process it – hopefully not being too graphic. I guess you could call that the football players digestive system.
Speaking of digestive systems, my partner in crime, KNBR's Bob Fitzgerald took me to a restaurant called Ike's. He dragged me there, telling me it's the best hamburger I'll ever have. You always hear people say that, "It's the best blah, blah, blah you'll ever have!"
I was a bit skeptical, but it really was a very good hamburger. Then, on Saturday night, I hung out with Bob again, plus the 49ers Vice President of Football Affairs, Keena Turner and the 49ers President, Jed York. We watched the Notre Dame-Purdue game. Keena is a former Purdue graduate and watches the game like a player. Jed, the Notre Dame alum cares about the Fighting Irish, but watches a little more quiet probably because he's got bigger fish to fry as he's running a professional football team.
And Bob, he was very emotionally following Notre Dame. When things were going well, everything was great. When things weren't going well, you were hiding all of the sharp objects in the room.
On the TV next to us, Iowa and Penn State were playing. Now there were a lot of Iowa residents in the place because they had come in town the watch the Vikings who are a regional team. You want to talk about some hearty people… The Iowa fans were just hoping and praying that Iowa would win that game. If you don't know much about Iowa football this year, they have a lot of trouble finding ways to score points. Those poor people were completely and totally frustrated, but the defense came through and Iowa pulled out the victory.
I'll end this with column by retelling a funny story from the weekend. I was mistaken for the artist Michael Franti of Michael Franti & Spearhead.
Franti was in town to perform on Saturday night and coincidently he's from the Bay Area. I was mistakenly identified by various members of the local populous.
They were all disappointed to find out I was not Michael Franti. But, they found out what I actually did and thought that my job was pretty cool. That was the first time I had been mistaken for anybody of any fame, definitely for anyone with any talent. I honestly don't see the comparison, but I guess. We each have two eyes, a mouth, a nose, and two ears.
But I don't know, I always thought of myself as more of a Denzel kind of guy.