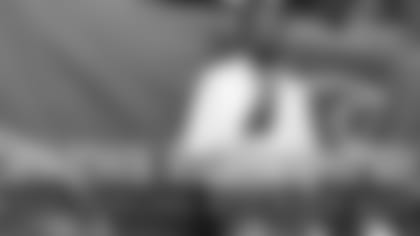 Life on the road in the NFL is certainly an eye-opening experience. Different stadiums, different cities and different weather are just some of the things that make it so hectic. KNBR radio host and 49ers sideline reporter Rod Brooks has been through it all, making him an expert. After each road game this season, Brooks will fill 49ers fans in on what his life on the road is really like in his "On the Road with Rod," column exclusively on 49ers.com.**
I actually went out to Houston a little early and got there Wednesday night. Road trips are business trips and that's the way they're looked at in the NFL. Everyone's from somewhere and chances are over the course of a season or your career you're going to go to a place where you are from or that you have family and friends. You really don't have time to see anyone over the course of an NFL road trip because they are so short or you've just got too much other stuff to worry about. You have a game to prepare for mentally and of course physically too. I'm not as busy as the coaches or players, but I do have work to do, so I thought it would be easier to go back home a couple of days early; kind of get the family and friends thing out of the way before my real work started on Saturday and Sunday. You usually get in at 9:00 on Friday night and you leave at 5:30 on Sunday, so you're not even there 48 hours.
I had a nice barbecue with the family when I got in. If you live in the Bay Area, there are only so many salads you can eat. You go back home and you go back to being a carnivore. It was nice to see and hang out with family and friends. Thanksgiving and Christmas are pretty much out for me as there is always football. I don't get the normal chances to go back home. It's always nice to go back home and it's nice to be there when it's not oppressively hot and humid.
While I was down there, 49ers Total Access decided to tag along. They must have had some time to waste. So, they tagged around with me and we went to the Astrodome, which was the home of the Oilers. Some of you kids have no idea who I'm talking about. It's hosted some bad football and baseball teams over the years.
Its last use was hosting victims of Hurricane Katrina. The people of New Orleans had nowhere to go so Houston took on close to 700,000 people and thousands of them made their way to the Astrodome. It makes me feel proud that the building was put to good use, after having the history that it does, and that will stand as the last event it was used for.  It housed victims of Hurricane Katrina, who otherwise would have nowhere to go.
I went around and interviewed people and asked them about their memories of the dome. It's cool because it's up there when you talk about historic stadiums like old Tiger Stadium, Fenway Park and the Rose Bowl. It might not have their kind of history, but it was a first. People forget it was unofficially dubbed the Eighth Wonder of the World. It opened in 1965 and until the Superdome stadium that was built there wasn't another domed stadium. It's kind of sad to think it's either going to be torn down or just sit there. But, life goes on.
This weekend was the first time I had ever been in Reliant Stadium for a regular season football game. I'm amazed how it dwarfs the Astrodome inside. Next to Reliant, it looks like a child's toy. It's the biggest thing I've ever seen. It's mind blowing. I went inside and it was beautiful.
Luckily, it was one of those days in Houston where it was not oppressively hot and humid. The roof was open, which did not do the 49ers any favors speaking of the dropped punt by Arnaz Battle having to deal with the sun. When Houston lost the Oilers, everyone thought that Houston did not care about football. Well, at 12:00 pm central time, 72,000 people showed up and they made one hell of a racket. That was one of the loudest buildings that I have ever heard in all of my years covering football, even with the roof being open. It was a great atmosphere.
If it weren't for Jerry Jones' new stadium, Reliant Stadium would be number one among the new stadiums that have been built in the past 10 years. It is an impressive stadium. It's better than the Cardinal's stadium; University of Phoenix Stadium. It's better than Ford Field in Detroit, which is awesome. Reliant knocks it out of the park. It is as close to a spectacular, no frills football stadium that you will find. Those two things don't necessarily go hand-in-hand. It's either spectacular like the new Cowboys Stadium or it's no frills like Ford Field. But I think Reliant combines the two. It gets the job done without being overly gaudy.
That's a pretty good football team they've got out there too. They beat the 49ers fair and square. A lot of things happened in that football game. Most of the 49ers will say they could have done some things differently so they didn't have to mount a furious comeback.  That's a good football team in Houston. It was stiff competition for the 49ers.
Next week we'll be at Lucas Oil Stadium in Indianapolis. I've been to Indianapolis once before as a kid. I don't remember much about it. I've never been there for a professional football contest. It will be cool to see that. I'll be interested to see how it compares to Reliant and Cowboys Stadium. Well, I know there will probably be no comparison to Dallas. But, just like in Houston, probably more than Houston, it's a fine football team. The 49ers have to button it up. The Colts are a vicious football team. If they get on top, they will not just try to stay on top; they'll try and increase their lead. I'll see if I can put to rest the characterization that Indianapolis is "India-no-place", because there is not much to do there. I'll see if I can give myself a behind the scenes tour of the Indianapolis Motor Speedway.  If I can pick up brick from the start-finish line, I'll do that. If I can hotwire one of the cars, I'd take a few laps. I'm like the Indiana Jones of the sports world. If I can get my hands on an artifact, I will. I might avoid wearing one of those man-purses though. Maybe I'll go with a backpack, like a more modern day Indiana Jones. I can't be seen with a man purse, I have to work every day in football.
I'll be out there for Halloween, but I'm not a big Halloween guy. I haven't dressed up since I was a kid. It will be interesting since it falls on a Saturday night. We'll see what kind of freaks and goblins come out then. I'm more of a voyeur than a participant.