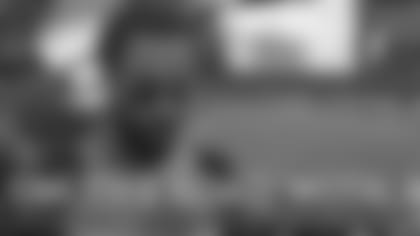 Life on the road in the NFL is certainly an eye-opening experience.  Different stadiums, different cities and different weather are just some of the things that make road life in the NFL so hectic. KNBR radio host and 49ers sideline reporter Rod Brooks has been through it all, making him an expert in life on the road. After each road game this season, Brooks will fill 49ers fans in on what his life on the road is really like in his ?On the Road with Rod,? column exclusively on 49ers.com. Here?s his first column:**
I call the NFL the traveling circus and I mean it in a good way because what amazes is me is how much each team in the NFL travels.
You take 53 or more players [depending on regular season or preseason], plus coaches, support staff and all of the equipment along for the ride. You?re talking about helmets, jerseys, pants, shoes, and you have to have more than you need just in case. You pack all of it up and put it underneath the plane.
Then, you get all the people inside the plane and you go from one side of the country to the other. After that, you unpack all of the stuff and it has to be ready to go for gameday.
This happens on a week to week basis.
The first road trip of the season is always exciting because you realize that we're starting this whole process again. Even though I've been covering the NFL for years and I've been the 49ers sideline reporter for four years, I'm always amazed how it works.
There's something cool about having the whole team on a chartered bus and having a police escort that takes you right to the plane.  It's really cool not even going through the airport and being dropped off next to the plane.  The police escort makes sure you stay on schedule and keeps you safe.
If you ever get the chance to buy a seat on one of the team?s charters at a charity event?do it.  It?s an experience you?ll never forget.  Right when you get on the plane, it's flying in luxury. The flight attendants are always giving you food and anything else you may want. The plane takes off and a couple hours later you're where you are suppose to be.
I think it's fascinating the way the NFL travels. Every single road game always seems to go off without a hitch.
One thing I have to highlight is that the food on these trips is always incredible. They have everything from fruit to sodas to cheese and crackers to even root beer floats or fresh baked cookies that are still hot. I don't know where they get an oven from on a Boeing 767. They're always hot and they're good.
It's odd nowadays to find an airline that gives you a meal. Even the nice airlines where you pay a lot of money, they still don't have food. So on an NFL chartered flight, to get actual food on an actual plate with silverware and a cloth napkin is amazing. If you think about this for a second, that doesn't ever happen. On an NFL charter, it doesn?t matter if you?re in the front of plane or somewhere in the back like me, you're still getting treated as if you're in first class. It's an amazing phenomenon.
I have family in Dallas so it was nice to be able to visit with them. But you have to understand that NFL road trips are really short. We landed at 7:30pm on Friday night and we took off at 11:30pm on Saturday night after the game. So we were only there for a little over 24 hours and that's not much time to do anything.
During my free time I just hung out with my brothers and stepmother. I didn't really get out and do much just because we didn't have time. But it was nice to get some time to see my family who I haven't seen in a few months all while doing some work.
Texas is the restaurant capital of the country because of the volume of places to eat. Anytime you go to Texas, you need to have TexMex. TexMex is different than Mexican food you have in California because it has a different influence. Mexican food in California is influenced because of the coast. There is a lot more seafood in it, for example fish tacos. That's something I never understood until I came to California and then I found out they're phenomenal.
TexMex is a lot more beef, a lot more chicken. So it's nice to get some good TexMex while I'm in Texas, which I'm not saying is better than California Mexican food or Baja Mexican cuisine. It's just a different thing to try.
And the way beef is done in Texas is a lot different than in California. The steak houses are also incredible. You know how when you go to a seafood restaurant and you pick out the lobster you want, it's like that in Texas but you get to pick the cow that you want to eat. I always found that fascinating. Actually no, I just made that part up.
I can?t do a road column without mentioning the Cowboys new stadium. All I have to say about the stadium is "Wow." I have been lucky enough to go to stadiums that range from Lambeau Field to Yankee Stadium to college football stadiums to AT&T Park. I was ready to not like Cowboy Stadium, to think that it was gaudy, over the top and unnecessary.
I was wrong on all accounts. It absolutely works.
Every other stadium is now shooting for second place. The giant video boards are what make it work. You know how when someone says they got a new rug and it ties the room together? It makes the couches and the tables and paintings on the wall work together. Those video boards are what make the whole Cowboy Stadium experience work.
No matter where you are, from the field level luxury boxes to the obstructed view seats at the top of the stadium, every seat works because you have a crystal clear view of the game with a 60-yard wide video monitor.  The field level suites are incredible and wrap around the entire stadium, giving you an up-close view of the action.
As much as I'm not a big fan of the Cowboys, they nailed it. It is an unbelievable place. Ted Robinson said it best, "People are going to want to go to see it. It will be a destination." He is absolutely right. I noticed a very interesting phenomenon. People came in two hours early before the game just to sit there. People were sitting there doing nothing except looking at the building they were inside of. That doesn't happen anywhere except for that one place.
People always ask me what?s like to be on the field and I always tell them, down on the field it's hard to hear. I can't hear individual conversations. I feel like I have a duty to the players that I'm in close proximity to not repeat what's said.  There?s a lot of insider information and things I hear which should not be not be repeated as to respect the players. That?s a little difficult for me because the whole point of being down there is to relate things that I see and hear to Ted Robinson and Gary Plummer and to the radio listeners.  
There is a lot that I do hear that I don?t pass on.  But what I see is a whole different story.
People are under the impression that NFL players are foaming at the mouth and screaming and yelling and banging their heads against the wall in the locker room, and when they get on the field it?s the wild and violent mass.  That?s not the case.  It?s not like its relaxed and laid back, but it?s not as frenzied as you would think.  
A lot of it is very measured.  A lot of it is very calm.  All of it, by in large is business-like.  
That doesn?t mean that voices aren?t raised and tempers flare, obviously it?s a very emotional game and that?s going to happen.  But, it is really very business-like.  A lot of times what is business-like is not necessarily very sexy.  A lot of people, if they had the opportunity to do what I do, they would be quite amazed at how business-like an NFL sideline really is.  
The day trip to San Diego is interesting.  We?ve got to get in and out of there like a robbery, almost.  It?s the last preseason game and not that it doesn?t have its importance within the context, but everybody?s ready to get this thing on.  So, if we don?t have to be somewhere more than a day for a game that doesn?t count towards the ultimate goal, which is making the playoffs, then good.  San Diego is a great place, but I?d rather be going to Arizona and getting ready for September 13 at about 1:15 pm local time.  
Let?s get this thing started, man.