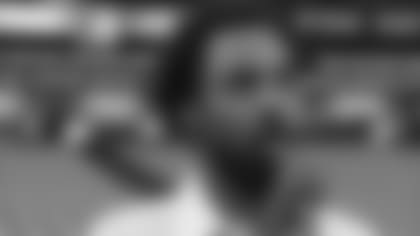 KNBR radio host and 49ers sideline reporter Rod Brooks has been through it all, making him an expert on the subject of life on the road. After each road game this season, Brooks will fill 49ers fans in on what his life on the road is really like in his "On the Road with Rod," column exclusively on 49ers.com.**I've been to Atlanta many times in my broadcasting career, the Georgia Dome included. I thought it looked very much like the last time I saw it. To me, domes are domes. It's not a slam against the stadium, it has a purpose, and plays host to some pretty high-profile events.
In my estimation, Falcons fans, like all NFL fans, are good at supporting their team. They get loud when they need to and they get quiet when they need to.
What was evident in the game was that the Falcons crowd didn't have much to cheer about, especially at the very beginning. There was no overwhelming, ear-splitting noise being made like in Seattle or Kansas City. But, it got really loud when Matt Bryant's game-winning field goal went in with two seconds left.
It was the largest moment they had to cheer about; the Falcons took the lead 59 minutes and 58 seconds into the game.
When you think about it, it's rather remarkable.
I have to say, the 49ers did a great job of silencing the crowd early, especially on Taylor Mays' special teams touchdown. Let me tell you, that was one of the best football plays I have ever seen with my own two eyes, just being in the building. One of the absolute best plays I've ever seen in person, period.
Give all credit to Dominique Zeigler for making the block – that was impressive too. But the athleticism and awareness shown by Mays was truly remarkable. Just seeing the execution of doing all that so quickly, was jaw-dropping.
There were Falcons fans, who's jaws were dropped. I saw 49ers on the sidelines, who's jaws were dropped.
It was one of those plays where you know it's going to be on all of the highlight reels, whether it's for 49ers.com or ESPN, it didn't matter. That play was going to be shown over-and-over.
It just proves that the athleticism in the NFL is off the charts. When you see something like what Mays did, it's just impressive.
Putting that aside, in his first NFL start, he led the team in tackles as a rookie. That's something that Joe Staley normally does.
Mays didn't embarrass himself by any stretch of the imagination either. There was one play were his exuberance got the best of him when he overran a play. But he was just speed and fury. Other than that, you didn't hear his name called in a negative light.
Mays' touchdown was incredible, but more impressive to me was his body of work in his first start. He's a young man, and obviously the future is bright. He and Goldson could be soon considered as one of the best young safety tandems in the league.
Our next trip will be to Charlotte then to London. I'll be with the team the entire week in London, and I don't think the British government will be looking to extradite me. I'm looking forward to both trips. To go and see and do new things always interests me.
But it's hard to look forward to London right now. There are games in the way. But let me say, it's not my job to root for anyone. I'm a sideline reporter. Objectivity is something I have. And it's something I do think I have a certain level of it.
But when you're around a group of guys, you get to know them on a personal level. You know how hard they work and what the whole thing means to them.
Sports is not life and death. But to the players, it is.
You only have so many Sundays in your body. You only have so many opportunities. During the season, every game is of great importance. To see how the losing has affected players on a personal level, I can see the difficulty in what they're going through.
I can't help but have a sense of empathy for the people who live and die with wins and losses. You can try to separate yourself from the emotional aspects of it. Professionally you can do it, but on a personal level, I can't help but feel for them.
It's not an easy job. Not everyone's triumphs and failures are there for the world to see. I just look around and realize it's a business. But to me, it's a human business.
Not that any of the players or coaches, need or want or care for my empathy. But sometimes, it's a tough life.
It's rewarding when you win, but boy, it's hard to take when you lose.
Besides the 49ers game, there were other big events in town last weekend.
People talk about this being the best time of the year to be a sports fan and I understand why. There are other parts of the year to enjoy, but for me it's all about October. There's confluent sporting activity and it's meaningful.
Every NFL game is important. Win or lose, it's important. With baseball, October is its most important time. By and large every city has a football and baseball team, so the activities will overlap. That's what was happening in Atlanta over the weekend.
The buzz was amazing around there because the Braves were trying to play themselves into the playoffs. And their game on Sunday meant something while the 49ers-Falcons game took place, and obviously that meant something too.
Just going around the area where our hotel was, the BET Hip-Hop Awards were happening in Atlanta as well on Saturday. A lot of the hip hop elite were in town as well.
I went out with my brother Colby on Saturday to watch college football and we noticed amazing cars across the street from where we were watching football. I'm talking, just ridiculous, exotic cars, Lamborghinis, Ferrari's and more.
But for me to have great access for one of the big events in town, specifically on the sidelines for the 49ers game, is another constant reminder of how lucky I am to do what I do. It never gets old.
I'm pretty predictable when it comes to eating in road cities; I never miss an opportunity to eat at Ruth's Chris Steakhouse. There's one in every city and the food never disappoints. I know everyone has their opinions, but for my money, that's the best Steakhouse chain in the country.
As someone who eats out a lot, I appreciate that. I think they would be a good sponsor for this blog.
They would only have to pay me in steak.
Another treat in Atlanta is trying the Chic-Fil-A fast-food spots. It's no joke. There's only one of them in the Bay Area. I know this, because I looked it up. If I'm ever in Fairfield, I make a point to visit there. To me, it's the best fast-food restaurant in the country. Those waffle fries are so good. I didn't get a chance to eat Chic-Fil-A in Atlanta, but going to Ruth's Chris made up for it. I felt pretty good about that.
Thanks everyone for reading my road updates, I'll have plenty to share in the coming weeks.