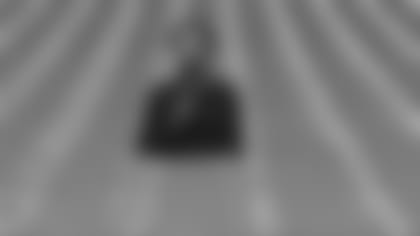 KNBR radio host and 49ers sideline reporter Rod Brooks has been through it all, making him an expert on the subject of life on the road. With the year coming to a close, Brooks recaps the 2010 road trips and looks forward to 2011 in his "On the Road with Rod," column exclusively on 49ers.com.**When I look back at this season, the best trip by far was London. That was my first time being in London, so it was special in that regard. I enjoyed everything I did while overseas. The history was great, the people were friendly and the 49ers won, which is always a good thing.
One thing that stood out to me was the way the players took to the trip. It obviously threw off their whole schedule, but nobody seemed to mind. There was no complaining about the travel, no complaining about a week in the hotel, no complaining about having to go to the events in addition to playing football. Every single player on that team took the opportunity and made the most of it. I think that had a lot to do with why they won the game.
Other than the game being in London, which again was an awesome experience, I was amazed at how many people in London knew about American football. In talking to people in the days leading up to the game, everyone was excited about it and wanted to go to. I was unsure whether the British fans would take to the way we present football in this country, because let's be honest, we do it kind of loud. But it worked. They were into it. They liked the fireworks. They cheered at the right time. They even did the wave.
As I skimmed the stands, I saw a ton of people wearing jerseys, shirts or some paraphernalia from an NFL team. What that said to me is that this is a celebration of football. These are football fans. They were mostly local people who were genuinely American football fans. It was one of the more unbelievable experiences in my life. As a person who loves the NFL and covers the NFL, to see people in a place where football is fairly foreign and for them to gravitate to it the way they did with 85,000 people at Wembley Stadium, that was amazing. I've been to Super Bowls and had the chance to do some incredible things, but that was one of the best experiences of my personal and professional life.
Probably my single favorite moment from the season came when the 49ers were beating the Cardinals in Arizona on Monday night. Steve Young was on the sidelines with ESPN, and I didn't know Steve knew who I was. So I'm standing there on the sideline, and someone taps me on the shoulder. I turn around and Steve is walking away and kind of laughing. I think to myself, "That's Steve Young!"
So I yell, "Hey Steve," and he turns around with a football in his hand. Then I motion for him to throw me the ball and he throws it to me. The ball hit my hands with a hard thud; I had never caught a ball with that type of velocity in my life. It wasn't like he really cocked his arm back, it was a casual toss for him. But it got on me so quick and it was humming when it hit my hands. I'd never caught a football thrown that hard. It was an eye-opening experience.
We started throwing it back and forth, and that was so cool. I played catch with Steve Young on an NFL sideline. I know I should have been doing my duties, but come on, I couldn't pass that up. At the time the 49ers were up three touchdowns, so my job was easy right then. I could just take a breath and enjoy myself. And that's exactly what I did.
One thing I always like to do in my column is talk about the fine dining on the road, but one place that really stood out to me this year was Five Guys Burgers and Fries, which is really a fast food place. I have been hearing about it for years, but its' mostly on the East Cost. I went we were in Charlotte because it was right across the street from the hotel, and honestly, it's one of the best burgers I've ever had.
I found out there is one in Sunnyvale, one in San Jose, and I believe they're going to build one in Santa Rosa. Five Guys Burgers and Fries has come to the Bay Area, so do yourself a favor and get one. It's the best fast food burger you'll have in your life. Try it out and get the Cajun-spiced fries, they're great too.
When I look at the year as a whole, I think this was our best in terms of travel. It just seemed to really work out, even with London thrown into the mix. We didn't have to go to the East Coast a lot. We were on the western side of the Mississippi River for most of our road trips, which always makes things easier.
Next year we won't be so lucky. Along with our trips to the NFC West cities, we will also travel to Philadelphia, Washington DC, Detroit, Baltimore and Cincinnati. That's brutal. But I've never been to Washington DC or Cincinnati before, so that's two more cities I can cross off my list. I haven't been to Baltimore for years either and haven't seen their new stadium. Detroit has a nice new stadium as well, and Philly is always a good trip.
One thing hanging over the 49ers right now is the coaching search. I'm not going to name any names, but I want to see them hire someone who has a full understanding of offense in today's NFL. They need to realize that deception and adjustments are a big part of it. Also, this is a passing league so I'd like to see someone who has an understanding of passing so the 49ers can excel in that going forward.
You still have to run the ball. You still have to play defense. But like I said, this is a passing league. I'd like to see the 49ers hire someone who can get them into the 21st century when it comes to offensive football in the NFL.
Along with a new coach there are several players that I believe will make a huge impact for the 49ers in 2011. Vernon Davis and Joe Staley go without saying, those guys are amazing. I want to see Justin Smith continue to be Justin Smith – the hardest working dude out there. I hope that Michael Crabtree continues his development. He is a young man, and I believe he is now starting to understand what you need to do to be a top-flight receiver in the NFL. He has the skill set to do that, and I can see him becoming that go-to guy.
I'm also curious to see what Anthony Dixon is able to bring back after going through a year in the league and learning how hard it is to be an NFL running back. I'm very interested to see the offensive line develop as a unit too. It seemed like they were starting to get it near the end of this past season, and I'm optimistic that it continues. Joe Staley will be back and he is as dependable of a left tackle as you'll see in this league. Anthony Davis came along this year and played very well at the end of the season. Same with Chilo Rachal. David Baas played exceptionally well at center. And Mike Iupati is just a beast. I think this unit should be strong in 2011.
That's all for now, but we're going to keep tabs on what's happening with the 49ers all offseason on my radio show "Fitz and Brooks." We love football so we're always talking about football. Consider this a cordial invitation to come hang out with us from noon to 3 pm five days a week on 680 KNBR. We're always having fun. Everybody is welcome. Whatever you want to talk about, get in the mix. Hope to hear from you all soon.