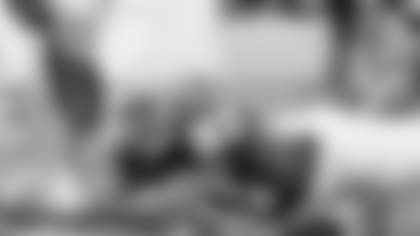 Leading up to the 2010 NFL Draft, 49ers.com will cover many of the top prospects at their respective positions. Our latest feature is on one of the top play-makers in the country, Notre Dame wide receiver Golden Tate.**
Golden H. Tate III has a name worthy of being one of the 49ers selections in the 2010 NFL Draft.
Tate fittingly wore a golden helmet in his three-year career at Notre Dame, and would seemingly be a nice fit in San Francisco, wearing another gold helmet with a gray face-mask.
"I don't know what (my parents) were thinking. But it worked out," Tate said of his name's lineage at the 2010 NFL Scouting Combine. "I guess you can say it fits me. A lot of people say, 'Golden Dome' or 'it was destined.' I guess I just lucked out."
Tate's father was smart in keeping the family name intact. Most draft experts predict that Tate will be drafted much higher than his father, who was picked in the fifth round of the 1984 draft by the Indianapolis Colts.
And while Tate has a name made for sports writers in the Bay Area, it'll come down to April's draft to determine if he ends up being the right fit for the 49ers. The two-sport athlete in college, who was once drafted out of high school by the Arizona Diamondbacks, happened to be one of the team's 60 interviewees at the Combine. Needless to say, his overall athleticism and abilities on the football field warranted such attention from the 49ers and every other NFL franchise this offseason.
Tate's school records of 15, 100-yard receiving games and 2,707 career receiving yards certainly stand out. But in particular, he really came on strong this past season, producing to the point where his own head coach gave him the blessing to go pro.
"I spoke with Coach (Charlie) Weis before the season, before we played a down before camp. He said "Unless you have around 1,500 yards and around 16 or 17 touchdowns I would not leave early." I had 1,500 yards and 15 touchdowns," Tate said with a smile.
Playing in 12 games in 2009 without a bowl game appearance, Tate totaled nine 100-yard receiving games, 93 receptions and 1,496 receiving yards – all school records.
Standing at 5-10, 199-pounds, Tate has an all-around game that sets him apart from other top wideout prospects in this year's draft. He ranks second all-time in Notre Dame history with 4,130 all-purpose yards and eighth all-time with 909 kickoff return yards.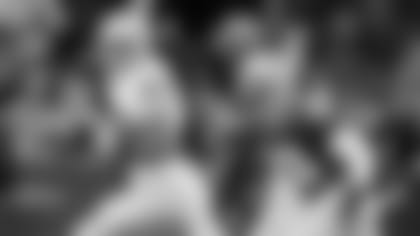 Both have similar builds, and faced questions about size and speed. Tate hopes he put the speed questions to rest with many scouts reportedly clocking him in the mid 4.3 range on the 40-yard dash at his pro day earlier this month.
"A lot of you probably think the same thing. Similar size, similar build, very physical, not afraid to go over the middle," Tate said of Carolina's top receiver. "I model my game after him. I'm not afraid to go over the middle and catch a ball or throw a block."
Initially in his NFL career, Tate could also see himself playing a role similar to the one of Percy Harvin of the Minnesota Vikings. Not only was Tate Jimmy Clausen's primary target in the Irish passing attack, he carried the ball 25 times for 186 yards and scored two touchdowns from the Wildcat formation.
"I like what Minnesota has done with (Harvin) this year, moving him all around--in the backfield, in motion, the Wildcat," Tate said. "Hopefully a team will see that in me and draft me."
Tate sees that role as a do-it-all player being the best way to utilize his play-making assets.
"I'd say my biggest strength is being able to break tackles. If you go back and watch film, it's kind of tough for guys to tackle me. My speed has always been one of my strengths, also my hands. I think I have a decent grip on the ball. Once it touches my hands it's not going anywhere."
Tate's work ethic is also not going anywhere.
He wears a wristband that reads, "Don't be satisfied," to push himself to constantly get better.
"That's kind of my motto: Don't be satisfied," Tate said. "Don't be satisfied with just getting invited to the Combine. Don't be satisfied with just getting drafted. Don't be satisfied with just playing. I want to be great. I want to win Super Bowls. I want to go to Pro Bowls. I want to be in the Hall of Fame. I think my mindset is on the right path."
It's conceivable that all 32 teams could find a home for a versatile, shifty wide receiver, who isn't afraid to run block downfield or return kicks. No matter who selects him, Tate simply wants to play for whoever thinks he can make an impact and help the team.
And now that his former college coach has taken a job with the Kansas City Chiefs as offensive coordinator, Weis' new team might have the most knowledge of what Tate can bring to an NFL team. But that doesn't mean he has his sights solely set on being in Kansas City.
"It's always going to be a dream to play for the head coach who taught me how to be a receiver. That's going to be a dream," Tate said. "But to be honest, I want to play for whoever thinks I can help them next year. Whoever thinks I can come in, make a difference right away and help them go to a Super Bowl, that's who I want to play for."
It's just a matter of time before Tate gets his golden ticket and a chance to carve out a name for himself in the NFL.