Darrius Heyward-Bey's rare combination of size (6-foot-2, 210-pounds) and speed (4.30, 40-yard dash) make him one of the most sought-after wide receiver prospects in the upcoming NFL Draft.
The redshirt junior from the University of Maryland didn't exactly re-write the record books in college, but his 40 time certainly lit up the stopwatches at the NFL Scouting Combine.
In three years of play Heyward-Bey finished second all-time in school history with 2,089 receiving yards and third all-time with 138 receptions and 13 touchdowns. As a sophomore,
Heyward-Bey put up his best numbers, 51 catches and 786 yards.
Despite never surpassing the 1,000-yard mark in a single season, NFL scouts are enamored with his blazing speed.
When asked at the Combine what time he expected to run in the 40, Heyward-Bey replied, "I just want to run something comfortable, nothing too crazy. I don't want to strain myself out there, just do something nice and comfortable."
Good thing he didn't get all crazy and run the fastest time by any player at the combine.
As a redshirt freshman, he was once clocked at 4.23.
With the kind of speed he posses, Heyward-Bey's head coach Ralph Friedgen urged him to enter the draft and forego his senior season in College Park.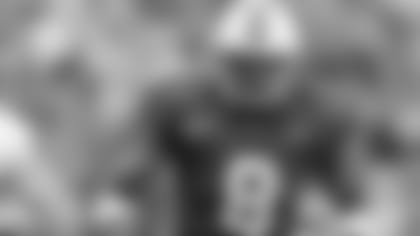 On deciding to leave school early:"Toward the middle of the season, I just really started thinking and started hearing from our coaches, saying 'This could be your time to leave.'"

On his long touchdowns:"I think it's a combination. Being able to make the big plays, having the ability to run after the catch, reverses, make plays downfield. All those
things put together, that's how I had long touchdowns in my career."

On his favorite wide receivers:"You've got to watch the greats. You've got to watch Jerry Rice, you've got  to watch T.O., and you've got to watch Marvin Harrison. You've got to watch all those guys who have been in the league a long time. They know what they're doing. You just try to take bits and pieces of what they do and put that into your game."

"He told me that there was no more I could give to the program. It was tough for him to say that, though," Heyward-Bey said.
Besides game-breaking speed, the Terrapin wideout knows he has to bring a lot more to whichever team selects him in the draft.
"You've got to be able to run. You've got to be able to catch. You've got to be able to run routes," he said. "It's a different type of game. You've got to bring it each and every day.
"You can't be average at anything to be successful in this league. I understand that. I've been watching film on the pros, and Pro Bowlers do that. You've got to be able to improve on everything you do."
Right off the bat, Heyward-Bey plans to make his mark in the NFL by using his trademark wheels to get behind opposing defenses.
"I think I'll (be) a play-maker, somebody who can stretch the field," he said. "Being able to have somebody on the field who can run deep during cover-2, who can get other people open, who can open up the running game, you're always a threat on the football field."
As the fastest wide receiver entering the draft, Heyward-Bey has plenty of other talents to offer.
"I played in the pro-style offense. I played the West Coast (offense). I understand how to sight-adjust, (and read) coverages. I think that's something people don't really think about when it comes to football. Everybody is really worried about the 40 time, worried about how many stats you have. But do you understand football? Are you ready to come into the NFL game and know what you're doing? I think I have that knowledge. I have that ability to pick things up fairly quickly and be on the field early."
The one thing he won't have to pick up is how to run vertically.
"I do believe I'm a game-breaker," he said. "I made big plays at College Park and I think I'll continue to do that in the future."
*
---