As a proud alum of Baylor University, 49ers head coach Mike Singletary is well aware of Jason Smith, the Bears talented tackle prospect who figures to be a early selection in the upcoming NFL Draft.
"I had a chance to meet Jason when I went down for the homecoming game," Singletary said at the NFL Scouting Combine. "It just happened that the homecoming week fell at the same time as our bye week. It was a great time to go down and watch the team. I think they were playing Missouri that day, and really did a good job."
Although his alma mater was unable to hold off the Tigers second half comeback, losing 31-28, Singletary was very much fascinated with Smith based on the interaction they had after the game.
"He came up and introduced himself and I talked with him just a bit," Singletary recalled of the conversation. "I am really proud of him. More so than anything else, I'm really impressed with him.
"He is very serious about being good. It's important to him. Football is important to him. Preparation is important to him."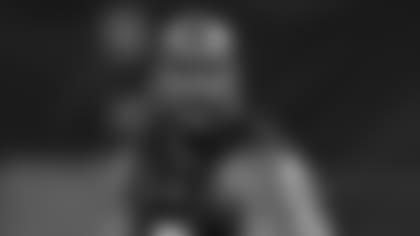 On nickname 'J Smooth':"I got it when I was younger and I just kind of carried it with me. Well, actually, I didn't carry it. A friend of mine at college came home with me and he heard my friends calling me that and he brought it to college. Over the years, I've developed that, 'Hey, that's really how I want to live, is be smooth every day.' So I started adapting, 'Yeah, call me Smooth.'

On his greatest catch as a hunter/fisherman:"Oh, my gosh, the media knows everything. I like to shoot deer. (Biggest kill) was a 10-point – wasn't that big. I like to bass fish. I'm not real good at it, but I've caught a couple."

On his calf roping experiences:"Yes, sir. I'm a team roper. I'm a header. It's something I adapted when I was younger. Team roping is actually safe – it's not one of those events where you can get hurt. I did it while I was in college up until last year when football really got serious. When coach Briles first came in, he said you got to quit riding horses. I was like, 'Yes, sir.' I've got a pretty big quarter horse. Ol' gray's pretty big."
Among the top tackle prospects like Eugene Monroe of Virginia, Michael Oher of Ole Miss and Andre Smith of Alabama, Jason strongly believes he's the best of the bunch.
Asked if he was the best 'Smith' at the combine, he responded, "Not the best Smith – the best offensive tackle. Put on my film from Baylor and you'll see that I'm the best."
The 6-foot-5, 309-pound tackle's confidence comes from his successful career in Waco, where he was a prominent reason for the Bears averaging 197.75 yards per game, making them the 21st best running team in the country.
Besides earning All-Big 12 first team honors as a senior, Smith totaled the most single-season knockdown blocks (96) in school history.
"My greatest strengths are my ability to play fast, physical and with a lot of effort for four quarters," he said.
Smith's athleticism could be attributed to his days as a tight end during his redshirt freshman year. He caught six passes for 70 yards, but decided to move back to tackle for the last three years of his college career, the position he played for most of high school.
"The transition was different, but it was easy," he said. "It was coming from a three-point stance, running routes and being a decoy all the time, to actually having a dominant role where you're protecting the most valuable player on the field. It was different, difficult at first, but once I started getting the hang of it, it was clockwork."
Smith told reporters that he doesn't miss catching the football. Instead, he enjoys mauling opposing defensive players, who make the mistake of getting in his way.
"When I'm on the field, I take a lot of pride in physically assaulting somebody. As far as finishing them off, that's just a part of the block, so you don't really think too much of it because that's what you go on the field to do," he said.
Because of his impressive play at Baylor and his solid combine numbers (5.09, 40-yard dash, 33 reps on the bench press), Smith will most likely be taken early in the draft and possibly first overall.
"Anything's realistic… I haven't talked to the Lions, but I do believe it's realistic that they will take a tackle and I do believe it's realistic that I can be the no. 1 overall pick."