Most scouts don't equate speed to 300-pound plus offensive linemen, which is exactly why Nebraska's tackle Carl Nicks turned heads at the Indianapolis Combine. At 6'5, Nicks weighed in at 341 pounds and showed that he could sure move for a big man with a 5.18 time in the 40.
He also put his strength on display in Indy with 31 reps in the bench press, good for a fourth-best finish among all Combine tackles.
"As soon as the season ended I began rigorous training," said Nicks. "I think everything comes down to how you actually play the game, but it was important to me to impress people. So, I worked out twice a day, ran, ate right and just grinded. My body was pretty sore every night, but you just keep in mind that you are doing this for a high draft position and so you wake up the next morning and get ready to go beat your body up all over again."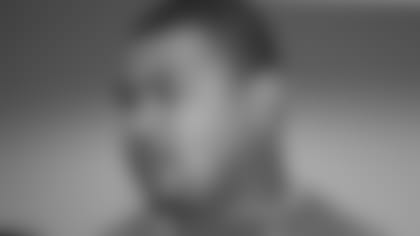 49ers linebacker Jay Moore has been very vocal in his support of his former Cornhunsker teammate (pictured above), recently telling the Sacramento Bee's Matt Barrows "He's a good player. Out of all the tackles there, he's the one that gave me the biggest fits….He's pretty athletic for a big guy."

Nicks said he owes his success to guys like Moore and Adam Carriker (Rams).

"Without Jay and Adam I don't know if I'd be here. Jay is lighting fast, he's strong and big. Carriker is a prototype defensive lineman with a body engineered for football. They definitely helped me get ready so I owe a lot of my success to them."
Nicks covets a high draft slot for many reasons – a love for the game he's played since the 5th grade, having the opportunity to make a career out of a game that allows him to "knock the snot out of people," and topping the list - because it would offer him a means to support his two young daughters.
"It's easy for me to wake up, work hard and answer all of these questions in interviews because it's for them," said Nicks. "It's ridiculously hard to try and support a family when you are still in college, but they give me all the motivation I need in this stressful process because I want to provide for them."
Fortunately, Nicks did test well enough at the Combine because his Pro Day back at Nebraska never happened. A few days before he was scheduled to work out, Nicks was cited for failure to disperse at a house party, was jailed and then subsequently banned by Nebraska's new head coach Bo Pelini from the Pro Day and his program because he has "set a bad example with past behavior."
That bad behavior knock might be one of the reasons that despite Nicks' physical assets, which some NFL scouts feel put him in an elite tackle category, his draft projections are all over the map. The arrest and an earlier suspension at the start of the 2007 season is likely pressing on the minds of NFL decision makers, which Nicks said he understands and hopes to clear up.
"It's a little stressful, I'm not going to lie, because you've got guys tugging you here, tugging you there and asking you the most intimate questions," said Nicks. "But, they are going to find out anyway so it may as well come from your lips."
Ultimately, Nicks is banking on his football credentials to overcome any question marks and cement his future.
A Big-Twelve Conference second-team choice, Nicks started eleven games at left tackle for the Cornhuskers, where he proved to be a punishing and physical run blocker with 76 knockdowns.
"I think my size, my speed, and my power set me apart," said Nicks. "I use that aggressiveness in the run game, and I think combined with my pass blocking, it makes me a good offensive lineman."
Nicks should still have room to grow as an offensive lineman as his time at the position has been relatively short after journeymen beginnings at the college level.
A standout defensive lineman at North Salinas High School in California, Nicks began his collegiate career at New Mexico State where he saw reserve action in five games at defensive tackle his freshman year. Academic issues and a frustration over his playing time led Nicks to transfer to Hartnell Junior College, where he earned California Community Football Coaches Association first-team All-American honors as an offensive lineman in 2005, solid enough play to earn another crack at the big ranks.
"I guess I took a different path than some guys, and I think it made me appreciate the opportunity I had that much more once I got to Nebraska," said Nicks. "When I first got to New Mexico State I think I was still a little immature and didn't understand. I went back to junior college and got some confidence and playing time and then grasped what it was all about, and by the time I got to Nebraska I knew it was a second chance and that I had to run with it."
Adjusting to the cold climate of Lincoln, Nebraska took some getting used to for the California native, but Nicks believed the guidance he received from former Nebraska head coach Bill Callahan, a longtime offensive line coach in the NFL, was crucial to his development.
"I think Coach Callahan is one of the best offensive line coaches around to learn from and I really think he helped give me a great foundation," said Nicks. "When I played at the Senior Bowl and had NFL coaches to learn from I felt comfortable because I was already used to that style of coaching. I think that helps me be better prepared to take this next step."
There's not much Nicks can do at this point when it comes to where he gets drafted, but like he did when he got his chance at Nebraska, he can seal the deal once he gets to where he's going.
"I really want to get drafted high, but I think it comes down to what I do with my opportunity," said Nicks. "I want to make football my career and play this game for a very long time. I want to be successful, win a Super Bowl and have people remember that I played the game."