In our On the Clock features over the next few weeks, we'll preview some of the draft prospects from various positions. We got started with quarterbacks in this feature on Delaware quarterback Joe Flacco.
49ers college scout Todd Brunner gave football fans a heads up last September in his 49ers.com blog that Delaware quarterback Joe Flacco would without question be a name that folks would be hearing quite often come April.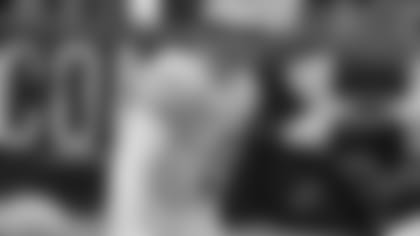 Of course, few experts would have predicted just how enormous the buzz around this Division IAA quarterback would be. Flacco has shot up the draft board from a second day prospect to a possible first-rounder, drawing so much media coverage that even Flacco himself has been a bit taken aback by the attention.
"I'm a little bit surprised," said Flacco at the Combine. "I keep saying if I wasn't myself, I don't know if I'd like myself too much right now. I'd probably be sick of myself."
Flacco is not surprised however that NFL scouts view him as a serious contender, despite his smaller school status.
"I think if you can play, you can play," said Flacco. "There are a lot of different reasons that guys play at the smaller level, but at the quarterback position I believe that the competition is all relative. There are open guys and there are covered guys, and I think that if you can play, you can play."
Flacco actually began his collegiate career at the Division I level, but soon transferred from Pittsburgh to Delaware.
"I didn't think I was going to get the opportunity to play at Pittsburgh," explained Flacco. "I didn't want to leave my playing time to chance. I wanted to go somewhere where I could compete for a job, and Delaware was that place."
The decision worked out well for Flacco, who started two seasons at Delaware, leading the Blue Hens to the FCS National Championship game, where Delaware succumbed to Appalachian State. He threw for 4,263 yards in his senior season with 23 touchdowns and only five interceptions.
"All the coaches throughout my college career stressed how important turnovers are and it gets even more important at the next level," said Flacco. "I've taken great pride in that my whole career and I was really proud that I only threw five picks this year."
Flacco entered the pre-draft period with the mindset that his football tape and his production would speak for itself, but he was also realistic that he'd need to continue to work to get better and that he probably had question marks about his game that needed answering.
He began training back in New Jersey and sought help on refining his game from none other than Brunner's brother Scott, a former Delaware All-American and NFL quarterback.
"He's a guy who I really listen to because he's been here before," said Flacco. "He went through a handful of years in the NFL and had that experience, so anything I can take from him is good."
A late invite once Brian Brohm dropped out due to injury, Flacco quickly became the talk of the town at the Senior Bowl in Mobile, where he proved that he could work out of more than just the spread offense he ran at Delaware, and that he belonged with the big boys.
"I was really excited to get the call, because being a small school guy, it was definitely very exciting for me to be on the field with so many great guys who you are used to seeing on TV," said Flacco. "Being on the practice field with them was a little bit different, but it was definitely fun and a great chance to show what I could do."
Flacco was next invited to participate in the 10th College Football All-Star Challenge during Super Bowl week in Arizona. In head to head competition against John David Booty of Southern California, Colt Brennan of Hawaii, Chad Henne of Michigan, and Matt Ryan of Boston College, Flacco won two challenges, including the long toss with a pass of 74 yards.
The competition is designed mostly for entertainment value, but it drew ample coverage from the media, and word of Flacco's arm strength quickly spread.
Flacco followed up the performance with an equally impressive showing at the Combine, again answering any doubts about another element of his game. At 6-6, 236 pounds, Flacco figured some people questioned his mobility and agility, but he ran a 4.84 in the 40, had the fastest time in the 3-cone drill and the second fastest time in the short shuttle.
"Just because I'm a bigger sized quarterback, it doesn't mean I can't move," said Flacco prior to his workout. "I like to think that I'm a pretty good athlete and I'm out to show that."
Confident that he had done just that with those times, Flacco limited his March 6th Pro Day workout to throwing in front of the very large NFL crowd that traveled to Delaware. He's since reportedly had a handful of private workouts with teams including the Bears, Dolphins and the Ravens, and his traveling tour will likely continue with NFL teams permitted to host up to 30 draft eligible prospects for visits up until April 18.
"I've gotten to know him pretty well and he's a great kid, and so that makes you pull for him even more," said Brunner. "He's really done well for himself in the last few months, and wherever he ends up, he'll be a great asset."
And the Joe Flacco buzz and projected draft status will likely continue on in full force until the matter is settled.