Since being diagnosed at the NFL Scouting Combine in February with Wolff-Parkinson-White Syndrome, an electrical abnormality that affects the heart, Auburn defensive end/ linebacker Quentin Groves has heard and read plenty of speculation about his draft stock falling.
Groves insists that after having minor surgery on March 28, it's not a cause for concern.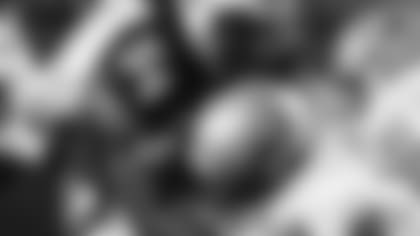 Achievements: Graduated with a degree in criminology in 2006, becoming the first member in his family to graduate college
Hidden Talents: Says he's a great cook, something he learned from his mom. His best meal includes fried chicken, candied yams, mustard greens, pinto beans and corn bread.
Hobbies: Golf. Groves had to continue taking classes this fall to play football and chose golf.  "It takes you away from everything," said Groves about the sport. "For four hours on the golf course you can be out there peaceful, no cell phone ringing. You are just out there playing and having fun."
"It was scary at first because it is your heart, but after learning more about it I just knew I was going to be alright," said Groves. "They put me to sleep and nothing was cut. They went thru my neck and groin with a catheter. It looked like a string of spaghetti. They went up and met at the heart and clipped the heart. Technology is amazing. I had to miss four or five days to get used to it, but now I'm full go."
As it turns out, Groves also has a very big and generous heart. The projected first-day draft pick offered to pick up the tab so that his niece could attend her senior prom this past weekend back in their hometown of Greenville, Mississippi.
"I paid for her dress, shoes, nails, hair, rental car and dinner," said Groves. "I pretty much let her pick out what she wanted and told her to make sure I got to see the pictures."
The thoughtful guy goes out the window however when he hits the football field, a place where Groves prefers to unleash his athleticism at the expense of opposing quarterbacks.
As a redshirt freshman Groves set the single-game sack record with four sacks against Kentucky, showing a disruptive knack that would continue throughout his four year career with the Tigers as he finished with 26 career sacks to tie a 22-year old Auburn school record.
"I affect game plans," said Groves. "If you ask people who have watched me and what I bring, they will say Quentin Groves affects game plans. You are going to have to know where he is at all times. If not, you are going to be picking your quarterback up a lot and you are going to have a lot of headaches. That's why teams should draft me."
His 2007 stats, which included three sacks, seven stops for losses and a league-leading 23 quarterback pressures would have been much higher had he not dislocated three of his toes when a Florida Gator offensive lineman stepped on his right foot.
"I was mad when it happened," said Groves. "They popped them back into place on the sideline, but it kept me out a few weeks and limited my production."
Groves missed two games and was used in a reserve role at end upon his return until getting a start at outside linebacker against Texas Tech, a position that many feel he is best suited to play at the NFL level.
"I know I can do it," said Groves of playing outside linebacker. "I did it some the last two years so there is no doubt. It's just a matter of me coming in and learning the system. I feel like I've got versatility and experience. I played for four years in the hardest conference there is to play in and I was productive. I'm strong enough to play in the 4-3 at defensive end and also athletic enough to play backer in the 3-4."
NFL scouts and coaches had hoped to see Groves live in action at the Senior Bowl, but a sore AC joint kept him out of the all-star game. Instead, Groves displayed his prowess at the Combine, where despite just learning of his heart condition, he ran a 4.53 in the 40, and put up 30 reps in the bench press.
"He's athletic, fast, quick and productive," said 49ers general manager Scot McCloughan. "Obviously what we like about him is that he can fit our 3-4 defensive scheme and give us some pass rush off the edge."
Groves continued his auditions in April with two straight weeks spent flying across the country to visit with eight NFL teams, with his last stop bringing him to San Francisco to visit with the 49ers.
"The whole thing wears on you mentally more than anything," said Groves. "It's not stressful, but there's so much mental preparation that goes into everything with interviews and talking with all of these coaching staffs. It can be a little draining. I'm kind of at the point where it's 'Lord, please hurry' so that I know where I'm going."
Groves plans to spend the upcoming weekend back at home in Mississippi, not watching the draft in a hotel room with his wife of almost two years.
"I just want to watch anything other than the draft and wait for a call," said Groves. "I don't want to get too stressed over it, so it'll just be me and my wife and once I get the call, I'll go over to my mom's where she'll be having a big barbeque going all day."
Groves' wait is almost over, but a long road of hard work waits ahead for this Tigers standout who looks to follow in the footsteps of SEC linebackers DeMeco Ryans and Patrick Willis, both NFL Defensive Rookie of the Year honorees and Pro Bowl players.
"I have seen them do it and I know that I can do that too at the next level," said Groves. "I know it's going to be hard coming in as a rookie, but my expectations are to start and compete for a job. I know it's not going to be easy because there are guys already there who don't plan on losing their jobs, but I plan to compete, do my best and beat them out."