Leading up to the 2010 NFL Draft, 49ers.com will cover many of the top prospects at their respective positions. Our latest feature is on one of the top offensive linemen in the country, Idaho guard Mike Iupati.**"I like to destroy a lot of people."
That's the perfect sound bite coming from an offensive lineman.
Those words were spoken at the 2010 NFL Scouting Combine from the mouth of Idaho offensive lineman Mike Iupati.
The 6-foot-5, 331-pound senior lineman with 35-inch arms is considered to be the top guard prospect in this year's draft. But he's also versatile enough to play the tackle position.
In college, the First-Team All-American played left guard because of his athleticism when pulling on run plays, and well, because he likes to destroy a lot of people.
"I was quick and I liked to kick out those linebackers and defensive ends," Iupati admitted. "That's pretty much the main reason why (I played guard). I like to be engaged to a person real quick and I like to pull."
Iupati played for a lesser-known program with the Idaho Vandals compared to many of this year's top prospects, but when it came time for talent evaluators to scour the nation for the best players, Iupati's name was in with the group.
In the recent months leading up the draft, Iupati has been working on playing multiple positions on the offensive line with the hopes of showing NFL teams how much of an asset he can be.
At the Senior Bowl in Mobile, he lined up at left tackle and right guard, two positions he did not play previously. Although he struggled at times during the week, Iupati left enough of an impression to build more momentum leading up to the Combine.
His offseason preparation has been in good hands. Iupati has spent the last few months training with Hall of Fame tackle Jackie Slater, improving his pass steps from the tackle and guard positions.
"A lot of people told me that I have to be versatile," Iupati said. "They know that I am a pretty good athlete. It'll come natural to me. I just have to learn it."
Many teams see Iupati as a guard, and compare to him Minnesota Vikings All-Pro guard Steve Hutchinson. That assessment sits well with Iupati.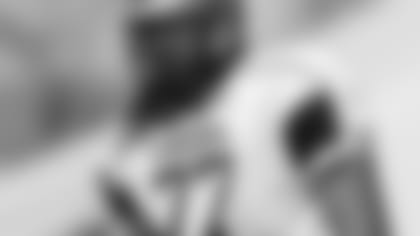 It was Hutchinson, who Iupati looked up to as a teenager. Iupati moved to the United States around that time, at the age of 14, finding football to be the perfect activity for a child of his size.
"My family decided they wanted us to have a good education. They sacrificed a lot of stuff to move from Samoa because we were very well off," Iupati said. "Coming to the U.S. and realizing it's very difficult financially. That's why I always take advantage of every little opportunity I get, just try to seize the moment so I can have a better future for myself and my family."
Iupati didn't have the easiest road in becoming one of the draft's top prospects. Because English was his second college, he failed to qualify academically to play Division-1 football. Instead, he had to go the junior college route before ending up in Idaho.
But those experiences have made Iupati much tougher (something he probably didn't need). He now has a great appreciation for the sacrifices made by his parents so he could pursue football.
Once drafted, Iupati plans to return the favor.
"My parents want to go back (to Samoa) some day. They want to have their own house and live there. To build a house for them would be the biggest thing I would ever want to do for them," Iupati said.
Iupati would also like to continue being a role model for young Samoan football players, who'd like to follow in his footsteps.
"Now it's very big," Iupati said of American football's popularity in Samoa. "They know they can have a better future in football and just the love of the game. I talked to one of my relative's friends in Samoa and they say it's a dream to play football."
But before Iupati can help develop American football in his native land, he wants to carve out a successful career in the first.
With the right attitude in place, Iupati is well on his way in accomplishing his goals.