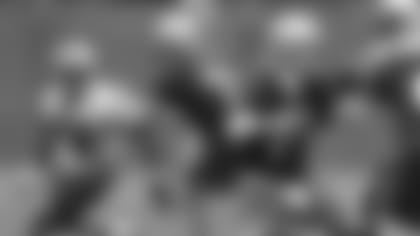 As an undrafted quarterback, Damon Huard has had quite a remarkable career in the National Football League. In his 13th season, the two-time Super Bowl champion is eager to help the 49ers any way he possibly can. Read what he had to say in this exclusive Q&A session with 49ers.com.**
Q: Why was San Francisco an attractive situation for you to be a part of?
A: Well, there were a lot of reasons for me personally. For one, I'm a West Coast guy. I grew up in Seattle and this is the first chance I've had to play on the West Coast. It's close to home. Also, there's a lot of tradition here with the 49ers. But most importantly, the offensive scheme I've had some background with. There are a few nuances that are a little bit different and some of the terminology is a little bit different, but a lot of it is similar to what I did in four out of my five years in Kansas City. Having that familiarity makes it more of a comfortable transition, which is a good thing when you're playing quarterback in the NFL. Plus I've been in the AFC my whole career. It's first time in the NFC, which is going to be different. But it'll be exciting.
Q: How did you spend your offseason?
A: As you get older and you have kids and a family – that pretty much occupies most of your free time. Whether it's chasing them around or going to their basketball or baseball games – that kind of takes up most of my free time.
Q: What are your thoughts on the offensive personnel and the weapons the 49ers have on the offensive side of the ball?
A: There's obliviously a lot of talent here – no question. I think certainly last year with coach Singletary at the helm, the team finished strong and there's a lot of great camaraderie here in the locker room. Shaun (Hill) and Alex (Smith) are great guys to work with, so I think a lot of the pieces are in place. It's just a matter of going out and winning football games.
Q: When you played with the New England Patriots (2001-2003), coach Belichick credited you with helping the team get past the Indianapolis Colts in the playoffs in 2001 because of your Peyton Manning impersonation during the week of practice leading up to that game, what did that praise from him mean to you?
A: Bill was always great at making everybody feel involved and he understood the importance and the role of the team. That was kind of my role that year as the backup quarterback. It was to run the scout team and do different things like that. I enjoyed doing whatever I could to help win football games and those were some special seasons winning a couple of Super Bowls. That was cool how he pointed me out in front of the team, even though I didn't play in the game. Certainly I hope that's not the highlight of my career, being a backup ace. But that was a big part of my career, and I'm comfortable in that role.
Q: What has it been like so far working with offensive coordinator Jimmy Raye and quarterbacks coach Mike Johnson?
A: So far, so good. Jimmy Raye is a real disciplined, hard-nosed, football coach. He has a great system and a great scheme. He's very detail oriented. Mike Johnson brings a lot of drills to the group that I haven't done before. I think he'll be able to get all the quarterbacks ready to roll when the season comes around. I think together they make a great staff.
Q: How do you feel about the offseason conditioning program and all the work you guys have been doing so far?
A: I'm surviving. I have a few nicks and bruises along the way, but this certainly is one of the most grueling offseason programs I've been through. It's getting us in shape and hopefully in the fourth quarter of games this season it will help us get on top.
Q: As a 13-year veteran, you've played for a lot of different coaches, how do you feel about playing for coach Singletary?
A: I like him a lot. I think he's very honest, straight-forward. He tells it like it is and as a player, you appreciate that. Everyone respects him, not only as a coach, but for what he did as a player. I think when your head coach is a former player and has been through those battles that we've all been through. He understands the experience and knows how to treat the players. He knows how to relate to the players. I think at the end of the day that just makes you a better football team.