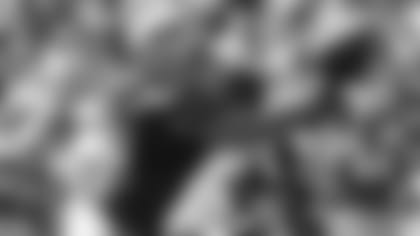 Zak Keasey earned the role of starting fullback last season, but finished the year on Injured Reserve after he suffered an injury against the Philadelphia Eagles. Keasey, a standout on the 49ers special team units, is recovering from the setback and is eager to get back on the field. Read what he had to say in this exclusive Q&A session with 49ers.com.**
Q: What was your offseason like, did you do anything special?
A: It was good. I had a lot of free time. Coming off an injury, I was able to put in a lot of work in the weight room. I went home to visit my family for awhile and I had a chance to spend time with my girlfriend. She's still in school out in New Jersey, so it was nice to spend time with her.
Q: What exactly happened on the play you got injured against the Eagles?
A: I remember the play pretty well. It wasn't anything out of the ordinary; I guess it was just a freak accident. I tore the bicep tendon on my right arm, but I'm feeling pretty good right now. It's been quite a few months since the injury, the rehab has gone well and now I'm getting back to tip-top shape. It actually happened on a kickoff return and I was setup on the man I was supposed to block. I had him blocked well and like I said, I wasn't in an awkward position or anything. I was just blocking my man and my arm gave out.
Q: What was the rehab process like and are you feeling 100 percent?
A: I feel like I'm pretty much back to full-strength. I think you always have a little bit of work to do. But because it happened in week six, I've had a lot of time to rehab with the training staff here. They've really helped me get back to being ready for the offseason workouts. Now I've been pretty much healthy, but I'm taking it slow and building back the strength gradually. I don't want to rush it too much, but coming back and getting into the offseason program is feeling really good. I'm excited about it.
Q: What's it like having Moran Norris back on the team?
A: It's good. I missed him last year. He's a great fullback and he really helped me out in my first year here adjusting to the position. He was a good leader and he set a good example for me. It's nice to have him back and he's my workout buddy in the weight room too. We're able to push each other and compete and it gets the best out of both of us.
Q: What about having coach Rathman, one of the best fullbacks in franchise history as your position coach?
A: He's been great and he's got a lot of advice for us. He's been great teaching us all the different things out of the new playbook. It's good to have someone as your coach who has played the same position as you. He had a very successful career here and we can all learn a lot from him. I'm looking forward to continue working with him.
Q: As a linebacker in college at Princeton, how much does that background contribute to your ability to make tackles as a coverage man on special teams?
A: I think it helps a lot. Just tackling people from the defensive side of the ball for all those years, I think it helps out on the coverage teams bringing down the return man. It also helps shedding some of the blocks that come your way. I definitely try to use that to my advantage.
Q: How long have you been growing your dreadlocks?
A: I think it's been about seven years now that I've been growing my hair and I always think about cutting it. I think right now I have the biggest helmet on the team. If I do cut my hair, I'll lose some extra weight and I'll get to wear a normal helmet. But it's hard to let it go because I've been growing it for so long and I'll never get a chance to grow it back. It's here for now, but we'll see. No plans for the future, we'll just have to wait and see.