Third-year guard Chilo Rachal is one of many 49ers offensive linemen praising his new position coaches. The 49ers starting right guard is also benefitting from a few off the field changes. We learned this and more when 49ers.com caught up with Rachal for an offseason Q&A session.
Q: What's it been like working with your new offensive line coaches this offseason?
A: I'm just trying to be a sponge to both of them. I'm excited to work with both Coach (Mike) Solari and Coach (Ray) Brown, especially because Coach Brown was a player at my position for 20 years in the league. I'm looking forward to finding out how he was able to play for so long, and at such a high level. With Coach Solari, he's so technical. I'm really looking forward to this offseason with him. He understands the game of football, angles, hand placement and those types of things. Those are things I need to get better at in order to have the type of season I want to have. I'm really focusing in on all those details. They've been great coaches to work with already.
Q: What did you take away from your second year in the league?
A: It's more serious now, because I know what to do and now I just have to do it versus last year. In the beginning, I wasn't playing at a high level but towards the end I picked it up and started playing good ball. I just have to use what I did at the end of last season to continue to get better and not have the same season this year. I want to make last year my worst season.
Q: Is there one aspect of your game you're working on more than others?
A: I think it's more about trusting my technique, not just against air but when it's live. I came in raw and there's a lot to my position I've learned here. In college I was used to muscling people, but here it's about being patient, waiting to attack versus always being the attacker. That's something I have to get better at, but I think I'm headed in the right direction.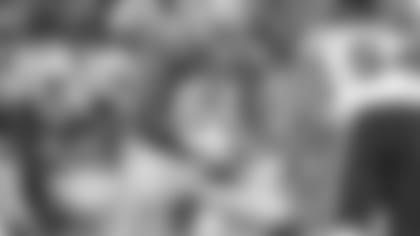 Q: What's new in your workout regimen that wasn't there in years past?** A: I'm working on technique more in the offseason than ever before and I'm eating much better. I thought I ate better last year, but I'm even more disciplined with what I eat now. Q: What's the difference in your diet this year?
A: I don't have any snacks after I eat dinner and I make sure to eat a full breakfast. I didn't always use to eat breakfast. I'd come in, work out and then go eat. But now I always eat before I work out. I have lunch and then a snack before dinner. I don't eat anything past nine.
Q: What type of a relationship do you have with your fellow offensive linemen?
A: It's been really good since I first got here. We have a great group of guys, from Eric Heitmann, to Joe Staley, Adam Snyder and on down, the chemistry between all of us has been really good. It works out great because we all have the same goals: We want to be the best offensive line in the league. We want to be dominant and we want to win the Super Bowl.