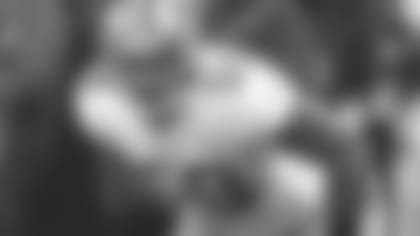 The 49ers signed rookie outside linebacker Thaddeus Gibson midway through the season after he was released by the Steelers. The 6-foot-2, 243 pounder was inactive all year before playing in the final two games, and 49ers.com recently caught up with him to discuss the ups and downs of his rookie season.Q: How much did you enjoy playing in the final two games of the season?**
A: I felt great. It was an opportunity I had to take advantage of, and I think I did that. Since I wasn't playing all year and then I did for just those last two games, it kind of feels like the season just started for me, so it's crazy that it's over. But I loved being able to get out there on the field and show how much I've learned this past year. I just wish I would have had a few more opportunities, but at least I got that taste of the NFL.
Q: Did you view this season as an opportunity to get acclimated to the NFL while you weren't playing much?
A: Absolutely that's the way I looked at it. Not playing, it kind of reminded me of my redshirt year at Ohio State in the sense that I was sitting back and trying to learn as much as I could. I've just worked out hard, stayed in the film room, learned as much as I could from the guys who have been doing it for years, and every day I just tried to get better as the season went on. I think I'm a much better football player now than I was a year ago.
Q: What was it like when you had to switch teams in the middle of the season?
A: It was tough at the beginning just because I had to move across the country and everything that goes along with that. But this is a great locker room, which made it easier. Plus, there are a lot of Ohio State guys here with Nate Clements, Troy Smith, Ted Ginn Jr. and Alex Boone. Really though, all of the guys have looked out for me and helped me out. This is a great group of guys.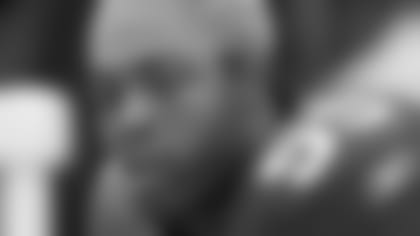 Q: Fans didn't get to see much of you this year, so how would you describe your game to them?**A: I'm a hard worker and I'm dedicated to becoming a great player. I love the game, and I am truly blessed to be in a position to be able to play this game. I love everything about football, whether it's dropping in coverage, pass rushing – whatever it takes to help my team win. Whatever these coaches ask of me, that's what I'm going to do. I'm just a go-getter and I'm ready to roll.
Q: What are your plans for the offseason?
A: I'm going to give it everything I have to get better. Playing in the NFL, this is a once in a lifetime opportunity and I know it could end soon. So I just have to make sure I do everything in my power to stay in it, which means I have to work hard all offseason. If you're not getting better you're getting worse, that's the way I see and that's why I'm not taking any time off. I'll spend most of my time here in the Bay Area and train at the 49ers facilities.
Q: The 49ers play the Steelers next year, will you have an extra chip on your shoulder for that game?
A: Absolutely. I understand that this is a business and they made the decision to let me go based on what they felt was best for their team, but I want to prove to them that they were wrong. When things like that happen you just have to take it and run with it for the most part, and I feel like I did that. But when I get the opportunity to play them, it'll be a little extra motivation.