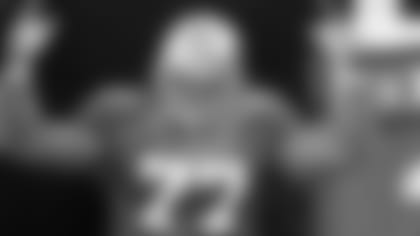 Left guard Mike Iupati started every game in rookie season and played a vital role in the team's rushing attack. The 6-foot-5, 331 pounder recently spoke with 49ers.com about his rookie year and plans for the next several months.Q: What are your offseason plans?**A: My main offseason plan is to get better. I will probably stay around here most of the time and work out and study film and all of those types of things. I might go to Hawaii or somewhere relaxing to get away for a little bit, but I'll spend most of my offseason training. This year I realized how much work you have to put in to stand out at this level, so that's what I'll be doing all offseason. I want to be a much better player next year.
Q: Specifically, what parts of your game do you want to improve upon for next season?
A: Everything. I can't look at any part of my game and say it's complete or I don't need to improve on it. I'll be spending a lot of time working on my flexibility, staying low, and getting off the ball faster. All of those little things that go into your technique, that's what I'll be working on the most. But I also need to maintain my strength and stay in shape. Q: How do you feel you played this season?
A: I did OK. I think I can become a lot better player if I work on my technique and footwork and all of those little things. That's why I'm not taking any time off this offseason. I really didn't have any expectations coming into this season, but it went about the way I expected as far as how I played.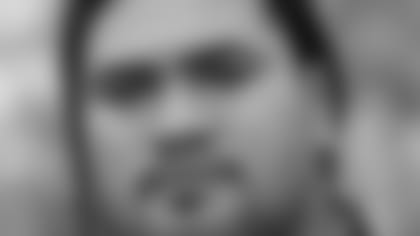 Q: Did your rookie year go by fast or slow?**A: It went by fast and I really can't believe it's already over. But at the same time, I started preparing for my rookie season right after my bowl game last December so it will be nice to get a little break whenever I decide to take that vacation.
Q: How much do you feel you've improved over the last year?A: I think I'm a much better player now than I was when I first came in here. I feel like I've improved every part of my game, and its obvious when you watch the film. I learned a lot this season, especially from the coaches. Our o-line coach Mike Solari was great, and it also helps to watch guys like David Baas, Joe Staley and Adam Snyder who have been in the NFL for a few years. I watch and observe what they do as professional football players and I try to do the same things. I try to get any knowledge I can from them because their experiences can help me out.
Q: This is a relatively young offensive line, how much better can this unit become as a whole?A: As the season went on this year we really started to jell and get that communication that any good offensive line needs. We kept getting better and we learned how to play as a unit. Across the board you can't really see any weaknesses on our line. Joe will be back healthy next year, and I can see us being a very good group.
Q: Do you have any goal for next season?
A: As an offensive lineman you don't really set individual goals because the o-line plays as a group. Also, it's tough to measure your progress through numbers and things like that. But I'd say right now my goal is just to become a better player than I am right now. I want to turn on the film next year and see a much better player than I saw this year.