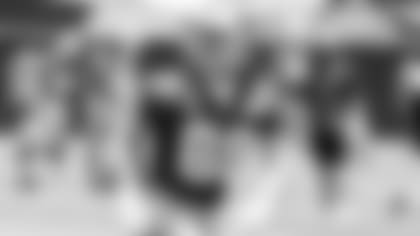 The San Francisco 49ers recently wrapped up veteran minicamp and are now taking time off to get ready and recharged for training camp. According to many, the team's offseason program was a rewarding experience which enabled the players to gain understanding of the playbook while getting prepared for the upcoming season. Find out how the offseason workouts went for young tight end Konrad Reuland, who enters his second season with the 49ers.**
Q: What was the best aspect of having an entire offseason with Jim Harbaugh and his staff?
A: I think it's going to be huge for us. We actually get a chance to get comfortable with everything that we're doing ahead of time. In the long run it will just allow us to feel more comfortable and let the coaches implement some new things because we're going to have time to see what works and what doesn't work based on our personnel. It gives you time to see what you're good at and then try to play to the team's strengths, where last year there was no acclimation process. We were just thrown into the fire and it's a testament to all the guys here that worked their tails off to make it work and the coaches to put guys in the right positions and understand the strengths and weaknesses of the team.
Q: How are you approaching training camp?
A: For me, personally, I always get pretty amped up for training camp. That's where you make the team right there – in training camp and in the preseason games. The difference is you actually get to play in preseason games and you get to hit people and you get to really show your stuff. During this part of the offseason, we just had our helmets on and it's really good for developing the mental side of things and technique, but I'm a football player. I love putting the pads on and hitting people.
Q: Is there a particular teammate that you really clicked with this offseason?
A: I can't even say just one guy; there's been so many. I think this team is a lot closer than the majority of the other teams in the league. I had a good rapport with everybody last year during the season and it's just been solidified that much more in the offseason because you get to hang out with guys off the field as well as at the facility.
Q: How has the team chemistry improved throughout the offseason?
A: It's almost like we do everything together. It's really cool; it almost feels like college to me all over again which is not what I was expecting coming into last year. I was expecting everybody to be about themselves and to see the business side of things take over, but that's not the case with this team. Everyone's together and we actually like each other's company. There's a bunch of characters on the team and a bunch of funny things that happen on and off the field so it's just fun to be around the guys.
Q: How will you spend your time off before reporting to training camp?
A: I'm going to go back home to Southern California and just recharge and refresh. I'll be back at the team facility about a week before camp starts to tie up any loose ends and get ready to go. I'll keep training when I'm at home, but at the same time, July will feel like a little bit of a summer. After I get done with my workouts, I'll go to the beach and hang out with my friends. But I'm a football player and I wouldn't rather be anywhere else than here at the team facility.