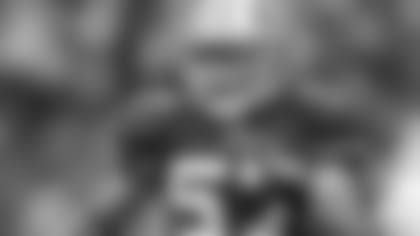 Inside linebacker Keaton Kristick played in five games this season after being signed as an undrafted rookie free agent. The 6-foot-3, 234 pounder learned a lot this year, and he recently spoke with 49ers.com about his development and plans for the offseason.Q: Did your rookie season go by fast or slow?**A: It feels like this year has lasted forever, just going through all of the rookie stuff from the combine to the draft to training camp and then the season. It's much longer than the 12 or so games you play in college. Still though, it's upsetting that the season ended so early because I feel we should be in the playoffs. But when I think about this year, I've really changed and grown a lot as a football player and as a person.
Q: What did you learn from starting inside linebackers Joe Staley and Takeo Spikes?A: First of all, I just feel lucky to be able to learn from two of the best in the game like Pat and Takeo. Those guys are great. When you watch them on TV it's one thing, but to see them play up close, it's unreal. As a rookie, when you watch them and see how they prepare you realize how much different the NFL is than college. So I learned a lot from those guys, more than you could imagine. They're just so good at what they do. Their technique is amazing. They conduct themselves the right way on and off the field. They put in the work. They study so much film. They're just very professional in everything they do and they passed all of those things on to me.
Q: Do you have any funny stories about those two from this season?
A: I thought it was funny when we went down to San Diego to face the Chargers and they ran out late to the team stretch with these huge casts on their hands. I was like, "OK, here's Mega Man and Mega Man 2." But seriously, I knew their hands were in bad shape so to see them still come out and play with casts on was another teaching point for me. It showed me how much they're willing to sacrifice, and that's part of the reason they are where they are.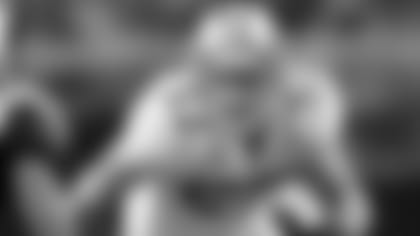 Q: When the 49ers signed you as an undrafted rookie free agent, did you ever think your season would turn out like it did?**
A: No, I never would have guessed that it would end up like this. It's amazing. First I had to fight just to make the practice squad. Then just going from the practice squad up to the 53 was great – I'm glad I could fill the void they needed. And then to actually play, wow. Playing in the NFL has always been a dream of mine, and to be able to do it was amazing. But as happy as I am with the way this year turned out I'm not satisfied. I want to get better. I need to get better.
Q: What are you going to do this offseason to improve?A: I'll spend most of my time training back home in Phoenix. The thing everybody keeps telling me is that I need to work on my strength and size, that's what I've heard all across the board. I was told that I'm doing a good job of playing the part of an NFL player, but I don't look the part. They say I'm too small. I heard that and I was like, "Come on, man." The guys were dogging me about the size of my chest and biceps, so I guess that's what I need to work on. I'll come back next year and hopefully I'll look the part.
Q: What was your favorite memory from the season?A: I can't pick just one because the whole season was so memorable, you know? Like I said, playing in the NFL has always been a dream of mine so I'm going to remember the whole year and everything that happened and the time spent with my teammates. But one thing I'll never forget is running onto the field for the first time as an NFL player, at that moment I felt like all of hard work I put in over the years had finally paid off.