Eight weeks into the 2009 season, there is no question if Mike Singletary's team-first philosophy has been fully adopted by his team.
That's why when newly appointed starting quarterback Alex Smith was asked about what he needs to do in order to take this offense to the next level; he preferred to answer using a different pronoun than I.
"For us, I would really emphasize that it is on the offensive unit to score points," Smith stood answering questions as the team's starting quarterback for the first time since November of 2007. "It is on us to find a way to move the ball, whatever way that is. We have to find a way to be successful. We have to be balanced, we have to be able to throw the ball, run the ball. If I can bring anything extra to the table, then all the better."
For the second week in a row the 49ers are heading into Sunday's game with a different starting 11 from the previous week.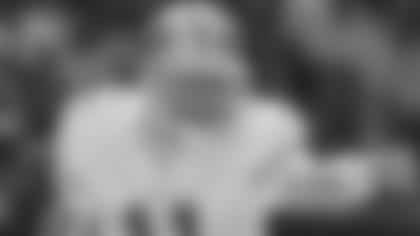 However, this group is largely that of what the team fielded for their near comeback win against the Texans last weekend. Smith came off the bench and threw three second half touchdowns to tight end Vernon Davis, good enough to give Davis a league leading six touchdown receptions on the year, but not good enough for a win.
Smith described the Colts as a team designed on playing with the lead, and said it's paramount for the 49ers not to start in a hole this coming Sunday.
"They are fast and they get after the quarterback," Smith said. "That team is set up very well. They are good at playing with the lead. I think they force teams into playing one dimensional because they are playing from behind, then you have to throw the ball."
For much of the past eight quarters of football, the 49ers have been forced to play a one dimensional type of offense because they are trying to come from behind by throwing the ball. The unit will be tested again, as Indianapolis' 9th ranked defense is most dangerous when allowing their playmakers to rush care free off the edge.
"They want you to sit back in the pocket and throw the ball," Smith said. "They like getting after the quarterback, especially the two defensive ends."
Smith is talking about Dwight Freeney and Robert Mathis, of whom 49ers tackles Joe Staley and Adam Snyder will have the duties of blocking.
After rotating at guard last week, Snyder gets the start at right tackle, where he was for the first five games of the season. The move back was forced when Tony Pashos, who started at right tackle last week, was placed on the injured reserve with a shoulder injury.
Snyder assumes his familiar role and said that nothing will change for the offensive line regardless of who they pass block for.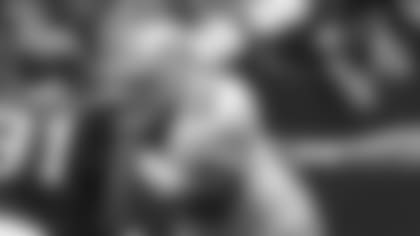 "It doesn't matter who's playing quarterback, our job is always to keep the quarterback protected," Snyder explained. "[The Colts] have continued to play well as a defensive front. It's our job to execute."
It's also the job of the 49ers linemen to locate Colts safety Bob Sanders, who looks to play for the second consecutive week after being injured for the first six weeks.
"He's definitely somebody between myself and the quarterback have to account for in the protections because they use him a lot in their blitz packages," center Eric Heimann said.
Spotting Sanders before the snap also falls on the shoulders of running back Frank Gore, who is eagerly anticipating this week's matchup.
"Sanders is a player, he attacks the ball," Gore said. "I'm looking forward to playing against him."
For the 49ers to achieve balance, Gore must be an integral part of the attack and will need to improve upon his 13 carry, 32-yard performance against the Texans.
The offensive line and Smith will have to help Gore get going.
Smith displayed a lot of trust in his offensive line against Houston, while knowing what he needed to concentrate on for his unit to score points.
"When you are playing quarterback, you can't be worrying about defensive linemen," Smith said. "You are really looking downfield, you react to that stuff. If you are thinking about them, that's a bad thing."
One target Smith may be looking for downfield is receiver Brandon Jones, who coach Singletary has already confirmed will be active on Sunday against the Colts.
Smith and Jones wowed fans this training camp with some long pass plays and has them further salivating at their potential to add another dynamic to this 49ers offense.
To Jones, it doesn't matter which 49ers quarterback is throwing passes his way. In training camp, Jones looked to be on the same page with both Smith and Hill. In Jones' estimation, both quarterbacks are capable playmakers.
"Both quarterbacks are great," Jones said. "Both of them can perform and get the job done. But it's good to see Alex have the opportunity."
And, Smith feels that the 49ers have a large opportunity in front of them beginning this weekend against the Colts. He calls this 49ers offense, the best he has played since being drafted.
"In fact, I don't think it's very close," Smith said. "I think we have a big opportunity in front of us with the guys that we have in this locker room and the guys that we have in this huddle. This team has a lot of depth and a lot of talent."