The 49ers first-team offense seemed to struggle in a blitz-pickup period near the start of Wednesday morning's training camp session. Alex Smith grew tired of it and made sure to do something about it.
At the conclusion of the period, the 49ers starting quarterback signaled to the entire offense to huddle up and take heed to his instructions.
"We were definitely flat to start the day. We weren't competitive enough and we weren't getting it done," Smith said. "I just brought them all up and said we have to have pride in what we're doing."
Smith wasn't placing all the blame on his teammates though, he held himself accountable as well. His interception to Joe Staley on the opening play of the period wasn't up to his standards. The turnover led off a sluggish period which saw many blitzing defenders find their way to Smith in the backfield.
And while Smith wasn't sure if the monotony of camp had gotten to him and his teammates, he made sure to passionately voice his concerns to the entire group.
"I told them you have to have some pride in what you're doing out here. You can't just try to endure this; you have to take advantage of every single day."
Smith and the offense responded on the very first play of the ensuing 7-on-7 period, by way of a 20-yard completion to Ted Ginn Jr. Two plays later, Smith found tight end Delanie Walker running open down the right hash-marks for a deep touchdown pass.
Smith's momentum from the successful 7-on-7 work carried over into the remaining team and red zone periods, with Smith completing passes all over the field. His teammates also responded favorably to the plea from their quarterback and practiced with greater tempo for the rest of the morning session.
"I like the way he did that," Pro Bowl tight end Vernon Davis said of Smith's motivational speech. "He told us we needed to pick things up and after that I definitely think guys picked it up more."
However, Davis personally was not able to respond to Smith's challenge. He was held out of practice for the second consecutive day due to a knee injury suffered against the Colts last Sunday.
Not being able to work with his teammates has been difficult for Davis, but he's doing anything and everything to stay in the game. Whether it's catching passes during special teams periods, riding a stationary bike on the side or taking mental reps in team periods, Davis is staying prepared and he's itching to get back on the field soon.
"It's frustrating. I hate when I'm not on the field, but I'll get back out there as soon as I can," he said. "I'm doing what I can on the side, just doing everything I can, being a professional."
Davis' absence coupled with wide receiver Michael Crabtree missing the last week with a neck injury has been tough on the 49ers offensive growth.
"It's always a constant changing deal for the quarterback and at some point; the unit needs to be together and practicing together," offensive coordinator Jimmy Raye said. "It's been hit or miss with the injuries, but you kind of expect that in training camp."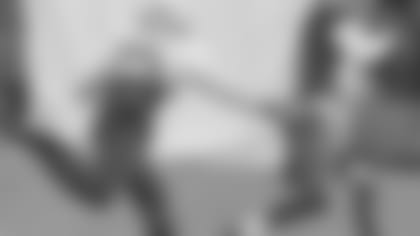 With injury comes opportunity and perhaps no player has taken advantage of more practice snaps than 6-foot-3, 186-pound wide receiver Dominique Zeigler, who Raye described as having an "outstanding" camp so far.
Raye said he saw the same play-making ability from Zeigler last year at this time, but an ankle injury suffered against the Chargers in the preseason finale hampered his chances of making the 53-man roster. Smith added praise too, citing Zeigler's strong hands giving the quarterback's confidence to throw the ball his way.
Zeigler was appreciative of the kind words from his coordinator and quarterback, but he won't let it derail his focus, which is purely on making the final 53-man roster. Since Zeigler joined the 49ers as an undrafted rookie in 2007, he's worked hard to climb up the 49ers depth chart.
Since then, Zeigler's mindset hasn't change. He still approaches each practice the way he did in 2007.
"I came in as a free agent and if you don't take pride in what you're doing, you won't be around here for a long time," he said. "I don't have any opportunities to mess up. I just try and make the plays, if the ball comes my way; I need to come down with it."
Notes and QuotesNew 49ers running back Brian Westbrook took part in team drills for the first time with the 49ers and saw minimal action on the day, including a handful of carries during 9-on-7 work and a couple of receptions during the 7-on-7 and team periods. Asked how he would tailor his offense to Westbrook, Raye responded, "I can't get so enamored with trying to get something done for Brian Westbrook that it doesn't allow us, to allow the offensive line guys, to develop so that we can stand up and play upright." Raye added that it's not determined if Westbrook will play this Sunday in the 49ers preseason home opener against Minnesota.
The best play of the morning practice was the final play of the first 7-on-7 period in which Nate Davis fired a 40-yard deep ball down the left sideline to wide receiver Ginn who out-jumped rookie safety Chris Maragos for the ball.
In the final period of the day, 11-on-11 red zone work, Smith was intercepted after his pass was tipped at the line of scrimmage and wound up in the arms of cornerback Nate Clements. It was Clements' third interception of camp tying him with safety Dashon Goldson for the most on the team.
Linebacker Matt Wilhelm picked off a deep crossing route of Carr's intended for wide receiver Jason Hill in the back of the end zone. The eight-year pro showed great awareness on the play by falling to a knee in the end zone to give the defense a touchback. It was Wilhelm's second interception of training camp, the most by any linebacker on the roster.