Quarterback JT O Sullivan has never started a regular season game during his six years of playing in the NFL, but his lack of starts doesn't concern head coach Mike Nolan. In fact, Nolan expects his new starting quarterback to build on his preseason performances and be an asset throughout the upcoming season, starting Sunday against the Arizona Cardinals.
"He's moved the ball well," said Nolan. "When he's had a bad play, he's come back typically with good plays. He does not play cautious, he plays aggressive. He plays smart most of the time. There's only been a few times that he's probably made…in that Oakland game a couple weeks back he probably made a couple decisions that I know he'd like to take back. Since then, he's played very smart. I expect him to play tough, smart, attacking, aggressive, which is what Mike Martz demands out of him, too."
Across the field will be one of the best to have ever operated Martz' s offense in Cardinals starting quarterback Kurt Warner, a two-time NFL MVP while playing for Martz in St. Louis.
O'Sullivan aims to mimic some of the things he's picked up from watching Warner execute the offense.
"He is fearless," said O'Sullivan of Warner. "He stands back there and takes big shots to make plays down the field. He is so accurate with the ball and gives the guys a chance to make big plays down the field. Just the way he ran the offense and the way he gets the ball out of his hand are all things we try to do in this offense."
And first start or not, O'Sullivan expects success.
"To win and play well," he said of his goals for Sunday. "Move the ball, score touchdowns. Do whatever we have to do to win this game. That's my only expectation."
That confidence has rubbed off on his supporting cast.
"I think JT is a guy who is only going to keep improving on the talents he already possesses, focus on the job at hand and go from there," said Tony Wragge. "I think he's done an excellent job and as an offensive line we are going to protect him."
Given solid protection, tight end Vernon Davis said he has no doubts that O'Sullivan will deliver the ball.
"I have a lot of confidence in JT," said Davis. "He's a good quarterback, he's very patient and he cares a lot about his job. He'd do anything to be good. He wants to be good, and I see in that, and all we have to do is catch his passes."
Seeing how Davis will be used by Martz in the 49ers passing offense is something most everyone affiliated with the organization has anticipated all off-season.
"I'm pretty sure he's going to bring out a lot of stuff this week – getting guys downfield, spreading the field, getting the tight ends to stretch the field," said Davis. "I'm excited to make plays. I can't wait."
Running back Frank Gore also expects that Martz will roll out his complete arsenal for this important divisional contest.
"I can't wait," said Gore. "Coach Martz, he's a very smart coach. Just by going over everything this morning, it should be fun. He didn't break everything down yet, but by going over the plays we might run in the game, it's going to be fun."
Gore might not know the whole game plan at this point, but he's seen enough from the 49ers offense this preseason, particularly in the passing game, to believe Arizona won't get away with stacking the box as they did in past years.
"What I love about it, you can't really stack eight or nine men in the box," said Gore. "Now I can see a lot of lanes and now I can show everybody in the NFL I can catch the ball and run routes too. It's going to be fun just seeing me running around. It's going to be a whole lot of fun this year."
Wragge, who appears to have held down the spot at starting right guard, also believes it will be a fun year for everyone involved with the 49ers.
"I really do think we've got some explosive weapons, but you've got to go execute and get the win," said Wragge. "That's what makes it fun."
Based off last year's two exciting finishes against Arizona, Wragge expects another highly combative game against his former team.
"I don't know what it is but over the last few years this game has really become a true grudge match," said Wragge. "It could be because we have some of their players, they have some of ours, but it's definitely going to be a nitty gritty match that comes down to the last few plays. There is a lot of pride on the line for this one."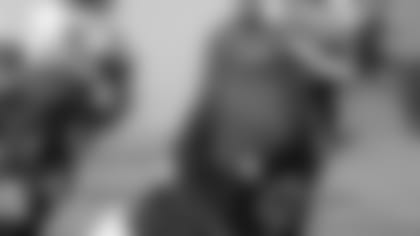 One of those former Arizona players now suiting up in the red and gold is veteran wide receiver Bryant Johnson. Although Nolan has yet to name him a starter, it's evident that Johnson will get his opportunities this season.
"I remember when I played in Arizona and he came in," said Wragge. "He's always been a very valuable asset to any offense he's been in. it's great to have him. He's definitely a threat, and he's a guy who can bring us big plays and then also draw attention that will open up some other guys. We all work together. I think to have him in our offense is a huge asset and I'm excited to see him play on Sunday."
Johnson's arrival in San Francisco could be looked at as a double-edged sword. He's an asset for the 49ers, and a loss for Arizona.
"We lose a lot," admitted Warner. "Bryant was a great complement to our other two guys (Anquan Boldin and Larry Fitzgerald). He was very explosive and could give us the big play and stretch the field for us. He's just a tremendous pro – knew what he was doing. A tremendous athlete. He was a number three [receiver] here but, as we know, probably deserved to be in a higher position than that, if it wasn't for the other two guys that we've got here. But he's that kind of talent, to have that as your number three receiver was just a great position as a quarterback to be in."
As for Johnson, he's purposely trying to put a lid on his personal emotions this week.
"I'm trying to take my emotions out of it, and not make it about me against them," said Johnson. "It's our team against them, and it's an important game regardless of whether we were playing my former team or not. It's important because it's a divisional game and a win would be a good start for the season."
As anticipated head coach Mike Nolan had his entire squad available for Wednesday's practice. NT Aubrayo Franklin and LB Parys Haralson were listed on the injury report after suffering injuries in last week's game, but both players fully participated in practice.